Valentine Recipes for Kids
How to Make Valentine Recipes for Kids 
Learn how to make Valentine recipes for kids, these recipes should be special for parties. Whether you are having a Valentine party or any type of a party, it is a time to use your creativity. It is also a time when you must consider many things in order for it to be successful and for your special guests to have fun. I would list these things as the age or ages or your guests, the interests of the guests and the preferences that will most please them. After thoughtful consideration of these three things, you will be able to pick a theme.

The first thing that is so important, even before learning how to make Valentine recipes for kids, is to think about the ages of your guests. If you are inviting youngsters, adequate supervision is of utmost importance. A group of small children can get into a lot of mischief and leave you ready to pull your hair out. If you do not have enough adults to supervise, request on the invitation that a parent attend the party with their child. Most will appreciate the invite but there are some who will look at the party as a "baby sitter" so they can get other things done.


Even children of older ages need a lot of supervision. They may not require "babysitters" but they do need constant supervision. Someone I know had a party for preteens years ago. They thought they could trust the kids in the basement recreation room to have a good time and not get into trouble. They broke into the liqueur cabinet and drank all the alcohol. This led to serious trouble. Don't think you can trust a bunch of kids together no matter what age all alone without supervision.


Even more important before learning how to make Valentine recipes for kids party, is organizing your party. Decide on the date and time; this means setting the beginning time and the ENDING time. Explain to the parents exactly what time the children should be picked up. Organize the party from the beginning time to the ending time. Have planned games according to the age group of the children. Make the games more enticing and fun by having small gifts for the winners.


Now for the Valentine recipes for the kids party. Different age groups enjoy different types of food. For the smallest of children, it is best to make sure they all have a seat at a table to eat; small tables and chairs that are low to the floor are best. Even for the older children it is nice for them to be able to sit at a table to eat. You might want to consider this when deciding how many children you can accommodate.


Small individual "make ahead" finger foods are best for Valentine recipes for kids parties.  This eliminates a lot of extra time and mess to serve. The chicken legs, hot dogs and other small sandwiches are good for most; even pizza slices can work. Mini cakes, cookies or cupcakes are best to serve as a dessert at parties. One special note is to know your guests; know if there is any with any type of food allergy. A slip up like this could destroy all the fun.

HOW TO MAKE VALENTINE RECIPES FOR KIDS like these

KIDS SANDWICHES IN HEARTS OR CLOWNS

These kids' sandwiches are great as Valentines recipes for kids of all ages; they can be adapted to any type of a party and filled with egg salad spread or other types of spreads.
Using 3 inch cookie cutters, cut hearts or circles from 12 slices of bread.

Spread one side of each with softened butter; spread 6 with egg salad spread.

Top with another cut piece of bread to make 6 sandwiches.

Use following garnishes to make CLOWN FACES on circled sandwiches: pickle slices, olive slices, shredded cheese, carrot curls or slices, mushroom slices, nuts or green and red bell pepper strips.

For decorating HEARTS whip some softened cream cheese with a little red food coloring; with a pastry bag pipe cream cheese around edges of heart.

Egg Salad Sandwich Spread

2 Hard cooked eggs chopped

2 Tablespoons mayonnaise

1 Teaspoon chopped pimiento

½ Teaspoon chopped chives

Salt/pepper

Combine all ingredients and blend in small bowl; spread on bread.
---
HEART SHAPED CAKES & CLOWN CAKES
These mini cakes make great valentine recipes for kids parties. The following in the best white cake recipe. These can be made with box cake mix or favorite cake recipe. I used the small Wiltons heart shaped pan. For the clown I turned the cake upside down and decorated as a clown.
1 Cup solid white shortening

1  1/3 Cups sugar

1 Tablespoon baking powder

2 ¼ Cups sifted flour

1 Cup milk

½ Teaspoon lemon extract

1 Teaspoon vanilla

4 Large egg whites

Pinch salt

¼ Teaspoon cream of tartar

Preheat oven to 350F degrees; grease and flour pans (can use paper lined cupcake tins).
Cream shortening and sugar; sift together 3 times sifted flour and baking powder.
Blend flour mixture into creamed mixture alternately with milk.
Blend in vanilla and lemon extract.
Beat egg whites, salt and cream of tartar until stiff peaks form.
Fold half of egg white mixture into batter to thin batter.
Fold remaining egg whites into batter.
Fill cake tine 2/3 full; bake about 20 minutes or until pick comes out clean.

---
MOUSE CUPCAKES
These mouse cupcakes are cute for Valentine recipes for kids, for adults or any time of the year. Decorate to fit the occasion or simply as a snack through the day.
1 Box devil's food cake mix with pudding

1 ¼ Cups water

½ Cup oil

3 Eggs

1 Quart vanilla ice cream

16 Chocolate sandwich cookies or peppermint patties

Small candies

String licorice

Preheat oven to 350F degrees; line 24 cupcake cups with paper liners.
Combine cake mix, water, oil and eggs in large mixing bowl.
Beat on low speed until moist; then on high 2 minutes.
Fill prepared cups with about ¼ cup batter.
Bake about 20 minutes or until cupcakes spring back when touched lightly in center; cool.
Remove paper liners from however many cupcakes you want to serve.
Line 10 X 15 baking pan with wax paper.
Using ½ cup ice cream scoop, place rounded scoops of ice cream about 2 inches apart on wax paper for each cupcake.
Decorate each scoop of ice cream to resemble mouse.
Example: 2 cookies or peppermint patties for ears, licorice for facial features and whiskers
Freeze ice cream until serving time.
To serve place cupcakes in small serving bowls and top with ice cream mouse.

---
EASY HOT DOG RECIPE
This easy hot dog recipe is good for any occasion especially as Valentine recipes for kids parties. They are smaller than a regular hot dog so they work well into small children's parties.
2 Cans (8 ounces) refrigerated crescent dinner rolls

8 Cheese filled wieners, cut in half

Preheat oven to 375F degrees.
Separate dough into 8 rectangles; firmly press perforations to seal.
Cut each rectangle in half lengthwise.
Place a wiener half lengthwise on one end of dough strip.
Fold dough in half over wiener; press short edges to seal leaving sides open.
Place on ungreased cookie sheet; bake 11 to 13 minutes or until golden brown.
Serve with ketchup, mustard and pickle relish. Serves 16

---
VEGETABLE DIP RECIPE
This vegetable dip recipe served with fresh vegetables is good for preteen parties and teenage parties if looking for Valentine recipes for kids. 
1 ½ Cups sour cream

2/3 Cup mayonnaise

2 Tablespoons instant minced onion

2 Tablespoons parsley flakes

2 Tablespoons dried dill

2 Teaspoons celery salt

Fresh cut vegetables

Combine all ingredients in small bowl except for fresh vegetables.
Mix until well blended; refrigerate for several hours.
Serve with celery sticks, carrots sticks, green onions, cauliflower pieces, etc.

---
BAKED CHICKEN LEGS
These baked chicken legs or as I call them (baked drumsticks) work well into the Valentine recipes for kids parties. They are easy to make, flavorful and easy for the kids to handle.
12 Fresh drumsticks

2 Cups instant mashed potato flakes

2/3 Cup grated Parmesan cheese

2 Tablespoons parsley flakes

1 Teaspoon onion powder

½ Teaspoon garlic salt

¼ Teaspoon paprika

1/8 Teaspoon black pepper

1 Cup melted butter

Preheat oven to 375F degrees; grease a 10 X 15 inch baking pan.
Rinse chicken legs with fresh water and pat dry.
Combine potato flakes, Parmesan cheese, parsley flakes, onion powder, garlic salt, paprika and pepper' blend well.
Dip chicken legs in melted butter; roll in potato flakes mixture to coat.
Bake for about 60 to 75 minutes or until chicken is tender and golden brown.

---
VALENTINE KITTY LITTER CAKE RECIPE
This makes one of the larger Valentine recipes for kids parties. Even though it doesn't look so, it is very tasty; the kids will love it.
To make this you will need a new cat litter pan (Spraying it red is nice for Valentines Day), a cat litter pan liner, a new "pooper scooper" and an artificial kitty in sitting position. I prefer a white cat and I tie a red Valentine ribbon around its neck.

Wash box liner and "pooper scooper" with hot soapy water, rinse and dry well; place liner in new kitty litter pan and set aside.

Ingredients:

1 German chocolate cake mix

1 White cake mix

1 Large box vanilla instant pudding mix

1 Large package vanilla creamed filled cookies

Green food coloring

12 to 15 Miniature tootsie rolls

Prepare cakes as directed on boxes; bake in any types of pans and let cool.
NOTE: I usually make mine homemade cake recipes; pudding can also be homemade.
Prepare pudding as directed on package and chill to set.
Crumble the vanilla filled cookies in processor or by hand.
Add a little food coloring and mix in; measure ¼ cup cookie crumbs and set aside.
Crumble cold cakes and half of remaining crushed cookies in a large bowl.
Mix pudding into crumbs to moisten; line clean litter pan liner with cake cookie mixture.
Sprinkle remaining half of crushed cookies over top, sprinkle ¼ cup green crumbs on top; press in "litter box" and refrigerate.
Wrap bottom of artificial kitty with plastic wrap so it doesn't touch the dessert; place in middle of box.
Heat unwrapped Tootsie rolls slightly in microwave and shape like little "poop".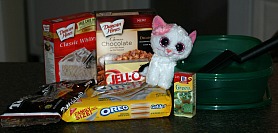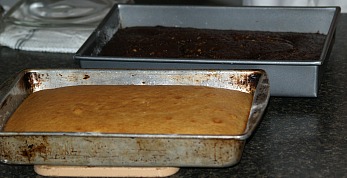 NOTE: Bend slightly and shape ends slightly to points.
Place in various spots in box (in the dessert); place new "pooper scooper" in dessert.
NOTE: I tie Valentine ribbon around cats neck and also on handle of "pooper scooper". This is one of the most fun Valentine recipes for kids parties.
TO SERVE: Slice cake to serve this has the texture of bread pudding.