Valentines Day Food 
I always loved to make special Valentines Day food for my family when our children were growing up. It just seemed to be nice to celebrate ending the cold winter months and looking forward to spring. Besides that I always loved the color of red so I would decorate the house with all kinds of red hearts. Among other food, decorated heart shaped cookies were a staple every year.

Valentine's Day is said to have originated in ancient Rome to honor the queen of the Roman gods. It is also called Saint Valentine's Day for religious celebration. It is said that centuries ago a high level politician made a deal with God. If He would heal his blind daughter, he would believe in Him.  The daughter was healed so the father spent the remainder of his life believing in Christ. I do not know how true this is but I would say that today Valentine's Day is much more about making money. I use to think this was simply an "American" day until I found Hallmark Shops in almost every country in the world.
To me, this day is just a fun day to celebrate with family and friends serving great Valentines Day food.  Valentine's Day is known to be a day of romance and love. It has become one of the major holidays and has become very expensive to celebrate. I am amazed when I hear about some of these gifts; expensive flowers, jewelry, purses, etc. I prefer giving homemade items, especially food from my kitchen. I would also appreciate to receive homemade gifts. To me it is so much more personal and from the heart. Even a simple card from the card shop is terribly expensive today only to be thrown in the trash.
Valentines Day food made in your kitchen is more important today than ever. Most people do not cook at all and really appreciate a gift of fresh food. Plan ahead and make a list of names for gifts you need. Find out what they love or miss that is homemade. I have many people tell me they really miss something that their mother use to make for them. These are the best surprises you can give to them. All your important people will appreciate your heart felt thoughts.
COTTAGE PIE RECIPE
Plan your Valentines Day food to include this beef cottage pie.
¼ Cup butter PLUS for buttering dish and top
1 Cup dice onion
1 ½ Pounds lean ground beef
Salt/ pepper to taste
¼ Teaspoon ground savory
1 Cup brown gravy
2 Cups mashed potatoes
Preheat oven to 400F degrees.

Melt ¼ cup butter in skillet and add onion; stir and cook until lightly browned.
Add beef, salt, pepper and savory; cook 5 minutes longer.
Stir in gravy and stir until bubbly; spoon into buttered casserole dish (OR dishes)
NOTE: Use one 8 cup casserole dish or 4 individual casserole dishes.
Top meat mixture with mashed potatoes; dot with additional butter.
Bake until potatoes are lightly browned about 15 minutes.
---
INDIVIDUAL BROWNIE ALASKA
Shape this dessert into a heart for a Valentines Day food.
1 Package (15.5 Ounces) fudge brownie mix
1 Pint strawberry ice cream
4 Egg whites
½ Cup sugar
NOTE: I like to shape the brownie and the ice cream in hearts for Valentine's Day.
Shape ice cream in 6 balls; place in freezer.

Bake brownies according to package directions.
Cut into 3 inch squares; place on baking sheet.
Top each with one ice cream ball; return to the freezer for 1 hour.
PREHEAT OVEN TO 500F degrees.
Beat egg whites until foamy; beat in sugar 1 tablespoon at a time.
Continue beating on high until stiff glossy peaks form.
QUICKY cover brownies and ice cream with meringue.
NOTE: Seal meringue to the edge of brownie.
Place in hot oven 3 to 4 minutes until light brown.
Serve immediately; serves 6.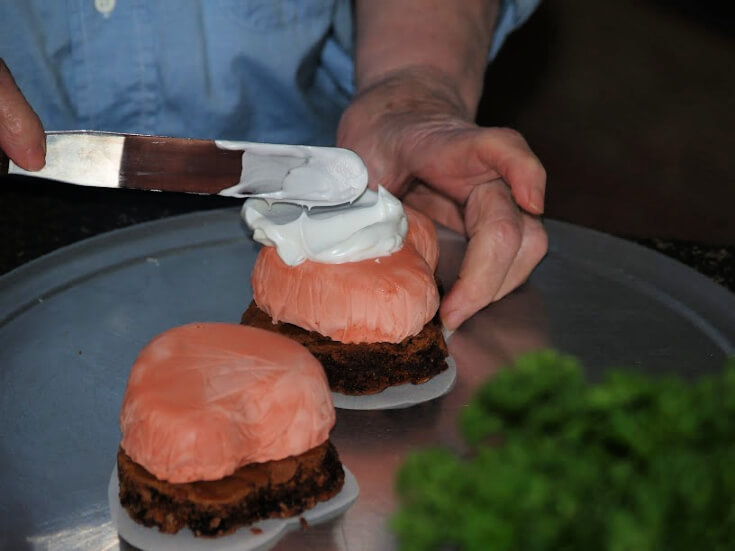 Covering Hearts with Egg Whites
Individual Brownie Alaska Covered with Egg Whites
---
RED VELVET SHEET CAKE
For your Valentines Day food try this pretty cake baked in 10 inch heart shaped pan of 9 X13 inch pan.
1 Cup butter flavored solid shortening
1 2/3 Cups sugar
2 Beaten eggs
2 ½ Cups cake flour
¼ Cup unsweetened cocoa powder
1 Teaspoon salt
1 Teaspoon baking soda
1 Cup buttermilk
1 bottle (1 Ounce) red food coloring
1 Teaspoon vanilla
1 ½ Teaspoons distilled vinegar
White Chocolate Frosting (Recipe below)
White chocolate curls (For garnish)
Preheat oven to 350F degrees.

Grease and flour baking pan (Heart shape (12 inches across large area) or 9X13 inch pan).
Combine shortening and sugar in large mixing bowl.
With mixer on medium high beat until fluffy 3 to 4 minutes.
Add eggs beating until well mixed; set aside.
In a medium bowl stir together flour, cocoa, salt and baking soda.
With mixer on low add flour mixture to the creamed mixture. alternating with buttermilk.
Beat in the red food coloring and vinegar just until blended.
Pour batter into prepared pan smoothing top with spatula.
Bake about 25 minutes until pick comes out clean.
Cool 10 minutes before removing from pan OR cool in pan for serving from pan.
Top with white chocolate frosting and chocolate curls.
White Chocolate Frosting

1 ½ Cups white chocolate morsels
6 Tablespoons softened butter
1 ½ Packages (8 Ounce package) softened cream cheese
3 ¾ cups powdered sugar
1 Teaspoon vanilla
¼ to ½ Cup heavy whipping cream
Combine butter and white morsels in small saucepan.

Over low heat stir until melted and smooth; cool slightly.
In large bowl beat cream cheese on medium high until smooth.
Add sugar and beat until combined.
Beat in vanilla and chocolate until smooth.
Gradually add the cream beating until spreadable consistency.
---
FRESH LETTUCE SALAD
Fresh salads are welcomed as Valentines Day food or for any special occasion.
1 Head lettuce (Break into bite size)
1 ½ Cups chopped celery
1 Small red onion (Chopped)
1 Package (10 Ounces) frozen peas (Thawed)
1 Cup mayonnaise
¼ Cup fresh shredded Parmesan cheese
Crisply fried bacon (Crumbled for garnish)
Combine and mix all vegetables; place in a shallow bowl.

Cover with mayonnaise; top with cheese and crumbled bacon.
---
CHOCOLATE ICE CREAM CONFETTI BALLS
These chocolate confetti bals make a great Valentines Day food.
½ cup cinnamon graham crackers or ground nuts (Fine crumbs)
1 Tablespoon confetti candy decorations
1 Pint chocolate ice cream
Mix cracker crumbs and candies together.

Scoop ice cream into 4 balls; roll each into crumb mixture.
Place balls on individual serving dishes.
NOTE: Serve immediately or place in freezer until ready.
Serves 4.
---
STEAK DIANE 
Steak Diane makes an elegant Valentines Day food.
2 Rib eye steaks (* Ounces each)
½ cup sliced fresh mushrooms
¼ Cup chopped green onions
2 Tablespoons butter (Melted)
2 Tablespoons brandy
1 Tablespoon Worcestershire sauce
½ Teaspoon dry mustard
1/8 Teaspoon salt
1/8 Teaspoon pepper
Pound steaks with a meat mallet to flatten slightly.

In a large skillet sauté mushrooms and onions in butter until tender.
Add steaks and brown on both sides; remove from heat.
Heat brandy in a very long handled saucepan only long enough for fumes.
NOTE: Exercise caution. Do not boil.
Remove brandy from heat, ignite and pour over steaks.
When flames die down remove steaks from the skillet.
Add to skillet Worcestershire, mustard, salt and pepper.
Stir well to blend; cook and stir for 1 minute.
Place steaks on serving plates; spoon mushroom mixture over steaks.
Serves 2.
---
VALENTINES DAY FOOD CHOCOLATE HEARTS
Everyone loves chocolate hearts for their Valentines Day food!
4 Ounces unsweetened chocolate
3 Egg whites
1 ½ Cups sugar
3 Cups ground almonds
½ Teaspoon ginger
10 Ounces semisweet chocolate
1 Tablespoon coconut oil
5 Pieces candied ginger
Preheat oven to 300F degrees; grease baking sheet.

Finely grate unsweetened chocolate.
Beat egg whites until stiff; stir in sugar, almonds, grated chocolate and ginger.
Combine mixture well; knead with your hands.
Sprinkle cutting board with sugar; roll dough to ¼ inch thickness.
Cut in heart shapes; knead trimmings, roll and cut.
Place hearts on baking sheets; bake 30 minutes in center of oven.
Remove from oven; remove to wire rack to cool.
Break semisweet chocolate in top of double boiler.
Melt over gently boiling water; stir in coconut oil.
Remove from heat; allow to cool slightly but not set.
Place foil beneath wire rack.
Spoon a little chocolate on flat side of each heart.
Allow to cool refrigerating if necessary.
Turn hearts over and coat rounded side.
NOTE: If some are uneven reheat chocolate and apply second coat.
Sprinkle tops with chopped candied ginger; let set.
---
ITALIAN ROAST LAMB RECIPE
This is a nice Valentines Day food for a small family. 
2 Large potatoes (about 2 pounds)
4 Tablespoons butter
2 Tablespoons cooking oil
2 Pounds lamb sirloin roast
Sprigs of rosemary
2 Cloves fresh garlic
Salt/pepper
Preheat oven to 350F degrees.
Slash through the meat leaving it joined at the bottom; place springs of rosemary in the slashes.
Peel potatoes and cut into chunks.
Heat oil and butter in a roasting pan; add meat and arrange potatoes around the meat.
Peel garlic and mince; sprinkle garlic over the lamb and potatoes.
Season meat and potatoes with salt and pepper.
Place in oven and roast about 1 hour or until meat is tender; baste occasionally.
Serve with a green salad. Serves 4
---
HEART SANDWICH COOKIES with ganache filling
1 Cup softened butter
1 Cup sugar
1 Egg
1 Teaspoon vanilla
2 Teaspoons baking powder
3 Cups flour
Pink food coloring
Edible glitter
Ganache Filling
7 Ounces chocolate or chocolate mint candy melts (Chopped)
¼ Cup heavy whipping cream
Preheat oven to 400F degrees.

In large mixing bowl cream butter and sugar.
Add egg and vanilla to creamed mixture.
Combine flour and baking powder in large bowl.
Add 1 cup at a time to creamed mixture beating after each.
NOTE: Dough will be stiff; add last of flour by hand.
Add pink coloring to make desired shade; divide dough in half.
Roll 1 half to ¼ inch thickness; cut in heart shapes.
Sprinkle cookies with edible glitter; place on ungreased baking sheet.
Bake in middle of oven for 6 to 10 minutes until lightly browned; cool.
TO MAKE FILLING heat cream just to a boil in saucepan.
Add candy melts and stir until smooth; chill 15 to 20 minutes.
Spread half of the cookies with ganache filling.
Top with remaining cookies; makes 24 to 30.
---
HAM AND POTATO CAKE
Special Valentines Day food should always include potatoes.
1 ½ Pounds potatoes (Medium size)
Salt/ pepper
½ Pound chopped cooked ham 
6 Tablespoons butter 
3 Tablespoons soft breadcrumbs
2 Cups grated cheese
½ Cup milk
Cook potatoes in boiling salted water about 30 minutes.

Grease a 7 inch spring form pan with a little butter.
Sprinkle breadcrumbs over bottom and on sides of pan.
PREHEAT OVEN TO 350F degrees.
Drain and peel potatoes; cut in ¼ inch slices.
Arrange a few potato slices overlapping in bottom of pan.
Melt remaining butter; brush over potatoes.
Scatter some ham over potatoes then some of the cheese.
Season with salt and pepper.
Continue layering potatoes with butter, ham and cheese.
NOTE: Finish with a layer of potatoes topped with cheese.
Pour milk and remaining butter over the top.
Bake about 30 minutes until potatoes are tender and cheese has melted.
Unmold potato cake onto plate to serve.
---
VEGETABLE SIDE DISH RECIPE
1 Package frozen large lima beans
1 Package frozen snapped green beans
1 Package frozen large peas
1 Tablespoon olive oil
Salted water
Sauce
1 Cup mayonnaise
3 Tablespoons lemon juice
2 Tablespoons minced onion
1 Teaspoon dry mustard
Dash Tabasco sauce
½ Cup fresh chopped parsley
3 Hard boiled eggs (Chop fine)
1 Teaspoon Worcestershire sauce
¼ Teaspoon garlic powder
Salt/ pepper to taste
Bring salted water and oil to a boil; add the lima beans.

Let water return to a boil; add the green beans.
Let water return to a boil; add the peas.
Cook vegetables for 20 minutes; drain in colander.
Combine and mix all sauce ingredients.
Toss vegetables with sauce and serve.
---
PARMESAN CHICKEN TENDERS
Add this easy recipe to your Valentines Day food for kids.
1 Bag chicken tenders
2 Eggs
2 Tablespoons milk
2 Cups Parmesan cheese (Shredded)
4 Teaspoons paprika
1 Cup flour
2 Teaspoons salt
Dash pepper
½ Cup melted butter
Preheat oven to 350F degrees.

Mix eggs and milk together; set aside.
Combine cheese, paprika, salt, flour and pepper.
Dip chicken in the egg mixture then roll in the cheese mixture.
Place chicken in a shallow baking pan; pour melted butter over top.
Cover pan with foil and bake for 45 minutes.
Uncover pan and bake additional 15 minutes.