How to Make Valentines Day Food 
Many people ask how to make Valentines Day food but what they really want to know is how to make Italian recipes for Valentine's Day. The delicious flavors of Italian food make these recipes some of the most popular all over the world.  This is not just for this special day but for all the holidays and even every day of the year. I have found the demand for these recipes is not just for entrees or just for desserts but this demand is for every type of Italian food.  Unfortunately, I agree with these demands because I love all the rich cheesy pasta dishes, the deliciously creamy desserts and everything else Italian.
What better place to celebrate with good Valentines Day food than an Italian restaurant. Ask any Italian and they will tell you that they put extreme importance on romance. So combine a quiet romantic atmosphere with good food and the result was Giuseppe's Italian Restaurant in Kingsport, Tennessee.
If you do not want to learn how to make Valentines Day food, check with your local restaurants for a special menu. Although this restaurant offered great holiday selections, we preferred choosing from Giuseppe's extensive dinner menu. Our waiter Jared was very informed about the details of the menu and quite helpful in our selections.
We started our Valentines Day food dinner with an exceptional fresh crispy dinner salad and delicious hot bread. Jared also brought us each a small bowl of lobster bisque. It was a special presentation on the menu of Valentines Day food and it was delicious. I must tell you that this lobster bisque is comparable to that of our favorite French Restaurant at Disney World.
With Jared's help I chose the Chicken Giuseppe's dish and the other entrée at our table was Tilapia Francese. Both of these dishes have some lemon juice, herbs and other ingredients to blend for special flavors. Neither of these dishes could have been any better seasoned. Actually, my selection, the Giuseppe's chicken is very much like a favorite recipe of mine.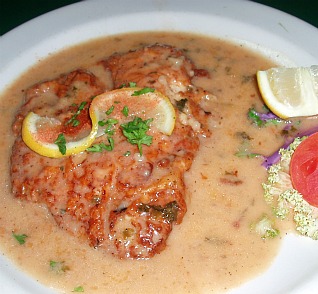 Talipia Francese
LEMON CHICKEN RECIPE with pine nuts is perfect for a Valentines Day food
4 Whole boneless chicken breasts
3 Cups chicken stock
1 Cup dry white wine
½ Cup minced carrot
½ Cup minced onion
2 Tablespoons white wine vinegar
Grated rind of 1 lemon
Pinch hot red pepper flakes
Salt
3 Tablespoons butter
3 Tablespoons olive oil
¼ Cup toasted and finely ground pine nuts
2 Tablespoons lemon juice
2 Tablespoons minced parsley
2 Tablespoons toasted pine nuts for garnish
Cooked pasta
Fresh cleaned and dried spinach leaves
Pound chicken breasts until about ¼ inch thick.
Combine the chicken stock, wine, carrot, onion, vinegar, pepper flakes, and lemon rind in a heavy saucepan and bring to a boil.
Reduce heat and simmer uncovered until liquid is reduced to about 2 cups (about 1 hour)
Strain and season with salt if needed.
Evenly divide butter between two large skillets over moderate heat.
When butter is hot, add chicken and sauté on each side.
Remove chicken to a platter and keep warm while finishing sauce.
Once again bring the chicken stock to a boil and whisk in ground pine nuts, lemon juice and 1 tablespoon parsley.
To serve place a light layer of clean and dried fresh spinach leaves over a dinner plate.
Spoon hot cooked angel hair pasta over the spinach, letting spinach show around the edges of plate.
Place cooked chicken breast to the side of the pasta.
Pour sauce over the chicken and garnish with toasted pine nuts and remaining parsley.
---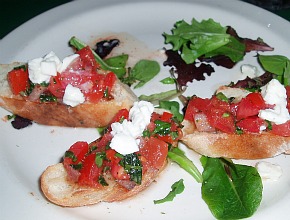 My thanks to Jared and Giuseppe's Restaurant for all the delicious Valentines Day food and for a wonderful visit. If any of you readers are ever in the Kingsport area, please stop in and see what you have been missing.
---
YELLOW CUPCAKE RECIPE
Cupcakes always make a great Valentines Day food; all you need is the frosting and some hearts.
2 Cups sifted flour

2 Teaspoons baking powder

¼ Teaspoon salt

½ Cup softened butter

1 Cup sugar

2 Eggs

2/3 cup milk

1 Teaspoon vanilla


Combine sifted flour, baking powder and salt; sift together 3 times.
Cream butter in mixing bowl gradually adding sugar; beat until light and fluffy.
Add eggs one at a time beating thoroughly after each.
Add flour to creamed mixture alternating with milk; blend in vanilla.
Measure ¼ cup batter into regular size paper lined cupcake tins.
Bake in preheated oven at 375F degrees for about 18 minutes or until pick comes out clean.

---
ORANGE CUPCAKE RECIPE
These cupcakes make a delicious Valentines Day food when frosted in white and decorated for the day.
2 Cups sifted flour

3 Teaspoons baking powder

¾ Teaspoon salt

½ Cup solid shortening

¼ Cup sugar

2 Eggs separated

2/3 Cup honey

2 Teaspoons grated orange rind

½ Cup orange juice


Measure flour, baking powder and salt; sift 3 times.
Beat egg yolks until thick and lemon colored; set aside.
Cream shortening adding sugar gradually; beat until light.
Add egg yolks, honey and orange rind to shortening mixture; mix well.
Add dry ingredients alternately with orange juice to creamed mixture; mix only until blended.
Beat egg whites until stiff but not dry; fold into batter until blended.
Measure ¼ cup batter into each regular size paper lined cupcake tin.
Bake in preheated oven for about 18 minutes or until pick comes out clean.

---
FRANGELICA CREAM RECIPE
2/3 Cup hazelnuts
¾ Cup sugar
1 ¾ Cups milk
½ Cup sugar divided
5 Egg yolks
¼ cup Frangelica (hazelnut liqueur)
1 Cup whipping cream
Preheat oven to 350F degrees.
Place hazelnuts in a shallow pan; bake 15 minutes and let stand to cool.
Remove skins by rubbing nuts together; chop nuts and set aside.
Place sugar in a heavy saucepan; cook over medium heat stirring occasionally until caramelized.
Remove from heat, add nuts and stir; immediately pour onto a buttered baking sheet.
Cool mixture for 1 hour; break into small pieces.
Combine milk and 2 tablespoons sugar in a heavy saucepan; cook over medium heat until mixture boils.
While milk heats beat yolks and remaining sugar until thick and lemon colored.
Gradually stir about ¼ of milk mixture into yolks; add back into milk mixture while stirring constantly.
Add Frangelica to the cream mixture; cook over low heat 5 minutes or until mixture reaches 165F degrees.
NOTE: Do not boil and it does NOT thicken.
Chill mixture; add whipping cream and hazelnut brittle.
Pour mixture into ice cream freezer and freeze according to manufacturer's direction; makes 6 cups.
---
ITALIAN ROAST LAMB RECIPE
2 Large potatoes (about 2 pounds)
4 Tablespoons butter
2 Tablespoons cooking oil
2 Pounds lamb sirloin roast
Springs of rosemary
2 Cloves fresh garlic
Salt/pepper
Preheat oven to 350F degrees.
Slash through the meat leaving it joined at the bottom; place springs of rosemary in the slashes.
Peel potatoes and cut into chunks.
Heat oil and butter in a roasting pan; add meat and arrange potatoes around the meat.
Peel garlic and mince; sprinkle garlic over the lamb and potatoes.
Season meat and potatoes with salt and pepper.
Place in oven and roast about 1 hour or until meat is tender; baste occasionally.
Serve with a green salad. Serves 4
---
ITALIAN OMELET DISH
1 Small onion finely chopped
1 Clove minced garlic
1 Stalk finely chopped celery
1 Carrot peeled and thinly sliced
2 Ounces uncooked bacon finely chopped
1 Tablespoon oil
1 Can (16 ounces) tomatoes
Salt/pepper9 Eggs
1 Teaspoon fresh mint
3 Tablespoons fresh parsley
¼ Cup butter
Heat oil in a large skillet; add onion, celery, carrot and bacon and cook until bacon is done.
Add tomatoes with juice, garlic and seasoning; bring to a boil and simmer about 20 minutes.
Beat eggs in a bowl with mint, parsley, salt and pepper.
Melt 1/3 of butter in another skillet over moderate heat; add 1/3 of the beaten egg mixture.
Cook egg mixture until center is set then move omelet to cutting board; make 2 more omelets the same way.
Roll each omelet loosely and cut into thin strips; add eggs to tomato sauce and stir until eggs are hot.
Pour omelet mixture into a serving dish to serve.
Painless Cooking

›
Holidays
› Valentine Day Food