Vegetable Recipes
When making vegetable recipes you should start with the best quality vegetables that you can get. When purchasing fresh vegetables, the fresher the better. If you grow your own, you know fresh out of the garden is great. When I was growing up, many days Mom would heat a big pot of water. She would then go out to the garden and pick many years of corn. Stopping on the back porch she would quickly remove the husks. A few minutes later the corn would be boiling in the pot. With lots of butter, this provided us with a great delicious meal.

If you do not grow your own food, you can still enjoy the great taste of fresh vegetables. Although fresh vegetables are available year round today, the refrigerated shipping destroys a lot of the flavor and nutrients. Learn to eat and make your favorite vegetable recipes with the growing season buying from local growers. The harvest season is also the time of year I like to preserve vegetables for the winter. Usually at this time they are much more economical if needed to be purchased.
When buying fresh vegetables select ones which are firm, ripe and without blemish. Do not buy ones which appear to be old; withered ones, moldy or bruised. Under ripened vegetables nor over ripened are good for purchase. If you have your own garden you will find some of them also will not produce good vegetable recipes. Too much rain, too much sun and too much heat can also destroy your vegetables in a matter of hours making them unfit for cooking.
For your vegetable recipes using the "head types" look for nicely colored ones. Heads of cauliflower should be a nice white and cabbage a pretty green or red. Leafy vegetables should be crispy and without any brown or yellow spots. Peas and beans should be firm and the pods crisp to produce good quality dishes. For best flavor always select vegetables of medium size and with the normal shape.
When you are purchasing fresh vegetables, buy only as much as you need for your vegetable vegetables. They deteriorate quickly and taste much better when used quickly. Over buying will cause you to lose money unless you are careful. I buy in larger quantities than most but I try to plan ahead for what I will need for my vegetable recipes. Sometimes the price is just too good to pass up! If I see that I am not using them as fast as I like, I will preserve them. It is pretty easy to blanch most vegetables and freeze. If it is leafy greens, we simply start eating more salads, etc. instead of other foods.
Whether you are preparing vegetables to make your fresh vegetable recipes or for preserving, it is necessary to wash all of them thoroughly; even if they look clean. A vegetable brush is a good item (and a necessary kitchen item) to use on many of them to get them clean. Head vegetables should be submerged in cold salt water for 30 minutes before using; this removes insects and freshens the vegetables. Leaf vegetables should be washed in fresh cold running water several times before eating.
Even though I prefer fresh vegetables, there are times when I purchase preserved ones from the market. I usually buy the frozen ones compared to ones in cans. I feel the frozen ones are best for my vegetable recipes having been "flash frozen" preserving the flavor and nutritional value. I do not like anything in metal cans and this is the kind most available. Sometimes vegetables are available in glass jars and I have found these to be good.
ITALIAN SPINACH ROLL RECIPE
Spinach makes so many delicious vegetable recipes. This is like a rolled spinach dumpling.
Dough
3 Cups flour
1 Teaspoon salt 
2 Eggs
Lukewarm water
Filling
1 Pound fresh bulk spinach
¾ Cup cottage cheese
1 ½ Grated Parmesan cheese
2 Eggs (Beaten)
Grated nutmeg
Salt
FOR DOUGH sift the flour and 1 TEASPOON salt into a mixing bowl.

Make well in center of flour; add eggs in well.
Mix flour and eggs together adding enough warm water to make soft dough.
Wrap dough in plastic and chill for 30 minutes.
FOR FILLING rinse spinach and drain; place spinach in pan (NO added water).
Cover and cook over medium low until tender; drain well.
Place spinach in food processor; process to puree.
Add cottage cheese and process until smooth.
By hand beat in Parmesan cheese and eggs; season to taste with salt and nutmeg.
TO PREPARE roll dough to a thin rectangle on floured surface.
NOTE: Make sure you have a pot large enough to boil in after rolling.
Spread the spinach mixture over the dough leaving a clear border around the edges.
Roll up like a jelly roll; roll a clean cloth or several layers of cheesecloth tightly around the roll.
Tie each of the ends tightly together with butcher string to hold together.
Place roll in simmering salted water (NOT strong boil) for about 1 hour.
Place on rack placed over tray to let water drain off; unwrap roll.
Place roll on a warm serving plate; slice and serve.
NOTE: Great served with favorite seasoned tomato sauce or spaghetti sauce.
Spread Spinach Mixture Leaving a Clear Border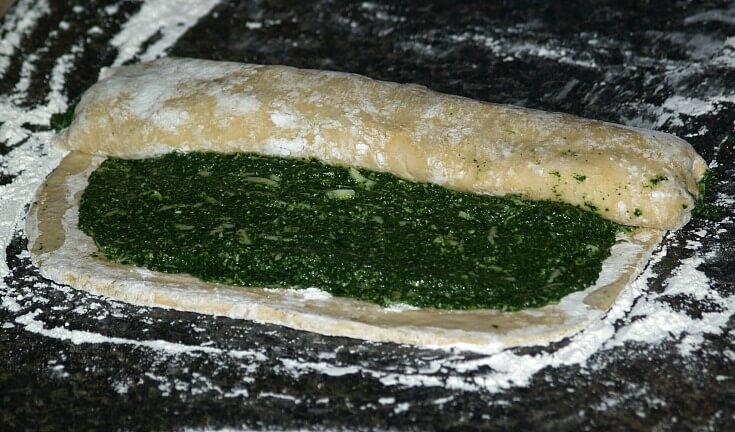 Roll Up Jelly Style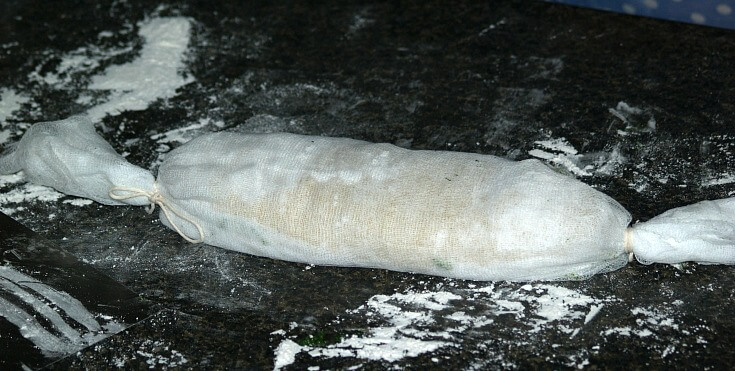 Wrap Tightly with Cheesecloth and Tie Ends with String
---
SAVORY LEMON VEGETABLES
6 Slices bacon (Cook crisp, crumble and reserve ¼ cup of the drippings).
1 Pound carrots (Peel and slice)
1 Medium head cauliflower (Core removed)
1 Cup finely chopped onion
½ Cup lemon juice concentrate
½ Cup water
4 Teaspoons sugar
1 Teaspoon salt
1 Teaspoon thyme
Chopped parsley
In large saucepan cook carrots and cauliflower in small amount of water until tender.

In medium skillet cook onions in reserved bacon drippings.
Add to onions lemon juice, water, sugar, salt and thyme; bring to a boil.
Drain vegetables and arrange on serving dish; pour warm sauce over vegetables.
Garnish with bacon and parsley; serves 8.
---
CHICKPEA BALLS with spicy mustard sauce
Many delicious vegetable recipes make great appetizers.
2 Cups cooked chickpeas (garbanzo beans)
1 Medium size onion (Finely chop)
2 Tablespoons soft bread crumbs
2 Tablespoon water
2 Tablespoons chopped parsley
1 Tablespoon ground cumin
1 Teaspoon ground coriander
Salt
Cayenne pepper
Oil for deep frying
Spicy Mustard Sauce

1 cup sour cream
1 Tablespoon prepared mustard
1 Tablespoon prepared horseradish
1 Tablespoon minced onion
¼ Teaspoon salt
1/8 Teaspoon black pepper
1 Tablespoon chopped chives
TO MAKE BALLS process chick peas in blender or food processor until mashed.

Add onion, breadcrumbs, water, parsley, cumin, coriander, salt and cayenne.
Process again briefly to blend; put into bowl, cover and let stand 1 hour.
Taste mixture for and adjust seasonings; roll into 1 inch balls with floured hands.
Heat oil in deep fryer to 360F degrees; fry balls a few at a time about 3 minutes until golden.
Drain balls on paper towels and spike with toothpicks; serve with sauce and tortilla chips.
TO MAKE SAUCE combine all sauce ingredients in a saucepan.
Heat and stir over medium heat until warm and serve with balls.
---
SWISS MUSHROOMS IN CREAM
1 Large minced onion
2 Tablespoons butter
1 Pound fresh sliced mushrooms
1 Tablespoon flour
½ Teaspoon salt
¼ Teaspoon pepper
½ Cup heavy cream
½ Cup sour cream
¼ cup grated Swiss cheese
2 Tablespoons melted butter
Preheat oven to 350F degrees.

Sauté onions in 2 tablespoons butter for 5 minutes.
Add mushrooms and sauté 5 minutes longer.
Blend flour, salt and pepper with skillet mixture.
Add heavy cream and sour cream gradually mixing thoroughly.
Dump into buttered 1 quart casserole dish; top with the cheese.
Drizzle melted butter over top of casserole.
Bake 20 minutes until thoroughly heated; serves 4 to 6.
---
VEGETARIAN LASAGNA RECIPE a favorite vegetable recipe

This vegetable recipe utilizes a favorite recipe of many pasta lovers and turns it into a delicious vegetarian lasagna recipe. No meat but makes a wonderful vegetarian meal!
Lasagna noodles cooked until tender

1 Pound fresh spinach

2 Cups fresh sliced mushrooms

1 Cup grated carrots

½ Cup chopped onion

1 Tablespoon cooking oil

1 Can (15 ounces) tomato sauce

1 Can (6 ounces) tomato paste

½ Cup chopped ripe olives

1 ½ Teaspoons oregano

2 Cups cream style cottage cheese

16 Ounces sliced Monterey Jack cheese

Grated Parmesan cheese

Drain noodles; rinse spinach and steam in covered pan (no extra water) for 5 minutes.
In saucepan cook mushrooms, carrots and onions in hot oil until tender but not brown.
Stir in tomato sauce, tomato paste, olives and oregano.
In greased 9 X 13 inch baking pan layer noodles, cottage cheese, spinach, jack cheese and sauce.
Repeat layers reserving several cheese slices for the top.
Bake in preheated oven at 375F degrees for 30 minutes; let stand 10 minutes before serving.
Serve with Parmesan cheese.

---
EASY VEGETABLE RECIPE
This is one of the fresh vegetable recipes which are made so easy by adding soup mix to flavor; so delicious after baking in the oven.
2 Cups chopped onion

2 Cups chopped fresh tomatoes

2 Cups chopped zucchini

2 Cups chopped green bell peppers

1 Envelope dry onion soup mix

½ Teaspoon salt

½ Teaspoon black pepper

NOTE: I often add a little garlic powder, basil or some type of Italian seasoning.
Place onion, zucchini and pepper in a casserole baking dish.
Add soup mix, salt and pepper (other seasoning if desired).
Toss ingredients until combined; bake uncovered at 350F degrees for 34 minutes.
Serve hot.

---
STUFFED EGGPLANT RECIPE
3 Eggplants (3 X 6 inches)

1 Tablespoon salt

2 Tablespoons olive oil

1 Cup minced onion

1 ½ Tablespoon olive oil

Salt/pepper to taste

1 Pound fresh minced mushrooms

3 Tablespoons butter

1 Tablespoon olive oil

4 ½ softened cream cheese

¼ Cup minced parsley

½ Teaspoon basil

3 Tablespoons grated Swiss cheese

3 Tablespoons fine dry white bread crumbs

2 to 3 Tablespoons melted butter

Preheat broiler to 500F degrees.
Remove stems from eggplant, cut in half lengthwise.
Make cuts in flesh 1 inch apart to within ¼ inch of skin; sprinkle cuts with salt.
Place eggplants cut side down on paper towels; let stand 30 minutes.
Squeeze to remove excess liquid; pat dry.
Drizzle with the 2 tablespoons olive oil; place cut side up in roasting pan.
Add 1/8 inch water to pan; broil 4 to 5 inches from heat source for 10 to 15 minutes to light brown.
Scoop out pulp and chop; reserve skins and set aside.
Sauté onion in 1 ½ tablespoons oil over low heat for 10 minutes or until very tender.
Season with salt and pepper and add to eggplant.
Place mushrooms in towel; twist to extract juices.
Sauté mushrooms in 3 tablespoons butter and 1 tablespoon oil 5 minutes; season with salt and pepper.
Add mushroom mixture to eggplant.
Combine cream cheese, parsley and basil in a bowl; beat until fluffy.
Add cheese to vegetables and mix well; spoon mixture into eggplant skins.
Combine bread crumbs and Swiss cheese; sprinkle over filled eggplant skins.
Drizzle tops with 2 to 3 tablespoons melted butter; place in roasting pan and add 1/8 inch water.
Bake in preheated oven at 375F degrees and bake 25 minutes or until brown.