Velveeta Cheese Recipes 
Velveeta cheese recipes have covered a span of many decades in the American household. As a child, growing up in the early fifties, this is the only cheese that I remember having in our kitchen on a regular basis. It was always so creamy and smooth.

I remember this so well because when we wanted a piece as a snack or for Mom's Velveeta recipes, it was so difficult to cut evenly because it was so soft. Finally they came out with the little roller cheese cutter; a perfect size to cut the Velveeta cheese. I think it was also by Kraft, the Velveeta Company. I know Mom got one free because she would not have spent the money even though she thought this cutter was great.
Velveeta cheese recipes came about by the origination of this product by Emil Frey, a Swiss immigrant, in the early nineteen hundreds.  It was given the name "Velveeta" because of its smooth creamy "velvet" texture. He was working for the Monroe Cheese Company when he came up with this processed cheese which has the flavor of American cheese.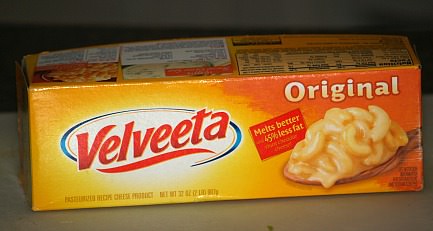 Velveeta Cheese

Due to the lack of refrigeration in transporting at this time period, it was necessary to make cheese which would not spoil in order to ship the cheese to other parts of the country.  Velveeta was known for not needing any refrigeration and still is today. You will find it on the grocery shelves rather than in the refrigeration sections. Also today, this cheese is not only available to Americans but it is available in several other countries.
Velveeta cheese became its own company because of the high demand for this product. Later this company was purchased and expanded by the Kraft Food Company. Today there are many other products available in the grocery stores under the name Velveeta; containing the Velveeta cheese. Because of the ease in melting this cheese, it is so easy to make simple and delicious Velveeta recipes.
CHEEZY SPANISH RICE
½ Pound ground beef
1 Small finely chopped onion
1 Large green pepper chopped
3 Cloves minced garlic
2 Cups cooked white rice
1 Can tomato soup (Do not dilute)
4 Ounces Velveeta cheese
2 Teaspoons chili powder
1 Teaspoon salt
½ Teaspoon black pepper
1 Teaspoon cumin
1/8 Teaspoon ground red pepper OPTIONAL
Preheat oven to 350F degrees.

Brown beef, onion, green pepper and garlic; drain excess fat.
Add rice, tomato soup, cheese, chili powder, salt, pepper, cumin and red pepper; blend well.
Spoon mixture into a baking dish; cover and bake about 30 minutes.
---
CLAM DIP RECIPE
In this Velveeta cheese recipe, it is blended with cream cheese for a great flavor combination with the clams.

1 Package (8 ounces) cream softened cheese

1 Can (6 ½ ounces) minced clams

¼ Pound Velveeta cheese cubed

2 Tablespoons sliced green onion

2 Tablespoons milk

¼ Teaspoon dill weed

Combine all ingredients and mix until well blended.
Spoon into 9 inch pie plate; bake at 350F degrees for 18 to 20 minutes until lightly browned.
Serve with crackers or chips.

---
EASY SALSA DIP RECIPE
Adding salsa and cilantro to this Velveeta cheese recipe makes a great tasting easy Mexican dip.

1 Pound Velveeta cheese cubed

1 Jar (8 ounces) salsa

2 Tablespoons chopped cilantro

Stir together cheese and salsa over low heat UNTIL CHEESE MELTS.
Stir in cilantro; serve with tortilla chips.

---
CHICKEN CACCIATORE RECIPE
Who doesn't love chicken cacciatore? Try this Velveeta cheese recipe and top the chicken with this great sauce.

1 Fryer chicken cut in pieces

1 Large onion slice and separated in rings

2 Tablespoons butter

1 Cup chopped tomato

1 Cup green pepper strips

½ Cup dry white wine or chicken broth

1 ½ Teaspoons dried crushed oregano

½ Teaspoon black pepper

½ Pound Velveeta cheese cut in cubes

¼ Cup sour cream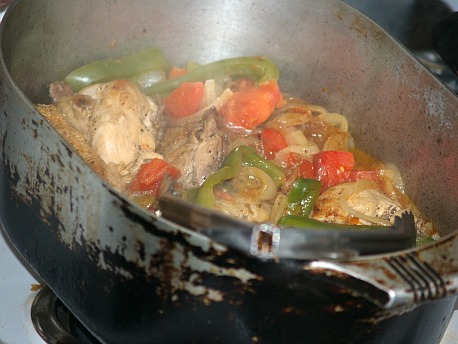 Cooking Velveeta Chicken Cacciatore
Brown chicken pieces in onion in melted butter in large skillet.
Add tomato, green pepper, wine and seasoning to skillet.
Bring to a boil, reduce heat, cover and simmer until chicken is tender.
Remove cover and cook 10 minutes longer; reduce heat to low.
Remove chicken pieces to a platter; reserve drippings in skillet and keep warm.
Add Velveeta cheese cubes and sour cream to drippings.
Stir until cheese melts; serve over the chicken.
NOTE: This takes a very large skillet with a lid; I used a dutch oven.

---
BEST BAKED MACARONI VELVEETA CHEESE RECIPE
An all time favorite Velveeta cheese recipe through the decades is this baked macaroni cheese recipe.

¼ Cup chopped green pepper

¼ Cup red bell pepper

¼ Cup chopped onion

2 Tablespoons butter

1 Pound Velveeta cheese cubed

½ Cup milk

2 Cup Elbow macaroni cook and drain

Preheat oven to 350F degrees.
Sauté vegetables in melted butter; reduce heat to low.
Add Velveeta cheese and milk to vegetables; stir until cheese melts.
Stir in cooked macaroni and spoon into greased casserole dish.
Bake 15 minutes and serve.

---
VELVEETA CHEESE FUDGE RECIPE
2 Cups butter
1 Pound Velveeta cheese (Cut in cubes)
4 Pounds powdered sugar
1 Can (8 ounces) Hershey's cocoa powder
2 Tablespoons vanilla
½ Cup chopped nuts
Butter 13 X 9 inch dish or pan.

Melt butter in a large saucepan over medium low heat; add cubed cheese.
Stir cheese mixture until completely melted; remove from heat
Add the vanilla, cocoa powder and nuts; quickly stir in sugar.
NOTE: Mixture thickens quickly so work fast.
Pour in prepared pan.