Visiting Charleston SC 
I had looked so forward to visiting Charleston SC for our website conference. I had heard so much about all the good food which is served in the local restaurants; especially seafood. I could not wait to get there.

We were all sitting in the middle of class at the Citadel. Everyone started talking about how delicious the food is mentioning the fried green tomato recipe. You would think our minds would be on building our websites but somehow people always get around to food. Of course, that's "right up my alley"; the mention of good food and I am all ears. As the day progressed, I could not wait to do some "sightseeing" while visiting Charleston SC and of course, try some of this great food.

After class was over I stopped in our hotel to freshen up a bit. We decided not to waste time and go to see the historical section while visiting Charleston SC. The talk was all about the restaurants and shopping in this area. At the hotel we met three of our new found friends, Terri, Wendy and Sue. They had the same idea in mind so we all decided to go together.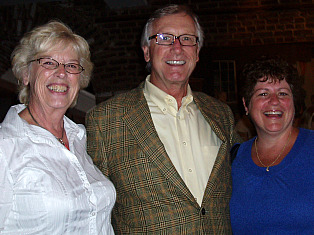 Me, Dick the owner and my friend Terri
We had a great time shopping in all the unique little shops but then we all started to get hungry. Terri got a message from her good friend who knew we were visiting Charleston SC. She said that her relative was an owner in some restaurants in Charleston and her favorite was called "Slightly North of Broad". We set out to locate "Snob's" as locals call it, but found ourselves standing on the opposite side of the street in front of the "High Cotton" restaurant. This restaurant also belongs to Maverick Southern Kitchens which owns "Snobs". It looked quite appealing so we decided to check it out, instead of crossing the street.


As fate would have it, we entered the door and the relative was walking out! Terri introduced herself to Dick, and explained who she was and that we were all visiting Charleston SC for our conference. Of course I saw a chance to get the inside scoop and maybe get recipes to pass on to you, so I jumped in to tell about my newsletter. What a very nice man! He was so accommodating, even letting us get a picture with him. This is typical Charleston style! Dick asked Katie, the manager to help me out with whatever I needed and she certainly did.


I need to say that it is recommended to make reservations but the staff was nice to work us in. Soon we were all seated at a nice round table and ready to enjoy a nice evening while visiting Charleston SC. "High Cotton" is derived from plantation jargon for livin' large. The atmosphere and décor took us back to the antebellum times in the low country; it was very comfortable and friendly.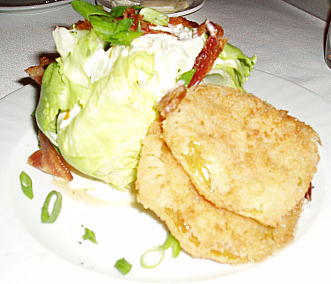 Lettuce Wedge served with Fried Green Tomatoes
Krystal introduced herself as our waitress and we explained to her that we were visiting Charleston SC. She reviewed the well known award winning wine list with us. I was beyond the wine and into the food selections! I spotted the fried green tomatoes! They came with the lettuce wedge with blackened bacon and a buttermilk blue cheese dressing. How delicious does that sound?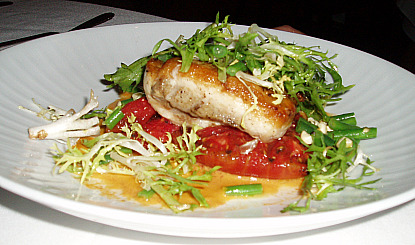 Halibut Filet
The large entree selection included everything from trout to filet mignon. For my entree, I selected the line caught halibut filet (above). Terri chose the certified wild American shrimp and grits(BELOW). Our other three friends each chose something different but I can't tell you what it was. When our food arrived, we all felt that the dinners were so delicious that we were only interested in our own plates.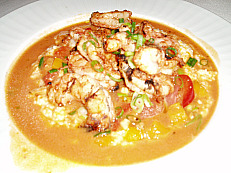 Shrimp and Grits
Anthony Gray, the chef at High Cotton does a wonderful job in the preparation of the foods and the selection of top quality ingredients comes through in the taste. The seafood in the Charleston area is like none other than I have been to. Being from Florida and having traveled to Alaska, I can still say Charleston has the best.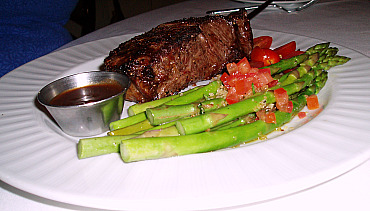 Filet Mignon
For all my traveling friends, visiting Charleston SC must be put on your list. This area has moved to the top of my favorite places list for delicious food and wonderful friendly people. The following is a list of all the restaurants belonging to Maverick Southern Kitchens. I know you won't be disappointed with any of them.

• Slightly North of Broad in Charleston

• High Cotton in Charleston and in Greenville

• Old Village Post House of Mt. Pleasant minutes from downtown Charleston

• High Hammocks at Pawleys Island 74 miles from Charleston


While we were finishing up, we began a discussion about this little cooking shop also a part of Maverick Southern Kitchens. Charleston Cooks is located right across the street. By now it was getting late and I was sure it would be closed, but once again fate held out! We walked out the door and saw it still lit up and busy. These kitchen stores are one of my weaknesses and I was ever so happy that this one was still open. It was loaded with all kinds of unique kitchen gadgets.

It is time to call it a night so we headed back to our hotel. The next day, somehow everyone in our class knew about our evening. They couldn't believe we had such a great time, met all these wonderful people and walked out with information for the newsletter. Oh, I forgot to mention the pictures! We took pictures of all our food. Terry says "she will never look at food the same way again!"

Thank you Dick, Katie, Krystal, Jennifer, Laura and all you wonderful people at High Cotton for making us such a delightful evening. I never dreamed visiting Charleston SC would be so much fun. I know my readers will also thank you for these great recipes.

FRIED OYSTERS RECIPE
a great dish when visiting Charleston SC
1 Cup flour
1 Cup cornmeal
1 Tablespoon salt
1 Tablespoon cracked black pepper
1 Tablespoon onion powder
Combine all ingredients in a bowl.
---
GREEN GODDESS DIP RECIPE
2 Tablespoons scallions

3 Tablespoons parsley

2 Tablespoon tarragon

2 Tablespoons chives

2 Tablespoons lemon juice

3 Tablespoons tarragon vinegar

1 Tablespoon chopped anchovies

2 Cups mayonnaise (preferably homemade)

Mix all ingredients except mayonnaise, place in a food processor and puree until very smooth. Add mayonnaise and puree one more minute.
---
OYSTERS
24 shucked oysters
Marinade:
1 Tablespoon tobacco

½ Tablespoon Worcestershire
1 Tablespoon salt
1 Tablespoon pepper
1 Tablespoon Lemon juice
1 Cup buttermilk
Mix all marinade ingredients together, toss with oyster. Marinade for 1 hour. Drain well and pat dry, toss with breading. Fry at 375 degrees for 60 seconds. Rinse and drain one bunch watercress and toss with olive oil, lemon juice, red wine vinegar and shallots. Line 4 plates with dressed watercress. Immediately after frying, place oysters and dip on the same plate and serve.
---
FRIED GREEN TOMATO RECIPE
We found while visiting Charleston SC that fried green tomatoes go well as a side dish to most entrées especially seafood.
Green tomatoes

Flour

Salt/pepper

Fat for frying


Ash, core and cut tomatoes in ¼ inch slices across.
Dip each slice into seasoned flour.
Fry quickly on each side in hot fat; drain on paper towels.