What are Ramps? 
What are ramps? Recently, I came across this term in a cookbook. I am usually not stumped by terms found in cookbooks but I had never heard of this one.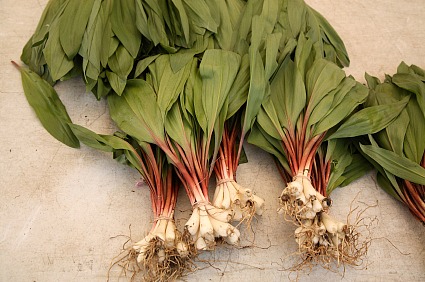 What Are Ramps?
A few weeks ago I drove over to the Davy Crockett homestead. What a nice place! (More about that later). Anyway, I was browsing around looking at everything when I came across this "Tennessee Hometown Cookbook". I found several interesting things in this cookbook. I always immediately go to the cakes, cookies and dessert sections when inspecting new cookbooks. You might say that is where my heart lies!

What surprised me about the cake recipes is that most included a box cake mix in the recipe. I rarely use cake mixes and I did not expect this is a hometown cookbook. On the other hand, these box mixes do save time in today's busy world and the recipes look absolutely delicious. I am all for any help we can get. I bought the book so I could read it more thoroughly at home.
A few days later I was flipping through the book and I saw "Cosby Ramp Festival". What are ramps? I had to research this one to see what I had been missing. Before I got started, I happened to talk to my brother, Jake. Now this guy has a lot of knowledge but I was sure this one would stump him. I said to him, what are ramps? He immediately came back with, what is a scallion? I asked him what has that got to do with ramps? He knew I was familiar with scallions. Anyway, ramps are wild leeks or wild onions and are native to North America and very much so in Tennessee in early spring. The bulb of the ramp resembles that of the scallion but has nice flat broad leaves.
The flavor of ramps is compared to onions and garlic; the garlic odor is very strong so keep your distance from other people after eating a few. The Native Americans knew quite well what are ramps because they used them regularly for medicinal purposes. Early settlers learned to use ramps to add wonderful pungent flavor to their food. They can be added to any of your favorite egg dishes, potato dishes, rice dishes or casseroles.
UPDATE May, 2019: What are ramps? May is "digging time" in the Appalachian Mountain area. Today, I learned a lot more about cooking ramps. While at the bank I overheard people talking about ramps. I just couldn't hold back so I had to ask them the question. Just what are ramps? As I explained before, it was only recently that I heard of ramps. This mother and son that I was talking to had all the specifics.

First, down the street freshly dug ramps were being sold. They come in male and female, which I did not know. It is best to use only the white part. The green leaves are said to be a little bitter although some do use them. Everyone present seemed to think they are better with fried potatoes than anything else. It is very important that they are not overcooked. It is best to cook the recipe first and then briefly stir in the sliced ramps. All seemed to agree that they "stink" but honestly I think they smell really good. Most love or hate them! I really love the flavor but I like garlic and onion. I think the flavor and smell is a mixture of both. I have never thought that they smell bad at all.

I went right down to where a big sign was hanging for "Ramps". Most people who read the sign were asking "What are ramps"? The price was $3.00 for a bunch of twelve or you could purchase five bunches for $12.00. Since I was going to be on the road, I asked for water to keep them fresh. My new friends from the bank were now there buying some ramps. Quickly I was informed not to wet them. They must be kept dry; water and overcooking will cause them to disintegrate. Before using, cut roots off and peel off outer skin. Briefly wash in cold water and dry with a paper towel.

No one told me what ratio of ramps to other ingredients like the potatoes. I considered them like onions when frying potatoes so I cleaned and used my entire bunch of twelve. Here is how I made my fried potatoes and they were delicious.
EASY FRIED POTATOES WITH RAMPS
What are ramps when making fried potatoes?

2 to 4 Tablespoons fat (Bacon grease is best)
5 Medium potatoes (Peel and slice)
Salt/ pepper
12 Ramps (White part sliced)
Fresh chopped parsley for garnish

Melt fat in large skillet (Iron skillet is best) over medium heat.
Cover and cook lifting over with spatula occasionally until tender.
NOTE: Potatoes should be tender and showing some brown.
Season with salt and pepper; stir in the ramps only to heat.
Garnish with freshly chopped parsley; serves 4.

---
HASH BROWN POTATO RECIPE 
(Find out what are ramps by making this delicious recipe.)
2 Pound bag frozen hash brown potatoes, partly thawed
½ Cup melted butter
1 Teaspoon salt
½ Teaspoon black pepper
½ Cup chopped ramps
1 Can undiluted cream of chicken soup
1 Pint (2 cups) sour cream
10 Ounces grated cheese (your choice)
2 Cups crushed corn flakes
¼ Cup melted butter
Preheat oven to 375F degrees.
Place hash brown potatoes in buttered 9 X 13 inch baking dish.
Mix together the ½ cup melted butter, salt, pepper, ramp, chicken soup and sour cream; pour over potatoes.Top casserole with cheese.
Mix corn flakes and ¼ cup melted butter; sprinkle over the top and bake 45 minutes.
---
You can find out more about what is ramp by visiting one of the many annual ramp festivals. By the way, my new cookbook list in the back all of the Tennessee festivals; some 250 of them. The ramp festival in Cosby Tennessee is one of them which is held each year in May. The festival holds a ramp recipe contest and a Maid of Ramps contest. There are plenty of Appalachian crafts to purchase and plenty of good music to listen to; and I bet there is plenty of good food.
SAUSAGE AND RICE RECIPE FOR CASSEROLE
½ Pound browned sausage
1 ½ Pounds browned ground beef
½ Cup chopped ramps
1 Chopped green bell pepper
1 Cup salsa
2 Cans tomato sauce
2 Cups cooked brown rice
1 Cup grated cheese
Salt/ pepper
Seasoned salt
Preheat oven to 350F degrees.
Combine cooked meats; add in salsa, tomato sauce and rice and mix well.
Add salt, pepper and seasoned salt to your taste.
Pour mixture into a lightly oiled baking dish; top with grated cheese.
Bake for 25 minutes.
---
ONION MARMALADE RECIPE
½ Cup butter

6 Medium red onions (2 ½ pounds) red onions sliced

6 to 8 Ramps chopped white portion

3 Tablespoons sugar

¼ Cup red wine vinegar

1 Cup dry red wine

Melt butter in medium skillet; add onions and ramps and cook over high until tender stirring.
Add sugar and cook 1 minute while stirring.
Add remaining ingredients and continue cooking stirring until liquid is absorbed about 15 minutes.
Serve with roasted meat or poultry.

---
ROASTED RAMP CRÈME BRULEE RECIPE
What are ramps and how can they be cook? They can be used to make delicious recipes like this creme brulee.
10 Fresh ramps chopped

2 Teaspoons olive oil

2 Cups whipping cream

5 Egg yolks

1 Tablespoon sugar

1 Teaspoon salt

Place chopped ramps on aluminum foil, drizzle with olive oil and pinch foil to close.
 Bake in preheated oven at 350F degrees for 45 minutes. REDUCE HEAT TO 275F degrees.
Combine ramps with whipping cream, egg yolks, sugar and salt.
Process in blender until smooth; pour mixture into 5 individual baking dishes,
Set baking dishes in large roasting pan; add ½ inch hot water in larger pan.
Bake at 275F degrees for 45 minutes or until set.

---
RAMP AND SAUSAGE CASSEROLE RECIPE
1 Pound sausage
2 Cups milk
4 Beaten eggs
1 Teaspoon salt
½ Teaspoon black pepper
1 Tablespoon minced garlic
15 Chopped ramps
8 Small sliced potatoes
2 Cups shredded cheddar cheese
Preheat oven to 350F degrees; grease 9X13 inch casserole baking dish.

Brown sausage stirring to crumble; drain off excess fat.
In a large mixing bowl combine milk, eggs, salt, pepper and garlic; mix well.
Layer half of potatoes in prepared baking dish; layer half of sausage over potatoes. 
Sprinkle half of ramps over sausage; repeat with second layer of each.
Pour milk and egg mixture over top; bake about 40 minutes.
Sprinkle cheese over the top and return to oven until cheese is melted.