What is Citron?
What is citron? When I was a young cook I never had any idea what citron was. I never saw this in the grocery store so when I ran across it in a recipe I would simply add a little more candied fruit like orange peel or lemon peel; you know "some kind of citrus".
What is citron in cooking? Citron is a large "citrus" fruit and very fragrant. The most popular recipes to find this included are many of the fruitcakes, fruitcake bars or cookies. Like the lemon and lime, it is used for wonderful flavor it adds to the recipe. 
What is citron in medicine? It used to be used mainly for medicinal purposes during ancient. It was regarded as an antibiotic, used to fight intestinal ailments, seasickness and pulmonary problems. It has a high content of vitamin C and used as a tonic to cure coughs and there is scientific claims that it helps to fight cancer. 
What is citron in religion? The Jews use citron in their religious rituals during the Feast of the Tabernacles. You may find this symbol on many of the Jewish antiques. Certain varieties are also used as offerings in the Buddhist temples.
What is citron in taste?  A few years after I started seeing "citron" in recipes I realized citron was a separate fruit. I found it very difficult to find in the grocery stores so after inquiring I was told it would be with the other dried fruits for fruitcakes. After finding dried citron, I tried it a couple times in recipes. To my surprise, I felt that it (dried) added nothing to the flavor of the recipe so I just skipped this ingredient in future recipes.
The other day while browsing through the produce section at Fresh Market, I came across this weird yellow object with a lot of long skinny fingers coming out of the center. The sign said "Buddha's Hand, a variety of citron". I bought one mainly because I had never seen one before. When I got home I decided I would candy it to make for my fruitcakes. The flavor and fragrance is much stronger than what I purchased at the grocery store.
What is citron when added to fruitcake? My homemade candied citron really made a difference in the taste of my fruitcakes. With this as an example, in the future I plan to make all the candied fruit for my cakes. Can you imagine the flavor?
HOW TO MAKE CANDY CITRON?
Since I only purchased one citron, that is all I candied and I used it all in one large fruitcake. The next time I will purchase several and simply double my recipe.
1 Citron (I used Buddha's Hand)
1 ½ Cups sugar
1 Cup water (plus extra water for simmering)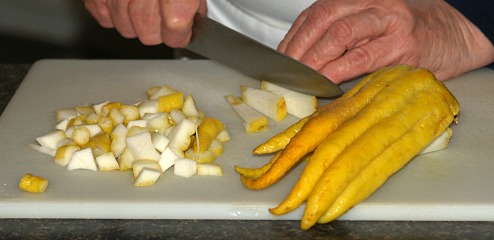 Dicing Citron
Wash and dry citron; dice in ¼ inch pieces.
Place diced citron in a saucepan; cover with water and bring to a boil.
Reduce heat and simmer citron about 35 minutes until translucent.
Drain citron in colander; put citron back in pan and add the sugar and the water.
Bring to a boil and cook citron until candy thermometer reaches 230F degrees.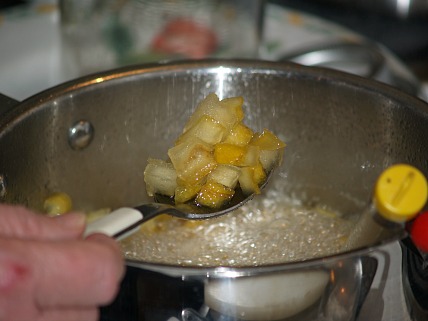 Cooking Citron
NOTE: Stir occasionally to prevent sticking.
Remove from heat and let citron set in syrup until cooled.
NOTE: I store mine in the syrup in the refrigerator until use but you can drain the citron, toss in sugar and lay on a rack to dry. The liquid can be used in other recipes or in drinks.
---
What is citron like in preserves? Because of the strong flavor of fresh citron it makes a wonderfully flavored preserves. Not only is it great on hot biscuits but use it in recipes. Puree the preserves in a food processor to spread between layers of cakes for extra flavor like we sometimes use apricot preserves.
CITRON PRESERVES RECIPE
8 Pounds citron
5 Pounds sugar
3 Lemons thinly sliced
Peel citron and cut into very thin slices; cover in weak salt water and let set overnight.
Next morning drain citron, cover in fresh water and boil 30 minutes.
Drain citron; add sugar, lemons and one cup of water to citron. 
Bring mixture to a boil; cook until syrup is quite thick and citron is transparent stirring often.
---
What is citron like in bars and other cookies?
Fruitcake bars and other fruit cookies are very popular during the holidays. Citron added give these recipes a surprising boost of flavor.
FRUIT BAR RECIPE
2 Cups flour
2 Teaspoons baking powder
½ Teaspoon salt
½ Teaspoon cloves
1 Teaspoon cinnamon
1 Teaspoon allspice
½ Cup softened butter
1 Cup sugar
2 Well beaten eggs
1 Teaspoon vanilla
1 Cup candied fruit mixed
¼ Cup candied citron
½ Cup chopped nuts
Preheat oven to 350F degrees.
Sift flour and measure; sift together sifted flour, baking powder, salt and spices.
Cream butter and sugar; beat well.
Add eggs and beat until light and fluffy; beat in vanilla.
Stir in fruits and nuts and blend well; chill for 1 hour or more.
On light flour board roll to ¼ inch thickness; cut into bars 2 by 4 inches.
Place on greased cookie sheet; bake about 15 minutes. Makes 32 bar cookies
---
What is citron like in fruitcakes? The old fashioned fruitcakes almost always included citron. The following old fashioned fruit cake was made with the best quality ingredients; all home prepared fruits. Can you imagine the great flavor?
OLD FASHIONED 18TH CENTURY FRUIT CAKE RECIPE
In most of the old time fruitcake recipes citron was always listed as an ingredient. This is probably because fruitcake recipes originated and were brought here from other countries. When I was young I never knew of Mom using citron because it was just not available.
1 Pound white raisins
1 Pound candied citron
1 Pound candied cherries
¼ Pound candied lemon peel
1 Pound candied pineapple
1 Cup coconut
1 Cup chopped pecans
1 Cup chopped almonds
¼ Pound candied orange peel
1 Pound softened butter
1 Pound sugar
1 Dozen eggs
1 Pound flour
2 Gills sherry wine divided* (See below)
Juice of 1 orange
Juice of 1 lemon
1 Tablespoon vanilla
1/8 Teaspoon salt
2 Cups flour
NOTE: * What is a gill? A gill is an old fashioned measurement; one gill is one quarter of a pint or ½ cup.
Preheat oven to 425F degrees; prepare pan.

TO PREPARE PAN (or pans): This is a large fruitcake; you can use two 10 inch round pans with a 2 inch high rim. If you have a very large baking pan, you can also use it. Years ago cooks used many different pans which they had in their kitchens.
PREPARE PAN by first greasing with lard or solid shortening. Cut heavy paper to fit the pan and line it before filling.
Wash raisins and citron the night before; drain and let set overnight.
Cut the cherries in two; cut other fruit about the same size and place on a large paper.
Combine all fruits and nuts in a large bowl; toss with 2 cups of flour to coat.
Cream butter and sugar in another mixing bowl; add 2 eggs at a time beating well after each addition.
Add the 1 pound of flour a little at a time beating well after each addition.
Stir in the fruit and nut mixture a little at a time beating (by hand) well after each addition.
Beat in the juices, 1 gill of wine and salt until all is well blended.
Fill pan with batter or divide it evenly between two pans.
HAVE OVEN HOT at 425F degrees before placing cake in to start it baking at once.
TURN OVEN DOWN AS LOW AS POSSIBLE and do not open the door.
AFTER 1 HOUR quickly place a hot pan of water under the cake.
This cake needs to bake from 4 to 6 hours; the slower the better the cake.
NOTE: Do not try to test the cake for a few hours; it causes it to break on the top.
NOTE: Today most of us have the luxury of a windowed oven door to keep watch on this cake.
Bake until pick comes out clean.
POUR ANOTHER GILL of wine over the cake.
CUT OFF THE HEAT and let the cake set in the oven until all has absorbed in.
DO NOT remove the cake from the pan until the next day.
---
What is citron in a pie?
Homemade candied citron or homemade citron preserves makes a wonderful flavor in this pie recipe.
1 Unbaked pie shell (IN METAL PAN)
Thin slices of candied citron or citron preserves
3/8 Pound softened butter
½ Pound sugar
6 Egg yolks
1 Egg white
1 teaspoon vanilla
Preheat oven to 450F degrees.
Line unbaked pie shell with the candied citron or spread a thin layer of dry citron preserves. (If preserves is too runny, drain in cheesecloth).
Cream butter and sugar; add beaten egg yolks and beat well.
Beat egg white until stiff; fold egg white and vanilla into creamed mixture.
Spoon mixture into prepared pie shell; bake 10 minutes at 450F degrees.
REDUCE oven temperature to 350F degrees; bake 30 minutes longer.
* What is citron? The fruit citron is commonly found diced and candied along with the other candied fruits in the supermarkets. This year I have seen an abundance of the fresh citron (Buddha hand) at Fresh Markets. I believe this chain of stores is nationwide and I highly recommend the homemade candied citron over the prepared variety; there is no comparison in taste.