What is Dill? 
What is dill? This is a flavor I loved long before I knew what it was. As a child when I went to my sister's house is the only time I got dill pickles. Mom and Dad canned pickles but they were not like these. I realized now that I loved the dill in them. Even though dill is very much of our German heritage, I could not taste the dill in our home canned pickles; maybe they just didn't have enough. I have had many sour pickles but they are not the same. Still today, I love dill pickles.

What is dill? Dill weed is an herb that can be purchased fresh, dried, freeze dried or in seed form. Although I love the fresh herbs better than anything, quite often in the places where I am fresh dill is not available. I always keep a large supply of freeze dried dill weed on hand to use in all types of recipes. I do not use dill seed very often; it has more of a flavor like caraway. When I use dill, I want the "dill" flavor; I use caraway in other dishes.


What is dill? I cannot remember a time here in the United States that we did not have dill but it originated around the Mediterranean area, It has been grown there since ancient times being one of the oldest culinary herbs. It has a history throughout Europe connected to many superstitions such as hanging it over the door into homes would keep away the witches. Those have now vanished and we all now simply enjoy this herb in our culinary worlds.


What is dill and the benefits of using it? Dill provides a good source of calcium supply for bone health.  It is used to fight internal and external infection because of it anti bacterial properties. The green dill weed helps the body to eliminate free radicals preventing cancers, heart disease and other problems. Since ancient times, dill has been used for digestive problems by managing the stomach acid. It soothes a sick stomach and prevents diarrhea.


Do you ever get those annoying hiccups? Dill is commonly used to get rid of them by making a tea with fresh dill and boiling water. This tea has also been used since ancient times as a cure for headaches and insomnia.


What is dill? Although the first thing we usually relate dill to are the wonderful dill pickles, it is the most common herb to use with fish; and oh, how good. I use dill a lot! It is great in most pasta dishes, vegetables like green beans, creamy dips and I love dilly bread.

BAKED TROUT RECIPE 
What is dill and how to use?
 This dill flavored fish is great for cookouts when cooked on the grill.
NOTE FOR BAKED COD RECIPE: I often substitute the trout with thick frozen cod fillets and dried dill instead of the fresh sprigs; it is always tasty. After thawing the fish fillets and rinsing, I slice ¾ way through middle with a sharp knife making a pocket. I then stuff the pocket like I do the inside of the fish.
4 Whole trout cleaned

Salt/ pepper

4 Sprigs dill

1 Chopped shallot

1 Tablespoon dry sherry

¼ Cup fish broth

2 Teaspoons olive oil
2 lemons thinly sliced

Pat cleaned fish dry; season insides with salt and pepper and place sprig of dill in each.
Preheat oven to 450F degrees; cut 4 pieces of aluminum foil into 12 inch circles

| | |
| --- | --- |
| 12 inch Aluminum Foil Circle | Seasoned Cod Ready to Bake |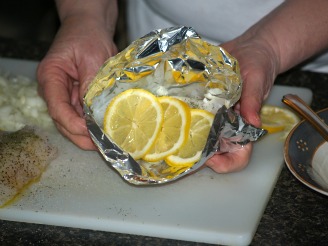 Cod Placed in Foil
Fold foil in half circles; pinch ends together shaping a boat to hold the fish.
Put fish in boats, sprinkle with chopped shallot and pour ¾ teaspoon sherry over each.
Add to each boat 1 tablespoon fish broth, ½ teaspoon olive oil and cover with slices of lemon.
Close foil by folding edges pinching securely; place in METAL pan and bake 8 minutes.
---
DILL DIP RECIPE
2 Cups sour cream

3 Tablespoons instant minced onion

1 Tablespoon parsley flakes

1 ½ Teaspoons seasoned salt

2 Cups mayonnaise

Combine all ingredients and mix well; serve with fresh vegetables.

---
DILLY MACARONI SALAD RECIPE
1 Package (16 ounces) macaroni cooked to directions and drained

1 ½ Cups mayonnaise

½ Cup chopped green pepper

2 Tablespoons vinegar

1 ½ Teaspoons salt

1 Teaspoon dill weed

¼ Teaspoon black pepper

1 Cup chopped celery

1 Finely chopped medium onion

1 Small jar pimiento

Combine and blend all ingredients; refrigerater12 hours.
---
HOW TO CAN GREEN BEANS

What is dill? Find out with the following recipe for easy canned dill pickled green beans. What flavor!
DILLED GREEN BEANS
4 Pounds fresh green beans

¼ Teaspoon red pepper flakes per pint jar

½ Teaspoon whole mustard seed per pint jar

½ Teaspoon dill seed per pint jar

1 Clove garlic per pint jar

5 Cups white vinegar

5 Cups water

½ Cup uniodized salt

Wash beans thoroughly; drain and cut in lengths to fit into pint jars.
Pack beans into clean hot jars; add pepper, mustard seed, dill seed and garlic.
Combine vinegar, water and salt; heat to boiling.
Pour boiling liquid over beans filling jars to within ½ inch of top; adjust jar lids.
Process in boiling water bath for 5 minutes.
---
DILLY CHEESE BREAD RECIPE

What is dill? This delicious bread will tell you all about dill and why I love the flavor.
1 Package yeast
¼ Cup warm water (112F degrees)
1 Cup cottage cheese heated to warm
1 Tablespoon butter
2 Tablespoons sugar
2 Tablespoons instant minced onion
2 Tablespoons dill weed (or seed)
1 Teaspoon salt
¼ Teaspoon baking soda
1 Egg
2 Cups flour
| | |
| --- | --- |
| Mixing Dough | Beat into Stiff Ball |
Soften yeast in warm water.
Combine warm cottage cheese, butter, sugar, onion, dill, salt, soda and egg.
Stir yeast mixture into cottage mixture; add flour slowly beating with a spoon to form stiff ball.
Cover and let rise until double in bulk about 1 hour.
Punch dough down and place in well greased casserole baking dish; 2 ½ quart size.
Let rise 40 minutes; pour melted butter over top and sprinkle with salt.
Bake in preheated oven at 350F degrees for 40 to 50 minutes.
---
VEGETABLE SAUCE RECIPE
What is dill? Find out what delicious flavor it can add to vegetables with this delicious dill cheese sauce recipe

1 Can (11 ounces) Cheddar cheese soup undiluted

2 Teaspoons dried dill weed

¼ Teaspoon aromatic bitters

½ Cup plain yogurt

Combine all ingredients in a saucepan; cook and stir over medium heat until hot NOT BOILING.

Serve over broccoli, cauliflower, asparagus or baked potatoes.