What is Fenugreek ?
What is fenugreek? Have you even heard of it? This is one ingredient that I had never heard of much less do any cooking with in my younger years. Fenugreek is native to southern Europe, the Mediterranean region and Western Asia.  I find it used in more of my recipes from India than any other cuisine and India is the largest producer in the world.

Just what is fenugreek?
In the culinary world, there are many ways to use fenugreek. It is used as a vegetable; the fresh green leaves are used in Indian curries. As a leaf plant, this is the key ingredient in Iranian dishes like gormeh sabzi.  If you are able to get them, young tender shoots add unusual taste to green salads. When these plants are dried they can also be used as an herb for seasoning.


 What is fenugreek and what is the flavor? I have only been able to purchase fenugreek in the seed form. The pungent strong flavor of this spice, having a slightly sweet and slightly bitter taste, blends well into the strong savory Indian curry dishes and many South African recipes. These seeds are usually ground and then added in the recipes. Raw seeds are quite bitter and really not good tasting (my opinion) so they are best if roasted first and then ground for a milder flavor. (They can be ground in a spice grinder or coffee bean grinder.)

What is fenugreek as far as the health benefits?  Not many studies have been done using the green s of this plant like there have been for the seeds. Still there are differing opinions about the medicinal effects of these seeds. The most popular benefit for fenugreek recognized by many countries around the world is to increase the milk supply in breast feeding mothers. Some also report that with 1 gram of fiber in only ½ teaspoon of the seeds it works as a great cholesterol lowering substance.  Some reports also claim the seeds show antidiabetic qualities; some people say they have even been able to cut back on their diabetic medications.

As I stated earlier ground fenugreek has a strong and unusual flavor; some might even consider it a strange flavor.  Due to the taste of this spice you would not want to add it randomly to your recipes. Try adding it to recipes which are already highly seasoned like the Indian, South African and even recipes from Latin America to give them a unique flavor. When you do decide to add it, do so sparingly; from a pinch to ½ teaspoon is usually enough depending on the size and type of recipe. Some favorite things you might try adding ground seeds to are; add a little to bread dough, in spice tea, in lentils and split peas, any curry dishes, combine with cinnamon, ginger and cumin for a chicken rub or combine with coriander, garlic, cardamom and cumin to add to egg dishes. Use your imagination but also use caution with the amount. (This is my opinion).

NOTE: Some curry powders have fenugreek included in them; if so, add extra sparingly.

HOMEMADE CURRY POWDER RECIPE
What is fenugreek? This spice adds a special flavor to spicy curry powder. It doesn't take much so add sparingly; I think ¼ teaspoon is plenty.

¼ Teaspoon ground fenugreek seeds

1 Teaspoon ground cloves

4 Teaspoons ground coriander

3 Teaspoons chili powder

1 Teaspoon freshly ground black pepper

2 Teaspoons cumin

1 Teaspoon turmeric
Combine and blend; store in a tightly covered glass jar.

---
DAHL RECIPE WITH SPINACH
What is fenugreek and how will it be used in this Indian split pea stew; it is delicious sere with the raita recipe (or sauce) below.

1 Cup yellow split peas sorted and rinsed

3 Cups water

1 Tablespoon vegetable oil

1 Teaspoon cumin seeds

1 Medium chopped onion

½ Teaspoon ground ginger

½ Teaspoon ground fenugreek seeds

3 Cloves minced garlic

¼ Teaspoon cayenne pepper

1 Can (14 ounces) undrained diced tomatoes

1 Package (10 ounces) frozen cut spinach

Salt to taste

Combine split peas, water and turmeric in a large saucepan.
Bring mixture to a simmer and cook until peas are tender about 40 minutes.
Heat oil in a large skillet over medium heat; add cumin seeds and cook while stirring about 20 seconds.
Add onions and cook while stirring until softened.
Add ginger, garlic, fenugreek and cayenne; cook and stir about 30 seconds.
Add tomatoes and cook until almost all liquid is gone about 7 minutes; set aside.
Cook spinach according to package directions; drain and squeeze out excess moisture.
Combine split peas, tomato mixture and spinach; cook and stir a few minutes to blend flavors.
Season with salt to taste; serve in bowls topped with raita sauce.

---
RAITA RECIPE
What is fenugreek and how will it be used in this sauce to serve with the above Dahl recipe.  When serving spoon on top like we might top a bowl of chili with a spoon of sour cream.

1 Cup plain yogurt

4 Teaspoons lime juice

1 Teaspoon ground cumin

Salt to taste

Combine and blend; serve with dahl recipe.

---
AFRICAN BOBOTIE RECIPE
What is fenugreek and why is it so delicious in this African recipe?
3 Slices day old bread

1 ½ Cups milk

2 Medium chopped onions

1 Clove minced garlic

½ Cup slivered almonds

½ Cup raisins

1 Tablespoon sugar

1 Teaspoon salt

1 Teaspoon curry powder

½ Teaspoon ground fenugreek

1/8 Teaspoon black pepper

1 Tablespoon vinegar

1 Teaspoon lemon juice

1 ½ Pounds ground beef

2 Eggs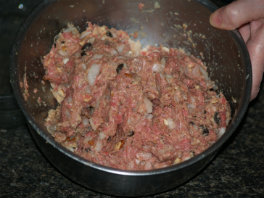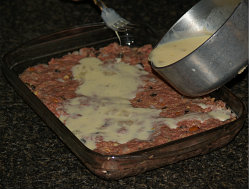 Soak bread in milk; squeeze milk from bread, reserving the milk.
Combine all ingredients except milk and 1 egg.
Press mixture into a 7 X 11 baking dish.
Add enough milk to reserved milk to make ¾ cup.
Beat together milk and remaining 1 egg; pour over the meat mixture.
Bake uncovered at 350F degrees for 60 minutes or until golden brown and firm to touch.
Serves 6.
---
CURRIED CAULIFLOWER BISQUE RECIPE
2 Tablespoons butter

½ Teaspoon ground fenugreek

1 Tablespoon curry powder

1 Teaspoon ground coriander

2 Cups chopped onions

2 Cloves minced garlic

1 Tablespoon minced fresh ginger

2 Tablespoons flour

7 Cups milk

1 Head cauliflower cut in small pieces

Salt to taste

Fresh ground black pepper to taste

Melt butter in a large saucepan over medium heat.
Add fenugreek, curry powder and coriander; cook and stir 1 minute.
Add onion, garlic and ginger; cook and stir frequently about 10 minutes.
Add flour; cook and stir 3 more minutes.
Slowly add the milk while stirring so lumps don't develop.
Add cauliflower; bring to a simmer and cook about 45 minutes.
Season with salt and pepper to taste.
Add batches of soup in blender and process only until slightly chunky.
Dump back into saucepan and serve hot; 6 Servings.