What is Quinoa?
The answer to the question what is quinoa is quite simple as quinoa is a healthy vegetable. You thought it was a grain, right? A common misconception as quinoa looks a lot like a grain and has a nutty flavor but it is actually in the same family as Swiss chard and spinach, along with other leafy green vegetables. Used since the time of ancient civilizations, quinoa has only recently been rediscovered.
What is Quinoa?

To elaborate a bit more, quinoa is a seed that is produced year round, making it readily accessible in health food stores. When cooked, it has a creamy and crunchy texture that is also fluffy, think oatmeal with small pieces of nuts or yogurt and granola all in one. Rich in amino acids, which are proteins essential to the bodies overall maintenance and survival, quinoa is most popular in yellow but the red, black, purple, orange, and pink varieties may all be consumed, along with the hard to find leaves of the quinoa plant. The plant leaves taste very similar to those of quinoas relatives and can be prepared the same way.

Health Benefits of Quinoa
Although you are now aware of what is quinoa you should also be aware of its health benefits and why you should include this product as part of your diet. Raw, uncooked quinoa has between 15 and 50 percent of the daily value of copper, iron, manganese, phosphorous, magnesium, and tryptophan, which are all essential elements that the body needs to perform at its very best. These and other nutrients in quinoa help to fight cancer, improve heart health, and prevent migraines.
How to Cook Quinoa

What is quinoa is a question that has been answered but how exactly should this grain-like vegetable be consumed? One idea is to use it as a replacement for wheat when making tabouli, cookies, or muffins, since the quinoa seed can be ground into flour. This flour is also a healthy, thickening agent and can easily replace cornstarch or other types of flour in stews, soups, or curries. If you enjoy bean sprouts in your salad or on a sandwich, you might want to use quinoa sprouts instead. Quinoa noodles make for a healthy alternative to pasta or for breakfast, simply make a hot porridge with fruit and nuts.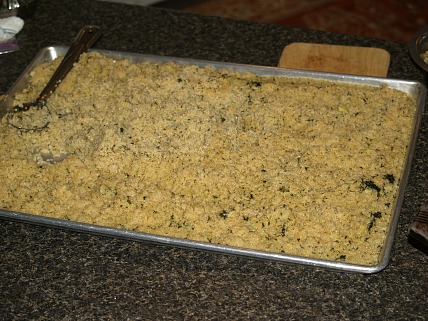 What is Quinoa Cooked?
QUINOA ZUCCHINI PATTIES RECIPE
What is quinoa? This nutrient rich whole grain with fresh herbs makes very delicious browned patties. This is a great recipe to add to your vegetarian diet.
1 Cup quinoa
2 Cups chicken stock
1 Small can mushrooms
¼ Cup chopped tomato
½ Chopped bell pepper
1 Cup shredded zucchini
¼ cup slivered almonds
1 Tablespoon chopped fresh basil
1 Tablespoon chopped fresh parsley
2 Sliced green onions
2 Eggs beaten
½ Cup breadcrumbs plus for shaping
Salt/pepper
Oil for frying
Soak quinoa for 5 to 10 minutes; drain and rinse well.
Combine drained quinoa, chicken stock, mushrooms, chopped pepper, tomato, zucchini, almonds, basil and parsley in a large saucepan.
Bring mixture to a boil; cover, reduce to low heat and simmer about 20 minutes or until quinoa is tender; set off to cool 30 minutes.
Add green onions, eggs, breadcrumbs, salt and pepper; mix well. 
Measure ¼ cupful onto tray; refrigerate for 15 minutes; shape into patties patting into sides more crumbs.
NOTE: I like Panko crumbs for coating; it makes a nice crisp exterior.
Fry in a skillet with a little hot oil a few minutes on each side until golden brown (Add more oil as needed).
Serves 6.
Zucchini Patties Frying on Griddle
---
BLACK BEAN RECIPE with quinoa and tomatoes
One way of cooking with grains of quinoa is to combine it with black beans and tomatoes. To create this healthy recipe, gather:

2 Tablespoons of melted butter
2 Tablespoons of freshly squeezed lime juice
2 Teaspoons of grated lime zest
1 cup of quinoa
1 teaspoon of sugar
1 tablespoon of vegetable oil
 14 to 15 ounce can of rinsed and drained black beans
Four chopped scallions
Two medium tomatoes, diced
A quarter cup of fresh chopped cilantro
In a large bowl, whisk the oil, butter, sugar, lime juice, and zest until it is well blended. Washing quinoa is next and should be done three times, each of which requires a change of cold water and draining in a sieve. Once the quinoa has been properly washed, it must be cooked in an uncovered pot of boiling salt water for about ten minutes or until it is tender. Use the sieve to drain the quinoa and then place the sieve over the same pot, now filled with an inch of simmering water.
Place a folded kitchen towel over the quinoa and cover the sieve with a lid so that the quinoa becomes steamed. Do this over medium heat for about ten minutes or until the quinoa is tender, fluffy, and dry. Take the pot away from the heat, remove the lid, but not the towel, and let it stand for five minutes. Finally, add the quinoa to the lime dressing, toss, and stir in the remaining ingredients before diving in and finding out what is quinoa and how it tastes.
---
BAKED QUINOA RECIPE with zucchini
1 Tablespoon olive oil

1 Chopped medium onion

2 Pounds sliced zucchini ¼ in thick

2 Cloves minced garlic

Salt

Fresh ground black pepper

1 Can (28 ounces) crushed Italian plum tomatoes

1 Cup washed drained uncooked quinoa

2 Tablespoons chopped parsley

¼ Cup grated Parmesan cheese divided

¼ Cup breadcrumbs

Preheat oven to 425F degrees.
Heat oil in large skillet; add onion and cook until lightly browned.
Add zucchini and garlic; stir fry for about 3 minutes until zucchini is partially cooked.
Season to taste with salt and pepper; add tomatoes and simmer about 4 minutes.
Stir in quinoa, parsley and 1/8 cup Parmesan cheese.
Spoon mixture into buttered casserole baking dish; sprinkle top with crumbs.
Top with remaining Parmesan cheese; bake uncovered for 30 to 35 minutes.
Quinoa should be tender and top is browned.

---
QUINOA SALAD RECIPE from Bob's Red Mill
2 Cups Bob's Red Mill organic quinoa
4 Cups boiling water
½ Cup crushed organic hazelnuts toasted
¼ Cup minced green onions
¼ Cup dried black currents (Soak in warm water and drain)
¼ Cup sherry vinegar
¼ Cup olive oil
¼ Cup finely crumbled blue cheese
Sea salt
Freshly ground black pepper
Cook quinoa in boiling water for 10 minutes over medium heat.

Drain quinoa well; spread over cookie sheet to cool to room temperature.
Place cooled quinoa in a large bowl; add remaining ingredients seasoning with salt and pepper.
---
QUINOA APPLE NUT BREAD from Ancient Harvest
2 ½ Cups quinoa flour
1 ½ Cups applesauce
½ Cup softened butter
1 Cup natural sugar
½ Cup chopped walnuts
1 Grated baking apple
2 Teaspoons baking soda
½ Teaspoon vanilla
½ Teaspoon salt
1 Teaspoon cinnamon
1 Cup raisins
3 Eggs
Preheat oven to 350F degrees; lightly oil 5X7 inch loaf pan.

Cream butter and sugar together; beat in eggs one at a time.
Stir in applesauce, raisins and vanilla.
In another bowl stir together remaining ingredients; stir into wet mixture by hand until well blended.
Turn into prepared pan; bake 50 to 60 minutes until pick comes out clean.
Cool bread 10 minutes before removing from pan.