What is Rye?
Have you ever wondered what is rye or how it comes to be in the foods we eat? Rye, according to the Merriam-Webster dictionary, is a resilient grass grown to nourish soil and prevent weeds, otherwise referred to as a cover crop, and is also harvested for grain. It is important because of its numerous nutrition and health benefits as well as multiple uses in cooking.
If you are like most people, you probably are not asking what is rye because it's fairly common knowledge that it is a grain; however, you might be curious as to how this grain gets into your food.
Rye is a grain that is readily available as a whole or in cracked form, has a yellowish-brown or grayish-green color, and is often refined to flour or flakes. The flour is used to make bread and the flakes can be used to make oatmeal or porridge. Normally, when you hear the word refined, you think processed and then you think it's not healthy.
When rye is refined, it's not broken down and taken apart, like with other grains. Instead, the grain is kept whole because it is too difficult to separate into parts, which means the nutrients remain and the health benefits are high.
What is rye when talking about berries? Although you can cook with rye flakes and rye berries almost all my recipes are with rye flour. I do love the taste of homemade rye bread and rolls. Rye berries are stronger in taste but can also be added to salads, soups, casseroles and bread recipes (Best to add to breads when using other types of flour due to the strong flavor). To cook the berries combine berries with water (2 cups berries to 2 ½ cups water) and bring to a boil. Cover the pan and simmer 1 to 1 ½ hours (Depending on your desired softness).Drain berries thoroughly before adding to recipes.


What is rye flaked? Flaked rye is generally used in cereals, granola and other breakfast dishes. The flakes can be added where you would normally see oat flakes and other flaked grains. Rye flakes can also be processed in a food processor to a fine meal or flour and used to make pancakes, muffins and other recipes.

What is Rye and the Health Benefits of Rye

Diabetes

You may not wonder exactly what is rye but you may wonder about different ways to promote your health. The consumption of rye has a positive impact on a person's digestive and heart health but is most effective in combating diabetes. Research has proven that those who eat whole grains on a regular basis reduce their risk of Type II diabetes due to the high magnesium content, which alone reduces the risk but when combined with whole grains, the risk of diabetes is decreased by nearly double the percent of magnesium alone.
Rye bread has also been proven to be a better choice than wheat bread for diabetics because wheat causes an insulin reaction. In other words, insulin levels are lower in people who eat rye and higher in individuals that consume wheat because the rye grain slows the process of starch digestion and conversion into sugar.
Cancer
For a more complete definition of what is rye you might want to add the word "phytonutrient" to the grains many properties. Without getting into scientific details, this simply means that rye is one of, if not the best, source of antioxidants, more so than fruits and vegetables. Antioxidants help the body to prevent and fight cancer and strengthen the immune system so by consuming foods high in antioxidants, people reduce their risk of cancer.
Since rye is very high in fiber and aids in digestive health, it is best at lowering the risk of colon cancer although the fact that it is kept whole could be the reason behind its powerful potential to fight cancer.
RYE BISCUIT FANS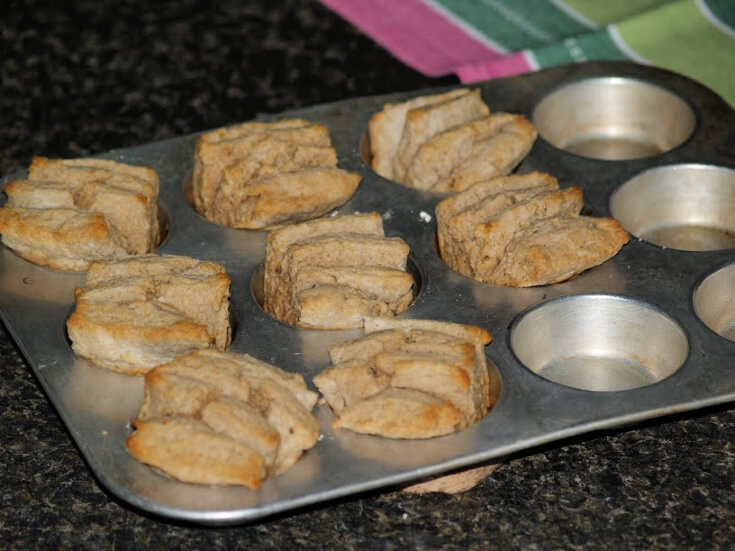 Fresh Baked Rye Biscuit Fans
Discover what is rye when making biscuit fans.

1 Cup all purpose flour
1 Cup rye flour
1 Tablespoon baking powder
½ Teaspoon salt
1/3 Cup solid shortening
¾ Cup milk
1 Teaspoon grated orange peel
1-2 Tablespoons melted butter

Preheat oven to 400F degrees.
Butter regular size muffin (Cupcake) tin; set aside.
In mixing bowl stir together the flours, baking powder and salt.
Cut in the shortening until crumbly; make a well in center.
Add orange peel and milk in well; stir just until dough clings together.
On lightly floured surface knead dough briefly (10 to 12 strokes).
Roll dough into a rectangle 12 X 9 inches.
Brush rectangle with melted butter; cut rectangle in half
NOTE: You should have 2 rectangles EACH 6 X 9 inches.
Cut each rectangle into 4 strips EACH 6 inches long.
Make 2 stacks of the strips stacking 4 strips for each.
Cut EACH stack into 4 pieces EACH 1 ½ inches.
Place stacks cut side down in prepared pan; bake 23 to 25 minutes.
Makes 8.

Roll into a Rectangle
Brush with Butter
Slice into Strips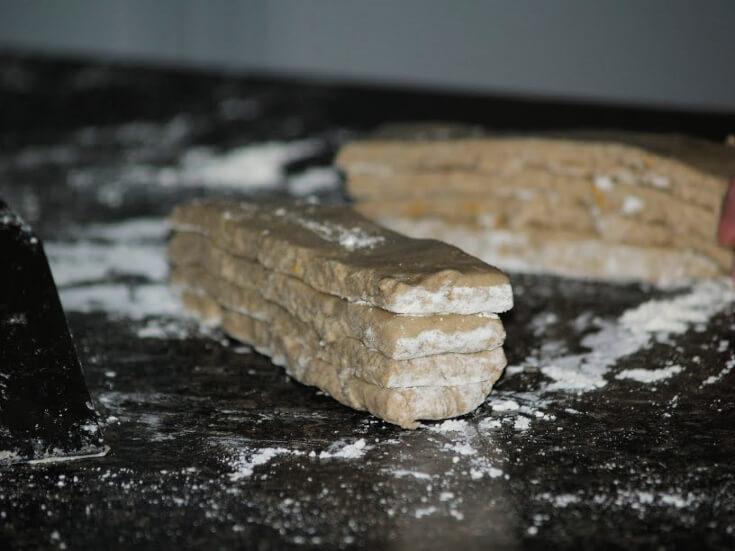 Stack Strips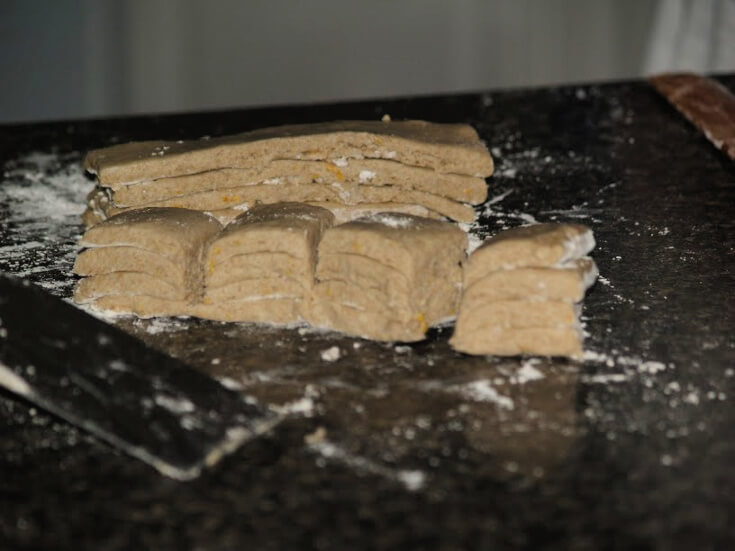 Cut into Square Stacks
Place in Muffin Tin
---
GERMAN RYE BREAD RECIPE
Discover what is rye when baking bread. If you enjoy this particular grain, many rye recipes are available in cookbooks and on the internet. A German rye bread recipe calls for few ingredients and is simple to make.

3 ¼ Cups rye flour (Divided)
2 ½ Cups all purpose flour
2 Packages active dry yeast
½ Cup warm water (112F to 115F degrees)
1 ½ Cups warm milk (112F to 115F degrees)
2 Tablespoons sugar
1 Teaspoon salt
½ Cup molasses
2 Tablespoons butter

Preheat the oven to 375F degrees.
Grease baking tray and sprinkle with cornmeal; set aside.
Dissolve yeast in the warm water; let set 5 minutes.
Combine and mix sugar, salt, and milk in a large mixing bowl.
Add the butter, yeast mixture, molasses, and 1 CUP of the rye flour.
Beat together with electric mixer on medium speed.
With spoon beat in the remaining rye flour.
Stir in enough all purpose flour until the dough is stiff enough to knead.
Knead dough 5 to 10 minutes; cover, and let rise 1 hour until doubled size,
Punch dough down and divide in half; shape into 2 round loaves and place on tray.
Let loaves rise until doubled in size (About 45 to 60 minutes.
Bake for 30 to 35 minutes.

---
HOW TO MAKE MUFFINS WITH RYE
1 Cup all purpose flour

1 Cup rye flour

3 ½ Teaspoons baking powder

¾ Teaspoon salt

1 Slightly beaten egg

3 Tablespoons corn syrup

1 Cup milk

3 Tablespoons melted shortening

Sift flour, measure; sift rye flour, measure.
Combine both flours; add baking powder and salt and sift again.
Combine egg, corn syrup, milk and melted shortening; pour into flour mixture.
Stir just enough to moisten dry ingredients; do not beat.
Fill paper lined muffin tins 2/3 full; bake in preheated oven at 400 F degrees.
Bake 12 to 15 minutes for medium size muffins or 20 to 25 minutes for large.

---
CRUSTY RYE ROLLS
This is one of the great recipes to make when you know what is rye?

1 Cup boiling water

2 Tablespoons shortening

1 Tablespoon sugar

1 Teaspoon salt

1 Package dry yeast

2 Cups all purpose flour

2 Cups rye flour

2 Beaten egg whites

Combine boiling water, sugar, shortening and salt; cool to lukewarm.
Soften yeast in some of the cooled water moisture; stir and combine with remaining water mixture.
Add 1 cup of the all purpose flour to yeast mixture; beat until smooth.
Add beaten egg whites with caraway seeds to the yeast mixture; beat thoroughly.
Combine the other cup of all purpose flour with the rye flour.
Add enough of the blended flour to yeast mixture to make soft dough.
Turn dough out on floured surface and knead about 10 minutes or until smooth and satiny.
Place dough in warm greased bowl; cover and set in warm place to rise until double.
Punch dough down and fold into ball; cover and let rise about 45 minutes until double.
Punch down and divide into about 2 2 to 24 balls; cover and let rest 10 minutes.
Shape into rolls and place on greased baking sheets 2 inches apart; cover and let rise until doubled.
Bake at 450F degrees for 20 to 25 minutes.
Add 2 tablespoons caraway seeds to beaten egg whites

---
CHEDDAR AND RYE BREAD PUDDING RECIPE
What is rye in pudding bread? It gives it a slightly different flavor and texture.
2 Cups rye bread 1 inch cubes
1 ½ Cups shredded Cheddar cheese
1 Cup milk
½ Cup finely sliced green onions (Both green and white parts)
2 Eggs
2 Egg whites
1 Tablespoon Dijon mustard
1/8 Teaspoon cayenne pepper
Preheat oven to 350F degrees; grease 1 ½ to 2 quart baking dish.

Combine all ingredients in a large bowl and mix well.
Spoon mixture into prepared baking dish; cover and place baking dish in a larger baking pan.
Add enough hot water to come half way up the sides of the pudding dish.
Bake for 45 minutes; UNCOVER and bake 30 minutes longer or until knife inserted in center comes out clean.
Serve warm; serves 4.
---
FETA, RICE AND RYE SALAD RECIPE
1 Package (7 Ounces) long grain and wild rice mix
1 Package (4 Ounces) crumbled feta cheese
1 Cup chopped green bell pepper
½ Cup finely chopped onion
2/3 Cup rye berries (Cooked about 50 minutes; drained well)
1 Jar (2 Ounces) diced pimiento (Drained)
1/3 Cup olive oil
2 Tablespoons tarragon vinegar
½ Teaspoon garlic powder
Salt/ pepper to taste

Cook rice according to package directions; let cool.
Combine feta cheese and next 4 ingredients in a large bowl.
Stir in the cooled rice.
Combine the oil, vinegar, salt, pepper and garlic; pour over salad.
Toss salad gently to blend; cover and chill before serving.
Serves 6 to 8.

---
CHICKEN BREAST SALAD RECIPE
2 Tablespoons vegetable oil
4 Skinned and boned chicken breast halves
Peanut Ginger dressing (Recipe below)
3 Ounces vermicelli (Cook according to package direction)
Salad Mix

4 Cups romaine lettuce (Torn into bite size)
2 Cups Chinese cabbage (Thinly sliced)
2 Medium carrots (Coarsely shredded)
1 Medium cucumber (Thinly sliced)
1 Large red bell pepper (Cut into strips)
¼ Cup chopped fresh cilantro
½ Cup rye berries (Cooked 45 minutes, drained, cold)

Peanut Ginger Dressing

1/2 Cup rice wine vinegar
2 Cloves garlic
1/3 Cup creamy peanut butter
¼ Cup lime juice
¼ Cup fresh cilantro
2 Tablespoons apple cider vinegar
1 Tablespoon honey
1 Tablespoon molasses
1 Tablespoon hot sauce
2 Teaspoons fresh grated ginger
2 Teaspoon soy sauce

MAKE DRESSING FIRST by combining all ingredients in food processor.
Process until smooth stopping one time to scrape sides; makes 1 ½ cups.
FOR CHICKEN heat oil in large skillet over moderate heat.
Cook chicken on both sides 15 to 20 minutes until done turning one time.
Cut chicken into thin strips; add 3 tablespoons of ginger sauce and toss.
Cover chicken and refrigerate overnight.
FOR VERMICELLI combine pasta with 3 tablespoons of peanut ginger sauce.
Toss mixture to coat, cover and refrigerate overnight.
TO SERVE combine Romaine and next 6 ingredients; toss well to mix.
Arrange salad mixture on a serving platter; top with vermicelli.
Arrange chicken strips on top; arrange cucumber slices around edges.
Serve with remaining peanut ginger dressing; serves 6.

---
FIVE GRAINS MUFFINS RECIPE
What is rye when combine with other grains?

¾ Cup all purpose flour
½ Cup rye flour
½ Cup oat bran
¼ Cup cornmeal
3 Tablespoons brown sugar
2 ½ Teaspoons baking powder
½ Teaspoon salt
1 Cup low fat milk
¼ Cup vegetable oil
1 Beaten egg

Preheat oven to 40F degrees.
Grease or line 12 muffin cups (2 ½ inch size).
Combine in large bowl the flours, oat bran and cornmeal.
Add sugar, baking powder and salt; stir until well mixed.
In a small bowl combine milk, oil and egg; mix well.
Make a well in center of dry ingredients with the spoon.
Pour the milk egg mixture into the well; stir just to combine.
Spoon batter into the prepared muffin cups to 2/3 full.
Bake 20 minutes or until toothpick comes out clean.
Cool muffins in the pan for 5 minutes; turn out onto rack to cool.
Makes 12 muffins.

---
RYE BISCUITS RECIPE for ham sandwiches
1 ½ Cups all purpose flour
1 ½ Cups rye flour
2 Tablespoons baking powder
1 Teaspoon caraway seeds
½ Teaspoon salt
¾ cup solid shortening
1 Cup PLUS 2 tablespoons milk
About 3 Pounds thinly sliced ham

Preheat oven to 450F degrees.
Combine flours, baking powder, caraway seeds and salt; mix well.
Cut in shortening until coarse crumbs; add milk stirring until moistened.
Turn out onto a lightly floured surface; knead lightly.
Roll dough to ½ inch thickness; cut with 2 inch biscuit cutter.
Place on ungreased baking sheet; bake 10 to 12 minutes until light brown.
Slice biscuits and place about 2 ounces on ham on each biscuit; makes about 24.

---
BREAD MACHINE BUTTERMILK RYE BREAD
What is rye in this 1 ½ Pound loaf of rye flour? (Make with makers using 3 cups flour).

2/3 cup water
2/3 Cup buttermilk
2 Tablespoons vegetable oil
1/3 Cup dry mashed potato
2 ¼ Cups flour
1 Cup rye flour
1 ¼ Teaspoons salt
2 Tablespoons brown sugar
1 Teaspoon caraway seeds
2 Teaspoons yeast (For bread machines)

TO MAKE measure all ingredients carefully.
Place in machine pan in the order recommended by the manufacturer.
Select Basic/ White cycle; use Medium to Light Crust Color.
DO NOT USE Delay Cycle.
Remove baked bread from pan; cool on wire rack.