Celebrating the Resurrection
What is the Resurrection? 
Some may ask, What is the Resurrection? Easter is around the corner and this will be my last newsletter before the special day so I want to reflect on what is the true importance of Easter. Like other Christian holidays, there is a made up fun side of the holiday and there is the real reason for us to rejoice at Easter. Although we celebrate this special day with all the fun things like coloring Easter eggs and filling Easter baskets, I always want to remember why we have this holiday. I have always considered it a duty to make sure my children know the importance of Easter.
For me, knowing and celebrating what is the Resurrection is the most important occasion to celebrate according to God's word. We can do this in many ways; in conversations with family and friends, by attending special church services and by the foods which we prepare. I have given out many Easter cake ideas like various large bunny cakes, small bunny cakes and Easter basket ideas but the following cake represents the cross which our Lord came to die on. It is nice to take one of these cakes anytime to a church function or to serve with Easter dinner.
The following recipe is a simple butter cake recipe. It is delicious without the raspberry flavor or you can also add some raspberries to the swirl. Any kind of cake recipe can be used or box cake mix makes it easier (Need about 9 cups batter). It is a fairly large cross so if you do not have a platter to place it on, wrap a large piece of cardboard (about 27-28 inches long) with foil to place it on.
BUTTER CAKE RECIPE
Use this simple butter cake recipe and make a raspberry swirl cake for a cross cake to represent what is the resurrection for Easter.
1 Cup softened butter
1 Teaspoon salt
1 Teaspoons vanilla
2 Cups sugar
4 Eggs
5 Teaspoons baking powder
4 Cups sifted flour
1 ½ Cups whole milk
Drops red food coloring to make pink
Raspberry liqueur
½ Cup raspberries OPTIONAL FOR ADDED FLAVOR
To prepare cross to symbolizing what is the resurrection
Preheat oven to 375F degrees.
Prepare half sheet pan (12 X 16 inches) by greasing with solid shortening, layer with wax paper, grease again and sprinkle lightly with flour.
When cake is made into cross you need a tray about 26-27 inches to place it on. If it is not available, cover a large piece of cardboard with foil.
Measure and sift flour, then measure again; Add baking powder to flour and sift 3 more times.
Blend butter, salt and vanilla until creamy.
Gradually add sugar while beating; add eggs one at a time while beating.
Add flour mixture alternately with milk to creamed mixture; beat until well blended.
Remove about two cups of batter and save.
Spread remaining batter in prepared pan (doesn't have to be completely spread.
Return saved batter to mixing bowl; add couple drops of red food color to make batter pink; then add 3 tablespoons raspberry liqueur and blend in. (can add fresh raspberries or well drained thawed frozen)
Spoon pink batter around the plain batter and use spoon or spatula to swirl in; make sure batter is spread evenly over pan.
Bake about 30 minutes or until pick comes out clean; Sprinkle cake with raspberry liqueur and let set to warm.
Loosen cake around the edges and turn out on a clean tray, cutting board or just a clean counter top (COVERED WITH WAX PAPER; remove wax paper from cake.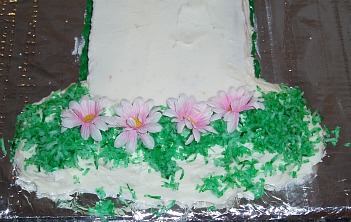 Cross Cake for Easter
To shape the cross of the crucifixion of Christ
Cut the cake length wise in half, making sure the cut is centered.
Place one half of the cake on a tray (bottom of piece closer to the bottom of tray) or a prepared cardboard.
Next cut the other half crosswise in three equal parts.
Place the middle piece at the top of the half section on the tray.
Next place the other two pieces on both sides of the piece on the tray; arranging the top side of each piece at the joint of the top section thus forming a shape of a cross.
Frost with favorite frosting recipe and decorate as desired.
I hope you all have a happy Easter remembering what is the resurrection.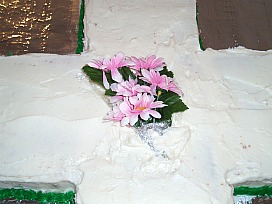 ---
RED DEVILS FOOD CAKE RECIPE
When celebrating what is the resurrection at Easter with a cross cake, try this red devils food cake recipe and add a favorite frosting.
¾ Cup sugar
¾ Cup cocoa
½ Cup sweet milk
1 Egg yolk
½ Cup softened butter
1 Cup sugar
2 Eggs and 1 egg white
½ Cup sweet milk
1 Teaspoon baking soda
1 Tablespoon hot water
2 Cups cake flour
¼ Teaspoon salt
1 Teaspoon vanilla extract
Blend ¾ cup sugar and cocoa together; add ½ cup sweet milk and 1 egg yolk and stir until blended.
Cook mixture over low heat stirring constantly until thickened; cool while preparing remaining ingredients.
Cream butter and 1 cup sugar together.
Beat 2 eggs into ½ cup sweet milk; add and blend into creamed mixture.
Dissolve baking soda in hot water; add and blend into creamed mixture.
Sift flour and salt together; add and blend into creamed mixture.
Blend in the cooled cocoa mixture; add vanilla and blend mixture until smooth.
Pour into 2 greased and floured 9 inch layer pans or half sheet pan for cross cake recipe.
Bake until pick comes out clean; cool 10 minutes and remove from pans.
---
HONEY SESAME PORK TENDERLOIN RECIPE
What is the resurrection?  Celebrate dinner with this delicious pork tenderloin recipe.
2 Pounds pork tenderloin
1 Cup soy sauce
4 Cloves minced garlic
2 Tablespoons sesame oil
2 Teaspoons ground ginger
½ Cup honey
4 Tablespoons brown sugar
Preheat oven to 350F degrees.
Combine soy sauce, garlic, oil, ginger, honey and brown sugar in a large zip lock plastic bag.
Add pork and marinate about 2 to 4 hours; remove pork from bag and place in a greased baking pan.
Bake about 45 minutes or until well done; baste frequently with marinade during baking.
Serves 5 to 6.
---
CORN AND SPINACH PARMESAN
What is the resurrection? Celebrate dinner with this delicious vegetable casserole recipe.
¼ cup minced onion
¼ Cup butter divided
1 Can (15 ounces) cream style corn
1 ½ Cup frozen chopped spinach, thaw and drain
1 Teaspoon vinegar
½ Teaspoon salt
½ Teaspoon black pepper
½ Cup dry breadcrumbs
4 Tablespoons grated Parmesan cheese
Preheat oven to 400F degrees.
Sauté onion in 2 tablespoons butter until tender; add corn, spinach, vinegar, salt and pepper.
Spread mixture in a lightly buttered casserole baking dish.
Melt remaining butter in a skillet; add bread crumbs and cheese mixing lightly.
Sprinkle bread crumb mixture over top of corn mixture.
Bake 15 to 20 minutes until lightly browned; serves 6.