What is Turmeric?
What is turmeric? I actually started using turmeric because of all its health benefits. There are so many spices and all are good for seasoning and for health; it is hard to incorporate all of them into the diet. When I make a pot of soup, stew or casserole, I make sure I have a lot of spices in it; besides the health benefits, they give a lot of flavor.

There are many health benefits from cooking with turmeric. It has been shown to be very important in fighting various cancers; prostate, breast, melanoma, childhood leukemia and others related. It has shown effective in the treatment of Alzheimer's disease as well a natural detoxifier for the liver. I was told it is a strong natural anti inflammatory, pain killer and helps with weight control; this is the reason I started adding it to my cooking. I was beginning to have some pain in my joints and I believe it has helped.


What is turmeric? Turmeric is one of the oldest spices with its use dating back before 2500BC. It is part of the ginger family; it wasn't hard for me to start using it because of its deliciously spicy flavor which I love. Although India has been using it for thousands of years and most of it is produced in India and Pakistan, I really find it to blend really well in all my spicy Mexican dishes. I have even added it to my mixture for frying chicken and other seasoning mixes; it is really great.


What is turmeric? One distinctive feature of turmeric is its bright yellow color. It is what gives curry powder and our famous "hot dog mustard" its yellow bright color. It is sometimes used as a natural dye; this is sometimes good but it can be a problem when cooking. It will turn dish rags, towels and anything it touches a bright yellow color.


I combat the problem of staining by soaking my dish towels in a little bleach water. I usually keep a little hot soapy water with a tiny bit of bleach added in my sink everyday when I cook. This makes it easy to rinse things like turmeric as soon as I see they need it. I also use this bleach water to wash down the counter tops throughout the day during my cooking; the turmeric will also spot the counter tops so wash it immediately. All in all, cooking with turmeric has more positives than negatives.


What is turmeric? Although I love to add turmeric to my soups, stews and most of my cooking, I would not consider it a spice for desserts. In many parts of the world, it is added to desserts like the sfouf cake recipe. This is a bright yellow eggless cake which is very popular in the Middle Eastern countries; some consider it their "Christmas cake".


What is turmeric? When adding too much turmeric to a recipe, it can become bitter because of its powerful flavor. I can see this happening in desserts, but I have never encountered this problem in any of my cooking. Because of this bitterness, you will find dessert recipes usually to have a lot of sugar in them.

HOMEMADE CURRY POWDER RECIPE What is turmeric in this recipe? 
This homemade curry powder contains turmeric which gives it the yellow color. You will find it has a much better flavor than what you purchase in the grocery store.

1 Tablespoon brown or black mustard seeds

2 Tablespoons cumin seeds

4 Tablespoons coriander seeds

1 Tablespoon fenugreek seeds

1 Teaspoon cardamom seeds

1 Tablespoon ground turmeric

1 Teaspoon fresh ground black pepper

In a dry skillet over medium heat, toast mustard seeds, cumin seeds and coriander seeds.
Shake skillet continuously over the heat to cook evenly.
When the mustard seeds turn gray and all the seeds are fragrant, remove pan from heat.
Grind toasted seeds in spice grinder with fenugreek and cardamom.
Mix ground seeds with turmeric and black pepper.
Transfer mixture to a glass air tight container; will keep 2 months.

---
YELLOW CAKE RECIPE with turmeric and almonds
This is my version of the Middle Eastern "sfouf" cake recipe. It is very moist and flavorful; I recommend you trying it.

1 Cup semolina flour

2 ½ Cups all purpose flour

2 ½ Cups sugar

1 Tablespoon turmeric

1 Teaspoon anise powder

1 Teaspoon yeast

1 Teaspoon baking powder

¾ Cup vegetable oil

1 ¾ Cup milk

½ Teaspoon almond extract

1 Can (8 ounces) almond paste

1 Tablespoon butter

¼ Cup brown sugar

½ Cup slivered almonds

Prepare 9 X 13 inch cake baking pan; grease with softened butter.
Break almond paste in little pieces in pan; press evenly over the bottom (will be thin)
Combine flours, sugar, turmeric, anise powder, yeast and baking powder in a large mixing bowl.
Add warm milk (about 110), oil and almond extract; beat until well blended.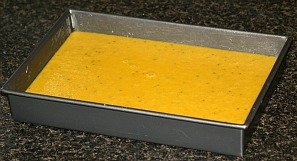 Yellow Cake with turmeric and Almonds
Pour batter into prepared pan; let stand at room temperature for 30 minutes.
Preheat oven to 350F degrees.
Melt butter in skillet and add brown sugar; stir in almonds and toss until well coated.
Sprinkle almond sugar mixture over top of cake; bake about 35 minutes or until pick comes out clean.
---
HEART OF PALM PICKLES RECIPE
4 Quarts hearts of palm
½ Gallon vinegar
1 Ounce celery seed
1 Ounce mustard seed
1 ½ Ounces powdered mustard
1 ½ Pounds sugar
Juice of 1 lemon
2 Tablespoons turmeric
1 ½ Cups flour
Red pepper flakes (To taste)
NOTE: The upper portion is white and tender and usually used to make pickles. The lower portion is bitter but can also be used.
Trim the heart of the palmetto palm until you reach the tender white part; cut into small pieces.

Soak the small pieces in salt water for 2 days (2 tablespoons salt to 1 quart of water); drain, rinse several times and drain well.
Combine all other ingredients and boil for 10 minutes; add heart of palm and return to boil.
Spoon into hot sterilized jars and seal immediately; makes 8 pints.