Banana Dessert Recipes like Bavarian Cream and More
There are many banana dessert recipes, from banana ice cream recipes to easy banana bread recipes. Here I am going to cover many of those recipes in between. For those summer cookouts how about trying fruit kabobs on the grill. It is a nice light dessert to end the meal with an abundance of flavor.
BANANA PUDDING
1 Large can condensed milk
2 Tablespoons butter
3 Tablespoon corn starch
1 Teaspoon vanilla
5-6 Sliced bananas
3 Cups water
¾ Cup sugar
4 Beaten eggs
1 Box vanilla wafers
½ Cup shredded coconut
Bring milk, butter and water to a boil on slow heat. In a separate bowl, blend together sugar, cornstarch and eggs. Pour into milk mixture and cook until thickened. Add vanilla. In a large bowl, layer vanilla wafers, a layer of sliced bananas and then a layer of the cooked pudding. Continue layering until all the pudding is used up. Top last layer of pudding with the shredded coconut.
---
BANANA PINEAPPLE DELIGHT
1 (3 ounces) Instant vanilla pudding mix
1 box yellow cake mix
1 Can (15 ounces) crushed pineapple, drained
½ Cup sugar
3 Bananas
1 Large container Cool Whip
Chopped pecans
Maraschino cherries
Preheat oven to 350F degrees.
Prepare pudding to package directions; set aside.
Mix cake according to package directions. Pour into a greased and floured 9x13 inch baking pan. Bake as directed on package.
Mix pudding as directed on package and refrigerate to set slightly.Cook pineapple and sugar for 5 minutes. Spread this mixture over the cake; let cool. Slice thick slices of bananas and place on top of pineapple mixture. Spread the pudding over the bananas. Spread the Cool Whip over the pudding and top with pecans and cherries. Refrigerate until serving.
---
FRUIT KABOBS
This is a simple Banana Dessert Recipe.

2 Tablespoons honey
2 Tablespoons whiskey
1 Tablespoon lemon juice
1 Can pineapple chunks drained
1 Large banana cut into 1 inch pieces
1 Orange peeled and sectioned
8 Maraschino cherries
Combine honey, whiskey and lemon juice; add pineapple chunks, banana pieces, orange and cherries.
Toss fruit to coat and refrigerate for two hours.
Remove fruit with slotted spoon reserving the liquid to brush on fruit kabobs while grilling.
Thread fruit on skewers alternating different fruit.
Grill fruit on covered grill over medium low coals until fruit is warmed through. 5 to 10 minutes
---
BAVARIAN CREAM RECIPE
Many of the banana dessert recipes are special to serve when entertaining such is this Bavarian cream recipe. Here again we have the delicious combination of chocolate and bananas.
1 Package (3 ounces) lemon gelatin
1 Cup boiling water
2 Bananas
¼ Cup sugar
1 ¼ Cups milk
3 Eggs separated
1 Teaspoon grated lemon peel
1 Teaspoon vanilla extract
1 Cup whipping cream
2 Tablespoons powdered sugar
4 Ounces grated bittersweet chocolate
Dissolve lemon gelatin in boiling water and pour ½ cup of the gelatin in the bottom of a loaf pan; refrigerate until firm.
Slice bananas thin and add to remaining gelatin mixture stirring gently until bananas are coated.
Remove banana slices with a slotted spoon and arrange in lengthwise rows over set gelatin.
Spoon remaining gelatin over the bananas and refrigerate until set.
---
BANANAS FOSTER RECIPE  (favorite banana dessert recipes)

Of all banana dessert recipes, actually any of the banana recipes, the bananas foster recipe is the most famous. This exquisite dessert is served in many of the upper scale restaurants in the United States and in the world. This dessert was created in New Orleans and is typical of the rich flavorful cuisine of the area. When this elaborate dessert is served properly, the blazing flame electrifies everyone in the room.
NOTE: THIS RECIPE REQUIRES CAUTION IN MAKING DUE TO THE FIRE.
4 Bananas peeled and quartered
¼ Cup butter (not margarine)
1 Cup firmly packed dark brown sugar
¼ Cup banana liqueur
¼ Teaspoon ground cinnamon
¼ Cup dark rum
12 Ounces good quality vanilla ice cream
Melt butter in a large skillet over medium heat.
Add sugar and cinnamon stirring until sugar dissolves; stir in the banana liqueur.
Place bananas in the pan and cook until tender.
NOTE: If you chose not to flambe add rum and cook until hot.

This is the point of serving; have the scoops of ice cream ready.
TO FLAMBE tip the skillet slightly and pour rum over the sauce; ignite the sauce. As soon as the blaze burns out, scoop bananas and sauce over the ice cream. Delicious!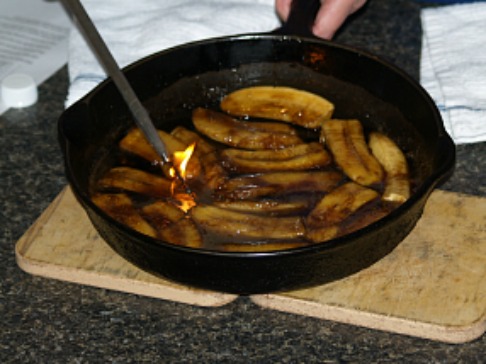 Painless Cooking

›
Fruit
› Favorite Banana Desserts