How to Make Cheesecake with the Best Tips and Recipes
We all want to know how to make cheesecake; they are so delicious. The problem is that cheesecake recipes have expanded in so many different directions.

All are delicious!

Cheesecake can be a sweet rich dessert or a delicious pie made without sugar or sweeter when you know how to make cheesecake; all made of soft fresh cheese. They can be made with a base of crumbs, pastry, cake or biscuit; or can be made without a crust. They can be baked or from a no bake cheesecake recipe.

When you learn how to make cheesecake, you will find the dessert cheesecakes most popular and famous. These can be served without a topping or topped with various fruits and nuts or even some sort of sweet cream. The textures also differ greatly; from a dry filling to a thick dense filling. This dessert can be baked or unbaked depending on the recipe. It can even be frosted like the party cake idea below using white chocolate frosting.

Preparing a Cheesecake Spring Form Pan when Baking in a Pan of Hot Water
Smart businesses will choose cheesecake recipes for at least one of their desserts. They are always in high demand having such rich and extravagant look and appeal. It is easy to make them ahead of time when you know how to make cheesecakes and keep them refrigerated until ready to serve; just cover tightly in spring form pans to store better. Plain cheesecakes can be dressed up with a variety of fruits like cherry, blueberry, pineapple and strawberries. When a plain piece of cheesecake is served next to one topped with fruit; the fruit top is usually chosen.
When learning how to make cheesecake, generally speaking you will beat the cream cheese and sugar in a mixing bowl until smooth. Beat in the eggs one at a time beating well after each addition. Then you will beat in the flavorings like lemon, vanilla and the salt. If adding sour cream to your recipe mix it in just until blended. To bake arrange oven racks as close to center as possible; a good oven temperature is 350F degrees. The time for baking, of course depends a lot on the size of the cheesecake recipes but the center should be set when touched before removing from oven.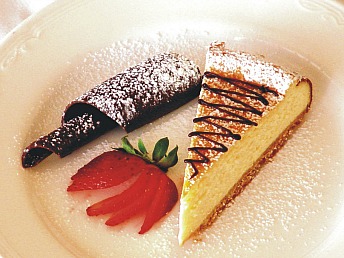 CHEESECAKE TIPS:
It is not hard to learn how to make cheesecake but some special tips will help; especially when thorough instructions are not given in a recipe. Sometimes smaller ones can be baked in pie plates but most often they are baked in spring form pans which have removable sides. Generally a recipe will fit into a 9 inch size but the recipe usually gives a specific size in the instructions.
I always set the spring form pan on a tray or on foil in the oven just in case some batter leaks through at the bottom. When learning how to make cheesecakes, you will find some recipes are baked setting inside another pan of hot water. When this is the case you will need to wrap the bottom and sides of the spring form pan with a solid sheet of aluminum foil. This is a good tip to remember; quite often the recipe does not tell you to do so, but it must be done. This prevents water from seeping in the bottom causing it to be soggy.
When learning how to make cheesecake you will find most do have a crumb crust. If it is just crumbs, by spraying the bottom and sides of pan lightly with non stick spray the crumbs will stick better to the pan. Most of my recipes have a large amount of butter in the crumb mixture so I do not grease the pans.
Although there are recipes using a variety of cheeses as you learn how to make cheesecake you will find a majority are made with cream cheese. Have the cheese at room temperature; you don't want it too soft but if it is too hard it does not blend well. Make sure all chunks are blended into other ingredients. Cheese that is too soft or overbeaten hampers the distribution of ingredients like nuts, raisins, chips, etc and even interferes when marbling.
When learning how to make cheesecake avoid overbeating; this will also cause the cheesecake to crack. Another thing that might cause a cheesecake to crack is overbaking. Many recipes will instruct you to turn the oven off and let it cool in the oven. If your recipe does not do this, just remember to cool it away from drafts. It is not good to cool too quickly.
After cooling a few minutes run a knife around the edge of the pan to loosen cake from pan. DO NOT REMOVE SIDES UNTIL COMPLETELY COOLED. Cool completely before refrigerating. Ungarnished cheesecakes freeze quite well.
When learning how to make cheesecake you will find that most recipes include a crust; cookie dough, graham cracker or chocolate wafer cookie recipe. I found it difficult to find chocolate wafer cookies locally so I used the following recipe. It is great. After they cool, I put them in plastic bags and place in the freezer. Much cheaper also!
CHOCOLATE WAFER COOKIE RECIPE

2 Squares (1 ounce each) melted unsweetened chocolate

1 Cup shortening (½ butter & ½ solid shortening)

1 Cup sugar

2 Eggs

1 Teaspoon vanilla

½ Cup flour

¼ Teaspoon salt

Preheat oven to 375F degrees. Grease ½ sheet pan.

Melt chocolate over very low heat; combine and blend all ingredients.

Spread out evenly over prepared pan; bake about 20 minutes.

Set on rack to cool; when cold cut and place in freezer containers.

NOTE: I took my spatula and scooped them into bags; I didn't care if they crumbled.

Chocolate Crust Recipe:

Combine 2 Cups cookie crumbs and 4 tablespoons melted butter; press in bottom and 1 inch up sides of 9 inch spring form pan.

---
Below are many of my favorite cheesecakes from my massive collection. Each page has several recipes. I have gathered together MORE THAN 150 recipes. I hope you enjoy!
Make one of my Easy Cheesecake Recipes; choose from the first one I ever made and still a favorite baked in pie shell or choose one of several others.

Try a Sugar Free Cheesecake Recipe from my favorites. Just because you are on a sugar free diet you do not have to give up this luscious dessert.

Cream Cheese Pie Recipes can be dessert, appetizers or snacks when you know how to make cheesecake. Take a look at these five recipes and decide which one you are hungry for.

| | |
| --- | --- |
| | Light and creamy Ricotta Cheese Recipes are very popular in many countries like Italy. Here you will find recipes for making your own ricotta as well as cheesecake recipes for using it. |
| | |
| --- | --- |
| | Who doesn't love Strawberry Cheesecake Recipes? It could be a creamy cheesecake with strawberry topping or glaze of a delicious no bake frozen one. How delicious! |
I say Easy Strawberry Cheesecake Recipes because the recipes utilize packaged cake, cookies, premade pie crust and canned berries. When put together they equal very delicious!

Make a Strawberry Swirl Cheesecake Recipe with a strawberry swirling sauce. Learn my difference between a swirl cheesecake and a marble cheesecake.
| | |
| --- | --- |
| | The all time New York Cheesecake Recipe is definitely a winner. This thick creamy dessert has made a name for itself. It does not need anything to dress it up; simply good flavor. |
| | |
| --- | --- |
| | I love raspberries! This is especially true of Raspberry Cheesecake Recipes. Whether they are baked or no bake, the flavor is great. It might be a creamy vanilla and raspberries, one with a touch of lemon or delectable chocolate and raspberries. |
| | |
| --- | --- |
| | Let me share with you my fondness for cherries in my favorite Recipe for Cherry Cheesecake. Whether it is made with maraschino cherries, sweet cherries or just open a can of cherry pie filling; these are wonderful. |
| | |
| --- | --- |
| | Orange Cheesecake Recipes remind me of those creamy delicious Dream Sickles when I was a kid. What a combination! I also added one with pumpkin; great Thanksgiving dessert! |
| | |
| --- | --- |
| | Lemon Cheesecake Recipe is probably one of the favorite flavors. I am sharing a delicious creamy favorite, a low fat recipe, cheesecake bars and my favorite old recipe for cheesecake with NO cheese. |
| | |
| --- | --- |
| | A Pineapple Cheesecake Recipe was the very first one I made. Pineapple makes a great topping for many recipes. Try one of my favorites. |
A Blueberry Cheesecake Recipe can be flavored in the cheesecake or topped with blueberries on the top. However you choose to do it, this is always a great combination.

| | |
| --- | --- |
| | A fresh tasting Peppermint Cheesecake Recipe is a nice choice for many occasions. It is nice for Christmas, a green grasshopper cheesecake for St. Patrick's Day or a delicious chocolate mint cheesecake any time of the year. |
A variety of Cheesecake Recipes offer a nice all round selection; start with a simple recipe and end with a great New York cheesecake.

| | |
| --- | --- |
| | Cheesecake Bars make nice finger desserts for all occasions; from family snacks to serving on buffet tables. And don't forget what a wonderful flavor they offer! |
| | |
| --- | --- |
| | As with most desserts, the Chocolate Cheesecake Recipe is the most loved flavor of all. It can be blended with other flavors but it is easy to see why they call "chocolate the food of the gods". |
| | |
| --- | --- |
| | A White Chocolate Cheesecake Recipe is another great flavor. The creamy mild taste goes well with other ingredients like dark chocolate, coconut, macadamia nuts, lemon and many others. |
| | |
| --- | --- |
| | The Turtle Cheesecake Recipe hit us all like a storm. This delicious combination of chocolate, caramel and nuts became famous overnight and became a favorite of many cheesecake lovers. |
A Pumpkin Cheesecake Recipe is wonderful in the fall and for Thanksgiving. Try one with cognac added, a delicious layered torte, sour cream topped or a layered one with walnuts.

| | |
| --- | --- |
| | Try one of the best Pumpkin Swirl Cheesecake Recipes with a brown butter frosting. Other recipes might include gingersnap crust or pumpkin flavored with orange or cranberry. |
Although I love cranberries, I was surprised to find how popular the Cranberry cheesecake recipe is. It is great topped with cranberries, cranberry relish or delicious orange cream.

A light creamy Cottage Cheese Cheesecake recipe is preferred by many people. It could be a plain vanilla, chocolate, lemon or any flavor. If you haven't tried them it is definitely worth a try.
| | |
| --- | --- |
| | This Key Lime Cheesecake Recipe contains one of my very top favorite cheesecake recipes. The flavor is absolutely fabulous. It really does not need the whipped cream frosting or the raspberry sauce. It is wonderful all by itself. |
| | |
| --- | --- |
| | The Rum cheesecake recipe overflows with great flavor. It doesn't matter which recipe you choose or what ingredients are in them, the rum enhances all the ingredients. |
| | |
| --- | --- |
| | This is my choice for the Ultimate Cheesecake Recipe. It is unique in every way and another of my top favorites. Flavored with black raspberry Chambord, the taste is heavenly. Exquisite enough for a king! |
| | |
| --- | --- |
| | Another of my top favorites is on this page. The aroma in the kitchen when baking Amaretto Cheesecake Recipes is indescribable. Believe me, the taste is even better! If you are learning how to make cheesecake, this is definitely worth trying. |
I love apricots! A great Apricot Cheesecake Recipe for parties is here. It is large size and is frosted with a delicious frosting. It is always a hit!

| | |
| --- | --- |
| | Mini Cheesecake Recipes are great for many occasions. They can be made in different shapes or just cut into individual servings. Nice to serve on buffets! |
| | |
| --- | --- |
| | Baileys Irish Cream is one of my favorite ingredients for desserts. Try a Baileys cheesecake recipe if you love cheesecake and love good flavor. They a creamy and delicious! |
You just have to love Tiramisu Cheesecake Recipe! If you are just learning about how to make cheesecake many do not consider these cheesecake; I do because they include cheese in the recipe. Whether you choose the recipe with coffee liqueur, Marsala or Amaretto, they are all delicious!

| | |
| --- | --- |
| | A Christmas Cheesecake recipe should be a little special for the holiday. It might be the eggnog recipe traditional for that holiday, a red velvet or layered Bavarian apple torte. |
| | |
| --- | --- |
| | When learning how to make cheesecake you find the Savory Cheesecake Recipes are different as they do not contain sugar. These are for appetizers or snacks but still very delicious. Be the star of your next party with the taste and presentations of these recipes. |
| | |
| --- | --- |
| | The variety of Recipe Cheesecake Bars are endless. Make them for family or friends. Pecan bars, lemon bars, German chocolate or chocolate peanut butter make great carry in treats for any occasion. |
Japanese honeydew cheesecake is light and delicious. Other No Bake Cheesecake Recipes are also delicious and easy to assemble; great flavor in orange and several chocolates.
| | |
| --- | --- |
| | Here is a selection of wonderful Baked Cheesecake Recipes. A plain one can be transferred into several other recipes, a delicious sweet potato recipe and one is even made with cornmeal. Try them all! |
A Cheesecake Cookie Recipe can be found in every type of cookie. No matter what the kind, when you add delicious cream cheese to a recipe you have a great cookie.

| | |
| --- | --- |
| | Whenever I add cream cheese to my recipes they become Philadelphia Cheesecake Recipes. I always tell you to use the best brand possible and I feel this is it. I love the results! |
Many of us cheesecake lovers have to have a Diabetic Cheesecake Recipe for our health. I am so thankful we have great products available now as a sugar substitute. We do not have to sacrifice our favorite desserts.

Turn plain cheesecakes into party cakes just by adding Cheesecake Topping Recipes. If just wanting to improve the presentation spoon a little colorful sauce on plate around piece of cheesecake.

Quite often I just get hungry for Plain Cheesecake Recipes with no frills of caramel, nuts, etc. The great thing about these is that if you want to you can dress them up with fruit and sauces.

I use some of my Simple Cheesecake Recipes and turn them into elegant cheesecake recipes suitable for any party. Creme brulee, Snickers and Baklava are easy with only a few added ingredients when you learn how to make cheesecakes.
Return to Painless Cooking Home Page from How to Make Cheesecake