How to Make Bread; Yeast or Quick Breads
The first thing to know when learning how to make bread is that there are basically two kinds of breads. There are quick bread recipes and yeast bread recipes. The difference lies in the powder of the leavening agents. The quick breads are just like they sound "quick to make" or requires no kneading and rising; just mix and place in oven to bake. This is because baking powder, baking soda or both can be used as the leavening agent. These ingredients work faster than when using yeast as the leavening.

Although quick breads are very easy to make, many make the mistake of overbeating the batter. Unless specified in the directions, the batter should only be mixed until blended. Sweet breads, muffins, sweet rolls, biscuits and scones are all part of the quick bread family. In many parts of the world the daily bread is a quick bread (or flat bread) which uses no leavening.

To understand how to make bread one must understand the action of yeast for successful bread making. Yeast is a tiny living plant which develops under favorable conditions. The conditions which encourage development are moisture, lukewarm temperature, oxygen incorporated by beating and kneading, and food provided by the sugar and starch. When showered with these attentions, the yeast becomes active and causes fermentation and rising dough. The result is the porous structure and characteristic flavor which we associate with yeast breads.
Fresh Bread Recipes with yeast conversion table and tips for both yeast breads and quick breads; recipe for black walnut banana bread.

How to Make Puff Pastry Recipes with homemade puff pastry or buy commercially produced; recipes for chicken pot pie, a spinach appetizer, Asian appetizer and Napoleons.

Christmas Bread Recipes like Greek Christopsomo, Three Kings bread or Rosca de Reyes, a candy cane coffee cake or my overnight cinnamon rolls.

Read my History of Coffee Tables with recipes to serve from them like Scottish shortbread or strawberry bread.

Healthy Bread Recipes with VIDEO of my multigrain batter bread.
Traditional Challah Bread Recipe; two recipes included.

Multigrain Bread Recipes with whole grain flours and seeds or a twist loaf.

Rye Bread Recipes with caraway, German rye or a round Pumpernickel with sour cream filling recipe to serve as appetizer.

Sally Lunn Bread Recipes for yeast bread, a quick bread and a no knead bread.

Potato Bread Recipes; mashed potato bread recipe, sweet potato biscuits, spudnuts and refrigerator potato rolls.

A basic Bagel Recipe with variations for fruit, herb and Parmesan.

Make homemade English Muffin Recipes on griddle and in the microwave; use in recipes for eggs Benedict with Hollandaise sauce.

Unleavened Bread Recipes can have no rising process like fried cornbread and hominy bread or it can rise by setting for many hours like this raisin bread.

Salt Rising Bread Recipe; my mom's favorite bread and the process of making.

White Bread Recipes; my favorite making 6 loaves, white French and a great 1 loaf recipe.

Make a Monkey Bread Recipe with yeast, made with biscuits or made with hot roll mix.

How to Make Sour Dough Bread starting with a selection of three starters.

Baking Hot Homemade Bread is easy by following a good recipe.

Many Sweet Dough Bread Recipes make delicious orange rolls, filled Danish pastries, bear claws, kuchen and Hungarian nut rolls.

Date Nut Bread Recipe, date muffins, banana bread, apple bread and orange muffins.

Four homemade Boston Brown Bread recipes baked in cans or molds.

Zucchini Bread Recipes; plain, with pineapple, with apples, with lemon and lemon glaze, chocolate and a recipe for the microwave.

Carrot Bread Recipe with pecans, with raisins, cornbread, morning glory muffins and apple muffins.

Whole wheat Pumpkin Bread Recipe, a basic bran recipe to make other recipes, blueberry muffins and a microwave recipe.

Quick Bread Recipes; whole wheat pecan bread, apricot nut bread, poppy seed and banana blueberry.

Some of my favorite Doughnut Recipes; drop doughnuts, rolled apple donuts, pumpkin fritters, Danish donuts, yeast doughnuts, crullers, jelly donuts, cruller twists and loukoumathes.

My favorite Biscuit Recipe, buttermilk biscuit, angel biscuits and egg biscuit recipe; also recipe for biscuit mix.

Corn Bread Recipes with sour cream, hoe cakes, jalapeno cornbread, hush puppies and cornmeal pancakes.        

Cracker Recipes with poppyseeds or cheddar cheese. Make saltines or crispbread.

To know how to make yeast bread, one must know the different types of yeast available to use. Yeast is marketed in moist and dry forms. For years the moist cakes of yeast was the only form available. It had to be kept in the refrigerator and it grew stale after about a week. Then came the dry yeast in cake form; however this takes a longer soaking time to use. Fortunately, today we have a quick action dry yeast which is very easy and fast to use. This type takes about 5 minutes to soak and can be substituted for other types called for in recipes. For most recipes one package is good for 6 or 7 cups of flour.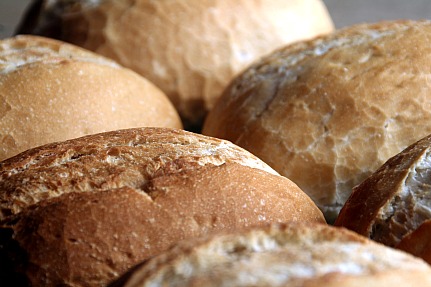 When learning how to make bread you will realize the importance of the type of flour which is used in the recipe. In choosing flour we are mainly concerned with the gluten content. Gluten is the elastic substance formed when the flour is mixed with liquid. To make light porous bread, yeast dough requires a flour containing strong elastic gluten which will stretch without breaking. Years ago the gluten content in different flours use to vary greatly. Today I find them to be pretty consistent especially if you stick with the name brands. Bread flour and all purpose flour may be used in the making of yeast bread.
Milk, water or a combination of the two is generally used for liquid. Potato water, buttermilk or diluted evaporated milk may be used if desired. (I like to use buttermilk but I add ¼ teaspoon baking soda to it) Milk adds to the food value of the bread as well as to the flavor and keeping qualities; bread containing milk usually makes better toast. Instructions to have the liquid LUKEWARM is important. If too hot or too cold there will be no action with the yeast.
There are other important ingredients to yeast bread. Salt is important to help control the fermentation. Sugar supplies food for the developing yeast and helps the bread to brown. Shortening and eggs increase the flavor and tenderness; they also help the keeping qualities.
HOW TO MAKE BREAD--BREAD MAKING TIPS

When baking bread, a small dish of water in the oven will help keep the crust from getting too hard or brown.

Use shortening, not margarine, butter or oil to grease pans; margarine, butter and oil absorb more readily into the dough.

To make self rising flour for those recipes, mix 4 cups all purpose flour with 2 teaspoons salt and 2 tablespoons baking powder; store in tightly covered container.

One scant tablespoon yeast is equal to a package of yeast.
Water or milk is most often used in bread; water makes a crisp crust while milk produces a soft crust and creamy white crumb.

Different kinds of fat can be added to bread dough to improve the flavor and makes the dough stretch more readily; bread will have a tender crumb and stay soft longer.

When learning how to make bread with yeast, eggs added to yeast dough add flavor, color and nutrition; they soften the crust and give the interior a fine crumb.

Do not try to speed up the yeast in bread dough by adding ingredients such as flour, sugar or salt; it will only make the bread heavier.

To test the rising of yeast dough: The dough is doubled when two fingertips pressed ½ inch in leave dents that remain; if dents fill quickly let rise 15 minutes longer and test again.

To test the vitality of yeast, before using mix some into ¼ cup warm water with ¼ teaspoon sugar. If mixture does not start to bubble within 5 to 10 minutes, it is dead and you will need fresh new yeast.

When baking bread if the top browns too quickly cover loosely with foil.

To test yeast bread for doneness tap top of loaf lightly; if it sounds hollow and is well brown on top, the bread is ready.

Remove yeast breads immediately from pans when finished baking to prevent the bottoms from getting soggy.

When learning how to make bread, all ingredients should be at room temperature for best results.

Bread stores best in a cool dry place; it can be stored in refrigerator but gets stale faster. It will store in freezer for 3 months if tightly wrapped in plastic wrap, (I also wrap foil over plastic wrap)

Hot water kills yeast and cold takes longer to rise; without thermometer to test temperature, pour water over forearm. If you cannot feel hot or cold the temperature is just right. This ic very important when you learn how to make bread.

The percentage of moisture in flour varies according to how it was processed and how it is stored. Because of this the amount of liquid needed for a bread recipe may vary; mix just enough liquid to make soft pliable dough.

If you are not sure about sifting flour, always sift. If purchasing flour in bulk, it generally settles and should be sifted.

Bread flour absorbs more liquid than all purpose and must be beaten longer to expand its gluten potential when you are learning how to make bread.

For a crunchy, nutty texture in breads, replace about ½ cup of the flour with precooked wheat berries or cracked wheat.

The shelf life of white flour is 1 to 2 years. To store it, transfer it to tightly closed food container to prevent moisture absorption; keep in cool dark place. (I freeze; but warm to room temperature before using)

Non white flour should be used within 3 to 4 months; store high fat flour like whole wheat, wheat germ, oatmeal and soy in freezer.

To prevent breads made with bran flour from becoming too dry, mix bran with liquid called for in a recipe and let stand several hours before proceeding.

If you want heavier breads, bagels, pizza dough, etc use bread flour. I always use all purpose flour with good results.

When baking in glass pans reduce temperature by 25F degrees; keep temperature 400F degrees and under.

When baking bread, a finer texture is achieved by using milk instead of water.

Rising bread two or more times makes a finer and denser texture.

When learning how to make bread, for nut breads, the nuts stay fresher when stored in the freezer and break easier to use.

For nut breads, enhance the flavor of the nuts by toasting them first.

To lightly dust a work surface fill a large empty salt shaker with flour.

For the best quick breads, do not over mix the dough; over mixing causes rubbery and tough breads and muffins.

Most quick breads taste better the next day; nut breads taste better stored 24 hours.

Peel and freeze in zip lock bags overripe bananas for quick breads; they are perfect.


---
BREAKFAST MUFFIN RECIPE

This is a great first recipe when learning how to make bread.

1 Cup whole wheat flour

3 Teaspoons baking powder

½ Teaspoon salt

½ Teaspoon baking soda

1 Cup rolled oats

½ Cup honey

1 Egg

3 Tablespoons cooking oil

1 Cup orange juice

1 to 2 Teaspoons grated orange peel


Mix flour, baking powder, salt and baking soda; stir in oats.
Combine honey, egg, oil and juice; add to flour mixture and beat until blended.
Add grated peel and stir just until mixed in; batter should be thinner than most muffins.
Fill paper lined muffin tins 2/3 full; bake at 425F degrees for 10 to 15 minutes.

---
YEAST BISCUITS

2 ½ Cups self rising flour

1 Package dry yeast

1 ½ Cups lukewarm buttermilk

1 Teaspoon sugar

¾ Cup butter plus extra melted

Shortening


Combine flour, yeast and sugar; cut in butter.
Add buttermilk and work dough until smooth.
Place in greased bowl turning dough to grease top; cover and let stand 1 hour.
Roll dough and cut into circles; place on cookie sheet.
Bake at 400F degrees for about 20 minutes or until lightly browned.
Brush melted butter over top of hot biscuits.

Go to Painless Cooking Home Page from How to Make Bread