Cooking for a Large Crowd 
Cooking for a large crowd for the experienced kitchen staff at the Citadel in Charleston appeared like feeding a small family. They fed our group at our breaks and at lunch often with sandwiches for a crowd and desserts for a crowd. Even though they practice budget cooking, the flavor and presentation of the food was great.
At midmorning and afternoon breaks, the table would be set with fresh fruits, vegetables, pastries, cookies and sometimes yogurt. Great setup when you are cooking for a large crowd. There would always be coffee and water available.
For lunch, they certainly knew how to cook hamburger because the flavor was delicious. The staff prepared special meatless meals for our classmates that were vegetarians. Having choices when you are cooking for a large crowd is always a good policy. Also many of the dishes were high protein food so we all could have a nice selection from which to choose. The food was always fresh and hot; ready and waiting for us.
The best part of the Citadel was the school, itself. It is a beautiful place. The new cadets arrived a few days before we did, and I was so proud of them. This is where many of our military officers get their start and it certainly isn't easy.
Our new friend, Bobbin from our class, works for the Citadel. She was able to answer all our questions about the school and fill us in with many details. When she talked about these young people, you could see how proud she is of them also.
While we were in Charleston, the temperature was very hot. I know one day it must have been close to 100 degrees and the humidity was horrible. These young cadets were out in the sun marching in full HOT gear. It was unbelievable!
There were 743 students who arrived this year. They had already lost quite a few. In this strenuous work program, many develop health problems. Bobbin was telling us that the dropout rate is anywhere from 10% to 14%. Their schedule is from 4:30 AM to 10:00 PM and I bet they don't have any problem going to sleep. It has been that 30% to 40% stay in the military, but in bad economical times it goes up to about 45%.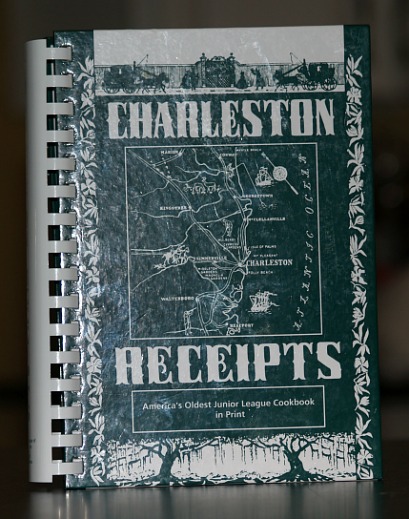 Cookbook from Charleston
Last week I mentioned the little kitchen store called "Charleston Cooks." If you are cooking for a large crowd there are many handy gadgets to save you time. I bought a really neat cookbook while I was there. It is America's oldest Junior League Cookbook in print and is titled "Charleston Receipts". It is full of interesting tidbits and recipes. I was given permission by the Junior League of Charleston to use some of it in my newsletter. Click the link below to learn more about the Junior League of Charleston.
The CHARLESTON RECEIPTS COOKBOOK has a lot of verses in it in the authentic Gullah language. Now you might ask just what is the Gullah language like I did. The Gullah language is a legitimate Creole language with its own grammar and extensive vocabulary. It is one of six languages known as the English-derived Atlantic Creoles and is the only one spoken on the US mainland today. I love ready cookbooks but this is one of the interesting.
The she crab is much more of a delicacy than "he-crab," as the eggs add a special flavor to the soup. The street vendors make a point of calling "she-crab" loudly and of charging extra for them; they always are cooking for a large crowd when they cook these. This recipe makes great appetizers for a crowd if you are having a party. It serves 4 to 6 people so multiply the ingredient to fit your number of guests.

"…Crab got tuh walk een duh pot demself or dey ain' wut."

SHE CRAB SOUP RECIPE
"She-crab" is much more of a delicacy than "he-crab," as the eggs add a special flavor to the soup. The street vendors make a point of calling "she-crab" loudly and of charging extra for them. This recipe serves 4 to 6 people so if you are cooking for a large crowd just multiple the recipes.
1 Tablespoon butter
1 Quart milk
¼ Pint cream (whipped)
Few drops onion juice
1/8 Teaspoon mace
1/8 Teaspoon pepper
½ Teaspoon Worcestershire
1 Teaspoon flour
2 Cups white crab meat and crab eggs
½ Teaspoon salt
4 Tablespoons dry sherry
Melt butter in top of double boiler and blend with flour until smooth.
Add the milk gradually, stirring constantly.
To this add the crab meat and eggs and all seasonings except sherry.
Cook slowly over hot water for 20 minutes.
To serve, place one tablespoon of warmed sherry in individual soup bowls, then add soup and top with whipped cream.
Sprinkle with paprika or finely chopped parsley.
Secret: If unable to obtain "she-crabs," crumble yolk of hard boiled eggs in bottom of soup plates.
---
GROUNDNUT (PEANUT) CAKES
Blanch 1 pound of groundnuts, beat them very fine in a marble mortar, adding a little brandy while pounding to prevent oiling. Then add ten eggs, one pound sugar and one pound of butter. Beat the whole well together; make a puff paste, lay it on your tins, and fill them with the mixture; grate lump sugar over them and bake in a slow oven.

I interpreted the "puff" to be puff pastry which I had in my freezer. I make my vanilla with vodka, so I substituted the brandy with my vanilla flavored vodka. I did not have peanuts so I used pecans and I decided to only make ½ of the recipe. We thought mine turned out to be on the order of pecan pie and they were delicious. These would be great little desserts if you are cooking for a large crowd such as buffets or tea parties. You try the recipe and use the peanuts and maybe try the brandy. I would like to hear from you if you do.
Here is my recipe it serves 8 if cooking for a large crowd just multiple:

Preheat oven to 350 degrees.
Cut circles of puff pastry to line biscuit or muffin tin.

Lightly grease tin and line with pastry.
In a mixing bowl cream until fluffy 2 cups finely ground pecans, 1 cup soft butter, 5 eggs, 1 ¼ cups sugar and 1 teaspoon vanilla vodka.
Spoon into muffin tins and bake for 25 minutes or until set.
---
Another interesting piece of information comes to us in the form of a verse and an interdiction in Gullah.
Dis-yah de way de buckra like he bittle su'b-tuh-um.

Charlestonians dine at two o'clock.

An early English custom.
(Suggestions that they dine at eight
Apparently disgust em!)
But call it dinner, supper, lunch,-
The hour does not matter,-
Sometimes the strain of planning meals
Can cause the nerves to shatter!
These menus, planned for eating, drinking,
Will spare you hours of painful thinking!

The book goes on to list many "two o'clock" dinner menus. This is a great cook book. My thanks to Liane and the Junior League of Charleston for letting me share some of it with you.
---
OYSTER APPETIZERS

popular when cooking for a large crowd



Great seafood is plentiful all around Charleston; when it is prepared, it almost always is cooking for a large crowd. This recipe makes 36 appetizers.

1 Cup butter

1 ½ Cups flour

½ Cup chopped green onions with tops

3 Cloves minced garlic

3 Tablespoons minced parsley

3 Dozen fresh oysters (reserve liquid)

Salt and pepper to taste

1 Can (15 ounces) artichoke hearts in halves

Crackers or patty shells


In a large saucepan over medium heat make a roux with butter and flour; stir until light brown.
Add onions, garlic and parsley; mix well.
Add oysters and simmer for 10 minutes or until oysters curl at edge.
Add reserved oyster liquid if needed for consistency.
Salt and pepper to taste; stir in artichokes.
Heat thoroughly and serve with crackers or in patty shells.


---
We finished our Charleston conference with a dinner cruise on Saturday night. It was wonderful to be able to visit and relax with our whole group. We had many interesting people in attendance. Their cooking for a crowd recipes certainly were not something that I would have chosen. It was not the quality of the local food. They had no ideal how to be cooking for a large crowd, so it is "not worth writing home about" and I leave it at that.
This is the last of my visit to Charleston. I hope to be able to get back again and visit some more of those great restaurants and relay more delicious recipes.
I am working on the final details of my first cookbook and it will be available very soon. It will contain my favorite tried and true recipes which I have prepared over my lifetime. As soon as it is ready it will appear on my website. May all your cooking for a large crowd experiences be pleasant!
Painless Cooking

›
Crowd Size Cooking
› Large Crowd Size Recipes