History of Apples
Do you ever think about the history of apples or are you like many of us who take this wonderful fruit for granted. As we enter into fall and the peak of the apple season my mind once again goes back to my childhood and the important memories I have of picking apples. Although we never grew our own trees, most years throughout my life I would accompany Mom and Dad to the orchards to pick out plenty of apples for eating as well as cooking.

As I married and had children I continued this tradition with my family only adding a little extra treat to my history of apples. In Ohio I found an orchard that grew apples with "Happy Halloween" and Merry Christmas" printed on them. Each year I scheduled two visits to this orchard to pick up these holiday apples. What a treat!


The way these special apples were grown is that the owner put tape on the apples and they would turn red everywhere except where the tape was. Now you may not believe me, as some of the family did not. A few years back I had to revisit this orchard with these family members to confirm this by the owner's wife. Unfortunately, the owner had passed on so they did not do this any longer but she still remembers him doing so.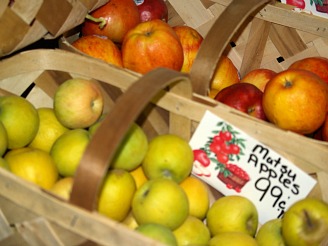 History of Apples
The history of apples takes us back thousands of years where the wild apple trees grew in Asia and enjoyed by the wild animals. People discovered that cutting out some of the branches and thinning the fruit encouraged the trees to produce larger apples. The most important discovery was that putting an apple in a hole in the ground would produce a whole new tree. Better still they found that by taking a few black seeds from an apple could grow a new tree. This made it easy for travelers to save the seeds and take them home to plant in their own areas.
Another important discovery in the history of apples was that the living twig of one apple tree could be grafted onto another tree producing fruit exactly like that of the mother tree. What was once a "hit or miss" method of propagation became more of a "sure thing" of what the farmer would get. Farmers could plant fields of trees that were almost all the same.


The history of apples here in the United States goes all the way back to the beginning. As the early settlers packed to come to this country, this is one fruit they knew they could not be without. As soon as they arrived in the New World they began planting the starts for these trees. They knew the apples were important for the health benefit as well as simply for food.


The history of apples tells us that by the arrival of the twentieth century thousands of varieties of apples were being grown here in North America; about fifty types are being grown commercially. A few varieties have survived the fierce competition of the business; among them are the Red and Golden Delicious, McIntosh and Granny Smith. The reason for these is that they grow well being more resistant to pest and disease, they store well and they ship well without bruising. These qualities are important for growers.


Today we take this precious fruit for granted being able to purchase many types year round from the grocery store. It took many years to develop this storing power which makes them available to us. In the early years in the history of apples this was not so. Before the knowledge of canning or availability of power, apples mostly had to be eaten or cooked when fresh. People learned how to dry apples by slicing them and lying in the hot sun or threading on a thick string. Drying apples preserved them for the winter months.
How to Dry Apples and the History of Apple Drying
Drying apples will keep them for years if properly stored. You can either peel the apples or leave the peel on, core the apples and cut into medium size pieces. Thread a large eye needle with a thick thread and string pieces of apples on the thread. Tie the string like a clothesline near a chimney or stove; it needs to be a hot dry place. Let the apples hang in the hot dry area for one to two weeks or longer. Then store in a cool dry location.
Today apples can be dried in the oven at a very low temperature 125F to 150F degrees. Spread slices on a cookie sheet for six to eight hours turning occasionally until dried.

To use dried apples one pound equals about four pounds of fresh apples. Cover the dried apples with fresh water and soak overnight.

---
APPLE STACK CAKE RECIPE
Many years ago the following apple stack cake recipe was given to me by a neighbor. It was handed down through their family.



2 Cups sugar

1 Cup softened butter

2 Eggs

6 Cups flour

1 Teaspoon baking soda

3 Teaspoons baking powder

1 Teaspoon salt

1 Teaspoon vanilla

½ Cup buttermilk

Apple Filling:

1 Pound dried apples

1 Cup brown sugar

1 Cup white sugar

2 Teaspoons cinnamon

½ Teaspoon allspice


Cream butter and 2 cups sugar together; add eggs beating well after each.
Sift flour, soda, baking powder and salt together; add alternately with buttermilk to creamed mixture.
Blend in vanilla; chill for a few hours.
Divide dough into seven equal balls; roll each dough ball out into about 8 inch equal circles.
Bake circles on cookie sheets in preheated oven at 450F degrees for 10 to 15 minutes or until slightly brown.
Wash dried apples; cover with water and cook until tender.
Mash apples thoroughly; add 1 cup brown sugar, 1 cup white sugar, cinnamon and allspice. COOL
Spread each layer with dried apple filling; DO NOT PUT FILLING ON TOP LAYER.
Cover or place in covered container for at least 12 hours before cutting.

---
APPLE CANDY RECIPE
In the history of apples this no cook apple candy recipe was popular with the children; it is not very sweet and easy enough for the kids to mix up.
1 ½ Cups dried apples

2 ½ cups coconut

¾ Cup sweetened canned milk

1 Cup finely chopped nuts


Remove any pieces of peel or core from the dried apples.
Finely chop the dried apples and coconut.
Add milk to coconut and apples and blend well; shape into small balls and roll into chopped nuts.

Painless Cooking

›
Fruit
› History of Apples