How to Make Muffaletta Sandwich Recipe
One day when talking to my brother he said "Do you know how to make a muffaletta sandwich". What kind of sandwich was my response. He couldn't believe that I had never heard of this sandwich. He said it was from Central Grocery New Orleans and was so good. Of course this conversation went on for quite some time until I got the drift of this unusual delicacy. Being the "foodies" that we all are, I had to have every little detail.

Before I learned how to make a muffaletta sandwich I found that it originated from humble beginnings in the early nineteen hundreds out of the French Quarters of New Orleans. I always thought of New Orleans as having a large French influence not Italian as this sandwich reflects. To my surprise, I learned that in the late eighteen hundreds the majority of immigrants into New Orleans were from Sicily. They settled in a part of the French Quarters which at one time was known as "little Italy".
As I was learning how to make a muffaletta sandwich, I learned a lot about the early Italian immigrants who brought their culture, traditions and food cuisine which are embedded in the muffaletta sandwich. It was the creation of the Central Grocery in the French Quarter of New Orleans and consisted of a muffaletta loaf of bread, meats and cheeses and a delicious olive salad recipe. Everyone who has tasted this sandwich has never forgotten the delicious unique taste that they experienced.

Backing up a little to the interesting creation of this product. Sicilian farmers who were selling at the local farmers markets would come into the Central Grocery New Orleans for lunch. They often would order the olive salad recipe and bread to soak the juices in. (I can understand that; I could make a meal with bread and that delicious olive salad.)  They would ask for some meat to go with the bread and salad mixture and then settle down on some of the barrels to enjoy their lunch.

The Ingredients for salad below.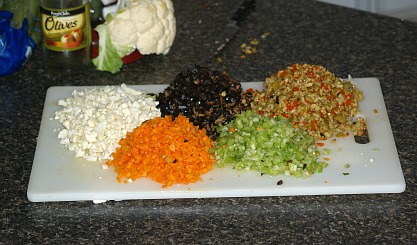 In the early nineteen hundreds, the owner of Central Grocery New Orleans decided to make a sandwich from these ingredients. From what I am told this sandwich has been a really big hit. People will stand in line for hours to buy one. Some make a special trip from miles away to enjoy this sandwich. Since I learned about it, I have found most people have heard of them. When I went to the Fresh Market to get the meat to make mine, a woman standing in line said "You are going to make a muffaletta sandwich."
Can you imagine a sandwich with such popularity? Once you eat it you will understand why. Just to give you an idea of the size, the one I made weighed over seven pounds. I am told they sell for under $15.00 at Central Grocery New Orleans. That is a bargain! If any of you have been or get the chance to try one of these sandwiches at Central Grocery, let me know what you think about it. This sandwich makes a great Superbowl food or other party food.

NOTE: The following are my recipes which I came up with after gathering information from ones who have eaten the original. I plan to sample the original as soon as I can get to New Orleans. For now I can tell you the following makes a delicious sandwich.


MUFFALETTA SANDWICH RECIPE
1 Loaf bread (Recipe makes two loaves)

1 Recipe olive salad (Recipe is for 1 sandwich; if you wish to make two sandwiches, double the recipe)

(Meats and cheese for 1 sandwich; double if making 2 sandwiches)

¼ Pound very thinly sliced ham

¼ Pound very thinly sliced capicola

¼ Pound very thinly sliced mortedella

¼ Pound very thinly sliced Genoa salami

¼ Pound very thinly sliced pepperoni

½ Pound shredded provolone cheese


To Assemble Muffaletta Sandwich:
After loaf of bread has cooled completely, slice horizontally in half.
Spread bottom half with a layer of the olive salad.(BELOW)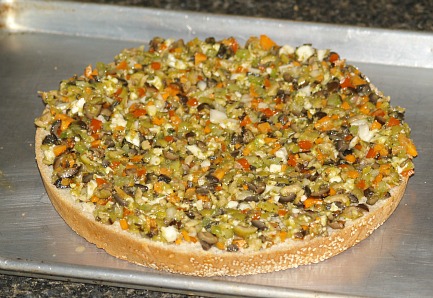 Layer ham, layer pepperoni, layer half of provolone cheese, layer salami, layer capicola, layer remaining half of provolone cheese; layer mortadella; press layers down lightly. (BELOW)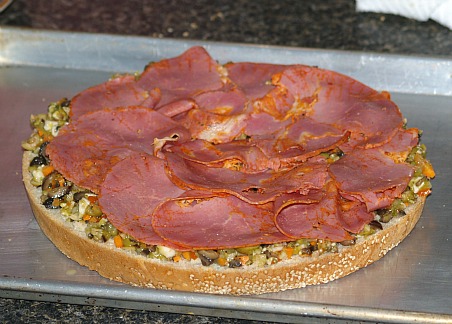 Top meats and cheese with another layer of the olive salad. (BELOW)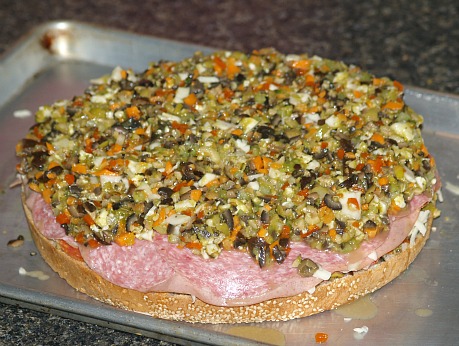 Place top half of bread; press down lightly.
To serve, cut in quarters (That is how it is served in New Orleans but really 1/8 is a large serving) (BELOW)

OLIVE SALAD RECIPE
I would say the olive salad is the most important part of the muffaletta sandwich. It is so good and makes the sandwich. It is good to eat plain as a salad.

1 Cup finely chopped black olives

1 Cup finely chopped green olives

½ Cup finely chopped celery

1 Cup finely chopped carrots

1 Cup finely chopped cauliflower

2 Cloves minced garlic

1 Tablespoon oregano

½ Cup olive oil

½ Cup vinegar

Combine all ingredients for olive salad and mix well. Place in the refrigerator to marinate for over 24 hours. Stir mixture occasionally.

SESAME PAN BREAD RECIPE
This bread is really delicious and makes a great muffaletta sandwich.

3 Tablespoons sugar

1 Tablespoon salt

2 Packages active dry yeast

7 ½ to 8 ½ cups flour

2 Cups water

¼ Cup butter

1 Cup milk

1 Slightly beaten egg

¼ Cup (or more) sesame seeds


Combine sugar, salt, yeast and 2 cups flour in large bowl.
Heat water, 1 cup milk and butter in saucepan over low heat until very warm (120F to 130F degrees),
On low speed gradually beat milk mixture into dry ingredients; increase speed and beat 2 minutes.
Beat in egg and 1 cup flour scrapping sides of bowl.
Stir in enough flour with spoon to make soft dough (about 4 cups).
Turn dough out on lightly floured surface and knead until smooth and elastic; about 10 minutes.
Add more flour if needed.
Shape dough into a ball and cover with bowl; let rest 15 minutes.
Grease 2 nine inch round cake pans; divide dough in half and press with fingers into 2 cake pans.
Cover and let rise in warm place until double in size; about 40 minutes.
Preheat oven to 350F degrees; brush loaves with milk and sprinkle heavily with sesame seeds.
Bake 40 minutes or until golden brown and loaves sound hollow when tapped with fingers.

Painless Cooking

›
How to Cook
› Muffaletta Sandwich