How to Make Strawberry Recipes
Strawberry recipes come into my mind early every spring. It is always the first crop and the first sign of spring when it comes to food.
After such a rough winter, even here in Florida, I am happy to see warmer weather and spring recipes. We are now coming to the end of our strawberry season, but in other states they are beginning to ripen.
A few weeks ago Kelly and I drove down to one of the many strawberry festivals held here in the US. It is held every year at Plant City, the area where most of our strawberries are grown. Many states have strawberry festivals and up home in Ohio one is held in Troy in June.
How to Make Strawberry Recipes
This is the time to fill up on strawberries, when they are in season. Many growers will let you come in and pick your own so it saves you money. Sometimes also growers will let people pick the remaining berries for free after they have harvested their fields. If preserved, these can be enjoyed later on in many strawberry recipes. Canned strawberries in pie filling, jam and jelly recipes would be very good in the winter.
By freezing strawberries, they can be enjoyed many ways later and it is so easy to do. Simply clean the berries and lay them on a tray. Place the tray in the freezer until they are frozen. Then dump the berries into a freezer bag and return to the freezer. You can always add sugar later if you want.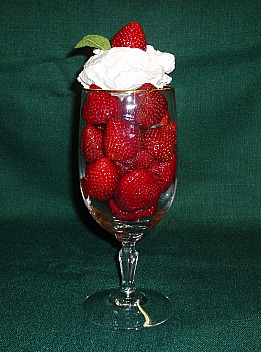 Speaking of freezing berries, I wished this week that I had frozen my own raspberries. No one had any fresh raspberries so I decided to try frozen raspberries in the recipe. What a mistake! These were not supposed to have anything in them except berries. When the cake was done, the pan was full of liquid and much sweeter than it should have been. I am suspecting that the berries were glazed with a sugar water to make more weight in the package. I will freeze my own from now on!
HOW TO MAKE STRAWBERRY JAM RECIPE
Most strawberry recipes for making jam and preserves are very easy and similar to each other; the biggest difference is using mashed berries vs. whole or sliced. The following recipe is very easy and does not require much to make. You will need three or four half pint jars and a candy thermometer. Wash and thoroughly rinse the jars. Put jars, lids and rings into a large pan. Cover with water and bring to a boil. Reduce heat and simmer until ready to use.

Wash and crush four pints of strawberries. Put these into a large heavy cooking pot. Add 2 Cups of sugar. Stir over low heat until mixture makes liquid. Raise temperature of heat and bring to a rolling boil. Cook until thermometer registers 220F degrees.
Remove the jam from the heat, stir and skim the top. Ladle into the hot sterile jars, cover with lids and seal tightly. Set in a draft free place to cool.
---
STRAWBERRY SHORTCAKE

favorite strawberry recipe
The favorite of the strawberry recipes at our Florida festival was the old traditional strawberry shortcake. There was a place where the people were waiting in line to make their own just like they liked them.
1 Quart strawberries
1 Pint whipping cream
1 Teaspoon sugar
1/2 Teaspoon vanilla
Clean and slightly crush berries and sprinkle with ½ Cup sugar; Set aside.
Whip cream, adding sugar and vanilla. Beat until stiff.
Shortcake recipes:
2 Cups flour
½ Cup soft butter
4 Teaspoons baking powder
½ Cup sugar
1/8 Teaspoon salt
1 Cup milk
Preheat oven to 450F degrees.
Butter and lightly flour an 8 inch baking pan.
Combine the dry ingredients and stir to blend. Cut in the butter. Add the milk and blend but do not over mix. Bake about 18 minutes or until a pick comes out clean. Cut into wedges while warm and then split wedge in half. Top half with berries, then other half of cake, more berries and whipped cream.
---
Strawberry recipes for canning strawberries for the most part are for strawberry preserves or strawberry jam. Canned strawberries tend to lose some of the flavor and bright color. They hold up more of their fresh qualities by freezing.
I have collected probably 50 strawberry preserves recipes over the years. They are almost identical to each other with the exception of the sugar free and whether to add an acid like lemon juice or vinegar. They all suggest using only 1 quart of berries at a time which is what I do.
STRAWBERRY PRESERVES
1 Quart strawberries stemmed, firm red ripe berries
4 Cups sugar
OPTIONAL 2 Teaspoons lemon juice or 2 teaspoons vinegar
Wash berries and drain well on a cloth; do not use berries with hollow cores.
Combine berries, sugar (and lemon or vinegar if desired); let stand 3 to 4 hours.
Bring slowly to a boil, stirring occasionally until sugar dissolves; boil for 20 minutes.
Pack in hot pint jars, adjust lids and process in boiling bath for 15 minutes
---
SUGAR FREE FREEZER STRAWBERRY PRESERVES
Some people love preserves but cannot have sugar in their strawberry recipes. This recipe is sweetened with Equal for those people.

1 Cup water
1 Envelope unflavored gelatin
2 Cups coarsely chopped strawberries
9 Packets of Equal
1 Teaspoon lemon juice
Pour water in saucepan and sprinkle gelatin over it; let stand 5 minutes.
Add berries and lemon juice to gelatin mixture; heat to just to boiling point while stirring.
Remove from heat and add Equal and blend well.
Pour mixture into hot sterilized freezer containers.
Cool in refrigerator for several hours before freezing.
Painless Cooking

›
Fruit
› Strawberries