How to Make Authentic Italian Bread Recipes 
When you learn how to make an authentic Italian bread recipe, you will find they will vary from region to region of Italy. No matter what region of Italy or for that matter what country you talk about, nothing is more inviting into a home that the wonderful aroma of fresh baking bread. From the time as a child, sweet breads were more like cake baking but I wanted to learn to make homemade yeast bread; like so many, I thought it would be just too complicated.
As a young adult, when I did try, I found it to be very easy and so worth the effort. Now I have so many favorite bread recipes; it all depends what mood I am in. When I learned how to make an authentic Italian bread recipe, I found that the crusty bread of Italy became my favorite; the flat facaccia, bruschetta, garlic bread and even the sweet fruit and nut loaves. Most are good served with meals or as finger food. Honestly, I have never eaten homemade bread that I did not like!
As I was learning how to make an authentic Italian bread recipe, I found that Italy is a country of twenty regions. For the sake of narrowing it down, I am dividing it into three regions; Northern, Southern and Central Italy plus Sicily. Bread plays a central role in the Italian culinary traditions. The history of Italian food tells of how the breads in Italy were traditionally baked in brick ovens. Outside of Old Rome families never had their own ovens; a communal oven was shared by many families to bake bread in. As years went on not only were conveniences improved but recipes were enriched with new ingredients and the techniques of bread baking were refined. More emphasis was placed on pleasing the taste buds with better flavors.
It is hard for me to say which is the truly authentic bread recipe of Northern Italy or any region; many of the recipes are so similar but go by different names. Although I think of panettone more as a fruit and nut cake instead of bread, it is said to be the favorite bread for holidays like Easter and Christmas. I generally also think of biscotti recipes as cookies but in Northern Italy it is considered bread or toast. The michetta bread is a white bread and baked in shapes like roses; it originated in the Lombardy region of Northern Italy. Ciabatta is a rustic Italian loaf of bread filled with little holes which trap the olive oil or whatever you decide to drizzle over it. I am going to guess that this last one, facaccia has to be the bread of choice in this region; mainly because I think it is so delicious and has to be my favorite. This bread can be baked with olives, tomatoes, garlic and spices, cheese and other ingredients. It is wonderful all by itself or with the meal or just soup.
Central Italy has many different bread recipes, many originating out of Tuscany. The main bread of Tuscany is schiacciata; it is a flat round country bread and is salt free. This came out of a rebellion years ago over a tax which was imposed on salt. Panina gialla, ciaccino, neccio, pane casereccio, torte al testo, focaccia farcita, crostolo pizza blance, ciambella, pane di spiga and pane di senatori are some of the favorites all over Central Italy. Ciaccino bread can also be considered pizza without tomato sauce; known as white pizza. Like I mentioned earlier, so many of the names are different but the breads are very similar from region to region.
Although I do not think of pizza as an authentic Italian bread recipe, Southern Italy does calling it a flat bread. To me pizza is in a category all by itself; I am sure many of you feel the same since it has become a passionate love for many Americans. Pane del pescatore (bread of the fishermen) is usually leavened with baking powder instead of yeast and contains fruits and nuts. Pane di monreale (bread of Monreale) is a brown crusty bread sprinkled with sesame seeds with a soft interior. An authentic Italian bread recipe called moddizzosu is a soft white crumbly sweet bread. Some of the other breads coming from Southern Italy are puccelto rustic, roto ciambelle and buccellato. When I think of an authentic Italian bread recipe, I think of heavier bread, often crusty on the outside but chewy and delicious; nothing light and airy with no texture. Whatever type I have eaten, it has always been very delicious.
NOTE: An authentic Italian bread recipe is typically brushed with water once or twice before baking to make CRUSTY ITALIAN BREAD RECIPES. If you brush twice, let the water dry first before brushing the second time.
HOW TO MAKE AN AUTHENTIC ITALIAN BREAD RECIPE like this

CHEESY ITALIAN BREAD

This authentic Italian bread recipe makes a great appetizer for parties.
1 Package active dry yeast
1 ¼ Cups warm water
2 Tablespoons sugar
1 Teaspoon salt
1 Teaspoon garlic salt
½ Cup grated Romano cheese
4 to 4 ½ Cups flour
Cornmeal
Dissolve yeast in water in mixing bowl; add sugar, salt, garlic salt, cheese and 2 cups of flour.
Beat mixture until smooth; add enough of remaining flour to form soft dough(Not sticky).
Turn dough onto floured surface; knead until smooth and elastic about 6 to 8 minutes.
Place dough in greased bowl turning to grease top.
Cover and let rise in warm place until double about 1 hour.
Punch dough down and divide in half; shape each into (2) 14 inch long loaves.
Sprinkle ungreased baking sheet with cornmeal and place loaves on baking sheet.
Cover and let rise until double in bulk; brush loaves with water.
With a sharp knife make diagonal slashes in each loaf ½ inch deep.
Fill a 9X13 inch baking pan with 1 inch hot water; place on lowest oven rack (below bread).
Preheat oven to 400F degrees; bake loaves for 20 to 25 minutes.
---
EASY FOCACCIA RECIPE
This authentic Italian bread recipe, like so many others are flatbread recipes; they might be called by different names but are still flatbreads.
2 One pound loaves frozen bread (thawed)
2 Tablespoons olive oil
6 Ounces sliced provolone cheese
6 Ounces Jarlsberg cheese
4 Tablespoons fresh chopped basil or 2 teaspoons dried
1 Tablespoon fresh chopped oregano or ½ teaspoon dried
1 Tablespoon fresh marjoram or ½ teaspoon dried
1 Tablespoon fresh rosemary or ½ teaspoon
¼ Teaspoon garlic powder
¼ Cup grated Parmesan cheese
Roll one loaf of bread into a 10 X 15 inch rectangle; if dough shrinks back, let it rest few minutes then roll to correct size.
Transfer dough to greased 10 X 15 inch baking pan; press dough to fit corners.
Brush dough with 1 tablespoon olive oil; cover with cheese.
Sprinkle with half of basil; top with oregano, marjoram, rosemary and garlic powder.
Roll out second roll of bread on lightly floured surface to 10 X 15 inch rectangle.
Place dough on top of cheese and herbs; pinch to seal top and bottom layers.
Brush top with remaining olive oil; let rise until puffy (30 to 60 minutes)
Preheat oven to 375F degrees.
Before baking make dimples in dough with fingertips.
Sprinkle top with Parmesan cheese and remaining basil; bake 25 to 30 minutes or until golden brown.
Remove from pan to cooling rack; cut in strips and serve warm.
---
ALMOND CRUSTED FLAT BREAD
Authentic Italian bread recipe called schiacciata; out of Tuscany comes this sweet elaborate version (with salt) of flat bread.
1 Package active dry yeast
¼ Cup lukewarm water (110F degrees)
¾ Cup softened butter
¾ Cup sugar
1/3 cup milk
½ Teaspoon salt
1 Tablespoon each grated orange rind and anise seed
4 Eggs
1 Egg yolk
4 ¾ Cups flour
1 Cup each raisins and diced candied orange peel
1 Egg white beaten with 1 tablespoon water
7 Ounces almond paste
1 Cup sliced almonds
Powdered sugar
Sprinkle yeast over warm water in a large bowl; let stand for 5 minutes to soften.
Stir in the butter, sugar, salt, milk, orange rind, anise seeds, 3 eggs and 1 egg yolk.
Add 2 cups of the flour and beat on medium speed for 10 minutes.
With a spoon mix in remaining 1 ¾ cups of the flour until thoroughly moistened.
Cover and let rise in a warm place until almost double in bulk; 1 ½ to 2 hours.
Stir down the dough and turn out on floured surface.
Knead about 10 minutes adding as little four as possible until dough is smooth and velvety.
Flatten dough and place raisins and candied orange peel on top.
Fold dough over and knead lightly just until fruit is distributed.
Divide dough in half and shape each in a ball.
Place each on well greased baking sheet and pat to 9 inches wide flat round.
Cover dough with plastic film and let rise in warm place until puffy about 45 minutes.
Brush with beaten egg white mixture.
Crumble almond paste into 1 1/2 inch chunks.
Sprinkle half of mixture over each loaf and press lightly into dough.
Bake in preheated oven at 350F degrees for 30 minutes or until richly browned; dust with powdered sugar.
---
CRUSTY ITALIAN BREAD RECIPE
If you are just learning how to make authentic Italian bread recipes, this is a good one to start with. It is pretty easy and so delicious.
1 Cup warm water (About 112F degrees)
2 Tablespoons olive oil
3 Cups flour (Scant)
2 Teaspoons sugar
1Teaspoon salt
1 Package dry yeast
Cornmeal
1 Beaten egg white
Sprinkle cornmeal over baking pan; set aside.
Lightly measure the flour leveling off the top; combine in a large bowl flour, sugar, salt and yeast.
Add warm water and oil to dry ingredients; mix well.
Turn dough out onto lightly floured surface; knead until smooth and elastic.
Place dough in a lightly oiled bowl, cover with plastic wrap and towel.
Place in warm spot to rise about 40 minutes or double in bulk.
Turn dough out on lightly floured surface and punch down.
Cover dough with upside down bowl and let stand 15 minutes.
Shape dough into a loaf about 12 inches long; lay piece of plastic wrap over the top and let rise until double.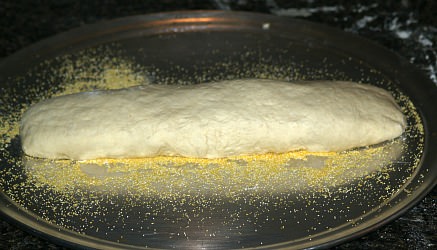 Unbaked Crusty Italian Bread Recipe
PREHEAT OVEN to 375F degrees.
With a sharp knife cut slashes diagonally across loaf about ½ inch deep; brush with beaten egg white
Bake about 25 to 35 minutes or until golden brown and sounds hollow when tapped.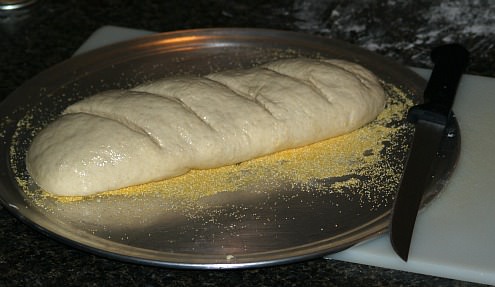 Crusty Italian Bread Recipe Shaped with Slashes