How to Make a Cannoli Recipe 
If you are learning how to make the cannoli recipe, you will find it is very familiar to all who love Italian foods. This is among the best Italian desserts. It is sold in almost every Italian and pizza restaurant in the United States.
If you want to learn how to make a cannoli recipe, you will need little metal cylinders called cannelli tubes. They can be purchased usually in gourmet shops or ordered online. You can make these tubes out of ¾ to 1 inch aluminum tubing from a hardware store; cut tube in 4 ½ long to cut tube in 5 ½ inch long. You can also use little wooden rods of the same size.
The crisp cream filled cannoli recipe is a most tempting Sicilian treat originating from the Palermo area of Sicily. This luscious dessert was originally created as a snack for the carnival season but soon became a year round food. If you have tasted them, you will know why.

There are now many variants from the original recipe but the basic instructions are the same. A dough is blended together, rolled and cut into about 4 inches square. MAKE IT square or ovals about 3 ½ X 5 inches. After wrapping this dough on the cannolli tubes, the shells are deep fried or baked. They are then filled with a variety of mascarpone cheese, custard or ricotta cheese fillings. Ricotta cheese is the most common used in this Italian dessert today. A pastry bag with a large holed tip can be used to fill shells.
NOTE: A tip to good filling is to use very dry ricotta cheese; this is accomplished by lining a colander with cheesecloth and letting it drain until all the liquid is out.
NOTE: If you are learning how to make a cannoli recipe, another tip is do not fill the shells until ready to serve. I have eaten too many that were filled ahead of time and the shells became soggy; a total waste of a delicious dessert.
NOTE: If you do not have time to make the shells many good quality ones are available for purchase.
HOW TO MAKE A CANNOLI RECIPE
Filling made with mixture ricotta and whipped cream garnished with candied fruit and chocolate.
Dough:
1 ¾ Cups flour
1/4 Cup sugar
½ Teaspoon salt
1 Egg, whole
2 Tablespoons butter, chopped in small pieces
¼ Cup Marsala wine
1 Egg white, slightly beaten
Vegetable oil for frying
In a bowl mix the flour, sugar and salt. Make a well in center and add whole egg and butter. Mix with a fork to moisten flour. Add wine, a little at a time, until dough starts clinging together. Using hands shape dough into a ball. Cover and let stand for 1 hour.
Roll dough out on a floured board until about 1/8 inch thick. Cut dough into 3 ½ inch circles; roll circles into a slight oval. Wrap oval dough around cannoli tubes and seal edges with the egg white.
Heat 2 inches of oil in a deep pan to about 350F degrees on a deep fry thermometer. Put 2 to 3 cannoli tubes into hot oil and cook until golden brown. With tongs, remove from oil. Cool for a few seconds and carefully remove the shell from the tube. Cool completely.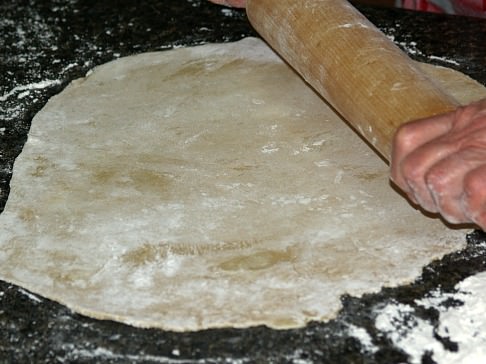 Rolling Cannoli Dough
Measuring Cannoli Dough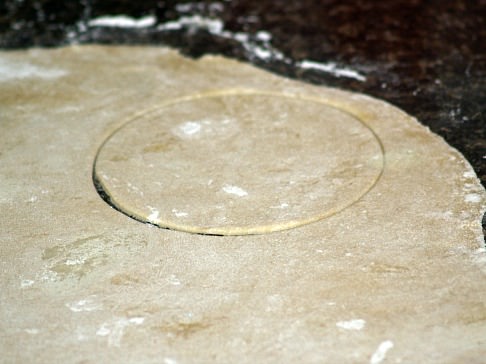 Cutting Cannoli Dough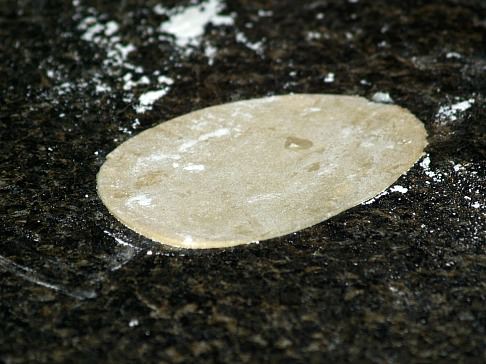 Rolling Cannoli Dough to Oval Shape
Shaping Cannoli Dough Step 1
Shaping Cannoli Dough Step 2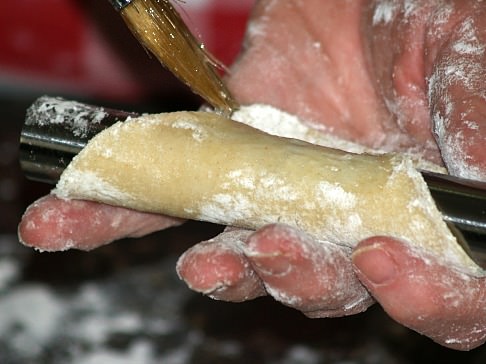 Shaping Cannoli Dough Step 3 Brushing with Egg White
Shaping Cannoli Dough Step 4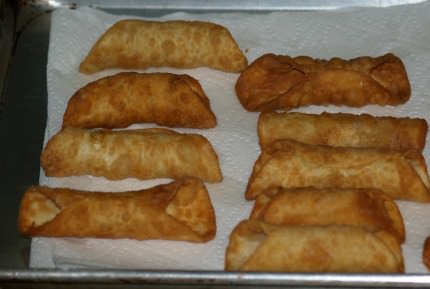 Fried Cannoli Shells
Cannoli filling:
½ Cup whipping cream
2 Cups ricotta cheese
3/4 Cups powdered sugar
2 Teaspoons vanilla
¼ Cup candied citron, finely chopped
¼ Cup candied orange peel, finely chopped
2 Tablespoons chopped milk chocolate
Whip cream until stiff and set aside. Mix ricotta cheese until very smooth and add the sugar and vanilla. Fold the whipped cream into the ricotta mixture. Chill for several hours.
Use a large pastry tube to force filling into shells. Garnish with citron, orange peel and chocolate.

---
HOW TO MAKE CANDIED FRUIT
Many Sicilian desserts like the cannoli recipe are flavored with candied fruit especially orange, citron and lemon peels. This can also be used in many sweet breads like panatone.

Rind of 2 oranges
Rind of 2 citrons (lime or grapefruit)
Rind of 2 lemons
Sugar
3 Tablespoons water
1 Tablespoon almond oil
Boil each rind separately generously covered in water for 2 minutes; drain and let dry.
Cut rinds in thin strips; weigh rinds and weigh out an equal amount of sugar.
Place sugar in saucepan with 3 tablespoons water and place over moderate heat stirring constantly.
When syrup becomes foamy, remove from heat and add rinds.
Mix well until all pieces are thoroughly coated.
Lightly oil a baking tray; tip rinds and syrup onto tray and separate pieces with a fork.
Let cool completely and transfer to a jar for storage.
---
CANNOLI RECIPE
This cannoli recipe has a filling with citron, orange peel, cherries and pistachios; dusted with powdered sugar to serve.
10 Ounces ricotta cheese
1 Cup superfine sugar (divided)
3 Ounces candied citron, orange peel, cherries chopped
2 Tablespoons shelled pistachio nuts halved
2 ½ Cups flour
¼ Cup dry white wine
2 Tablespoons honey
Pinch salt
1 Egg
1 Egg white
Oil for frying
Additional egg white
1 Tablespoon powdered sugar
Mix ricotta with 1/2 cup of sugar, candied fruit and pistachios; refrigerate.
Combine flour, 1/2 cup of sugar and salt on work surface.
Make a well in center of flour mixture; add wine, honey, whole egg and 1 egg white.
Knead until you have fairly stiff dough; shape into a ball, wrap in plastic and refrigerate for 2 hours.
Roll dough out thinly and cut into 4 inch squares.
Wrap around cannoli tubes and press closed using a little egg white to make the seam seal.
Heat enough oil to deep fry to temperature of 350F degrees.
Fry tubes until golden brown on all sides; drain on paper towels.
Cool completely before filling.
Right before serving, spoon ricotta mixture into pastry bag with large tip and fill shells.
Dust with powdered sugar.
---
LOW FAT CANNOLI RECIPE
Combine and beat until smooth ricotta, sugar, maple syrup, lemon rind and vanilla.
Fold in chocolate chips and refrigerate; fill shells before serving and dip ends in chopped nuts.
---
BAKED CANNOLI SHELL RECIPE
2 Tablespoons melted butter cooled
1/3 Cup sugar
2 Egg whites
½ Teaspoon vanilla extract
¼ Teaspoon almond extract
1/3 Cup white flour
Preheat oven to 375F degrees.
Beat in mixing bowl butter and sugar; add egg whites and extracts.
Beat mixture until smooth and slightly foamy; stir flour into mixture until all lumps are gone.
NOTE: If you do not have cannoli tubes, wash and sanitize your broom handle; dry and lay across your table to use for shaping the shells.
Generously oil 2 cookie baking sheets.
Make pancakes with the dough on the cookie sheets; NO MORE THAN 4 TO EACH.
Spoon 1 tablespoon for each shell onto the tray.
With spoon spread out to 3 ½ to 4 inch thin circle making sure edges are not too thin or they will crumble.
Bake about 7 minutes until the center is firm.
With pancake turner remove shells from pan as quickly as possible.
Wrap around cannoli tube or broom handle with the edges overlapping on underneath side (Do not wrap too tightly or they won't slide off).
Repeat with all shells; cool completely before removing from form.
---
BAKED CANNOLI SHELL RECIPE
This shell can be used with any cannoli recipe; it is also baked but made with brown sugar and ground pistachios which give a different flavor.
½ Cup salted finely ground pistachios
1 ½ Cups flour
1/3 Cup firmly packed light brown sugar
2 Tablespoons granulated sugar
½ cup chilled butter cut in small pieces
1 Tablespoon plus 2 teaspoons water
1 Egg yolk
1 Teaspoon vanilla extract
Combine and blend pistachios, ½ cup flour, brown sugar and granulated sugar.
Mix in remaining flour; add butter and work in with fingertips until resembles coarse meal.
Mix water, yolk and vanilla in small bowl.
Drop yolk by teaspoons into flour mixture to form dough that just comes together.
Gather dough into a ball; divide into 8 pieces.
Place balls in bowl, cover and refrigerate 30 minutes.
Butter eight 5 inch cannoli molds; line large baking sheet with buttered foil.
Roll one piece of dough out between 2 pieces of wax paper to 1/16 inch thickness.
Remove top piece of paper and cut dough 4 ½ to 3 ½ inch rectangle.
Place cannoli mold on one long side of dough letting ½ inch of mold extended beyond dough.
Bring dough up and wrap around mold and press seam gently to seal.
Arrange seam side down on prepared tray.
Repeat with all dough pieces; freeze for 15 minutes.
Preheat oven to 350F degrees and bake until golden brown about 15 minutes.
Move cannoli to rack; grasp cannoli mold at extended end with dish towel and gently turn to loosen.
Carefully slide cannoli tubes out of shell; cool completely before filling.
---
CHOCOLATE DIPPED STRAWBERRY CANNOLI RECIPE
6 Tablespoons sugar
2 Cups coarsely chopped hulled strawberries
1 ½ Teaspoons unflavored gelatin
¾ Cup whole ricotta cheese
3 Tablespoons softened butter
3 Tablespoons sugar
6 Tablespoons chilled whipping cream
12 Ounces bittersweet chopped chocolate
½ Cup finely chopped roasted pistachio nuts
8 Strawberries with stems
Sprinkle 6 tablespoons sugar over berries in medium bowl; let stand 30 minutes.
Drain berries reserving 1/3 cup liquid in small bowl.
Sprinkle gelatin over juice and let stand 15 minutes to soften.
Place gelatin bowl in saucepan of barely simmering water stirring to dissolve.
Combine ricotta, butter and 3 tablespoons sugar in mixing bowl and beat until smooth about 3 minutes.
Whisk in the gelatin mixture; fold in the berries.
Refrigerate just until mixture begins to set about 1 hour.
Whip cream to stiff peaks and fold into ricotta mixture; cover and refrigerate at least 3 hours.
Pipe ricotta mixture into shells leaving ¼ inch unfilled at each end; place on tray and refrigerate 1 hour.
Melt chocolate over low heat stirring until smooth; dip both ends of each cannoli into chocolate ½ inch.
Dip ends into pistachios.
Cut strawberries into fans (slice almost to the stem end and fan out slices); garnish the cannoli recipe.
---
CANNOLI RECIPE
3 Tablespoons shortening 
2 Cups flour
2 Tablespoons sugar
¼ Teaspoon cinnamon
¼ Cup cooking wine
1 Slightly beaten egg
2 Cups ricotta cheese
1 Teaspoon vanilla
½ to ¾ Cup powdered sugar to taste
½ Cup mini chocolate chips
Beaten egg white
Vegetable oil for frying
FOR SHELLS cut shortening into flour until crumbly; blend in cinnamon and sugar.

Gradually add the wine and egg until a dough forms; form into a ball, wrap in plastic wrap and refrigerate 2 hours.
Cut a piece of cardboard into an oval about 3 inches X 5 inches. 
Divide dough into 4 parts; roll each part on a lightly floured surface about 1/8 inch thickness.
Using the cardboard and a knife cut the dough around the cardboard.
Wrap dough pieces loosely around canola tubes; moisten edges of dough with egg white to seal.
Deep fry in 2 inches of hot oil until lightly browned (About 400F degrees).
Drain on paper towels and let cool before removing from tubes.
FOR FILLING mix together ricotta cheese, vanilla, powdered sugar and chocolate chips; chill for 1 hour.
Fill shells and sprinkle with chopped pistachio nuts or dust with powdered sugar.