How to Make Diabetic Cheesecake Recipes
I learned how to make diabetic cheesecake recipes for members of my family. There is such a demand for sugar free recipes because so many people today must be on a sugar free diet. A large percentage of Americans and people around the world are afflicted with diabetes; many of these people are my family members.

Like me, all my family loves good food, especially desserts. Learning how to make diabetic cheesecake recipe and other diabetic dessert recipes have been greatly welcomed by these people. This is not a temporary restrictive diet like the ones just to reduce weight; after the weight is off we return to regular desserts.

A diabetic diet is usually a life changing experience where sugar is out of our lives forever. This does not mean that you cannot enjoy a good dessert from time to time. Today we are at an advantage when it comes to making sugar free desserts. When I learned how to make diabetic cheesecake recipe I found many good choices for sugar substitutes available to us that were not available years ago.


My dad suffered with diabetes before he passed years ago. He would have loved a good diabetic cheesecake recipe or anything sweet; he loved sweets like me. I really like cooking with Splenda; I could have made him all kinds of sugar free recipes with that.


Just remember a diabetic cheesecake recipe and other sugar free desserts are nice to offer to family and friends who visit with diabetes. It is so hard to resist something sweet; especially if it is homemade. It is important that these people with this disease stay on their sugar free diet. Be a special hostess and give them this consideration; have something ready to offer these special people.

BUTTERMILK CHEESE CUPS (A diabetic cheesecake recipe)
¼ Cup cold buttermilk

1 Tablespoon unflavored gelatin

Artificial sweetener to equal 2 tablespoons sugar

1/8 Teaspoon salt

¼ Cup buttermilk at room temperature

1 Cup ricotta cheese

3 Eggs separated

1 ½ Cups sliced strawberries

Put cold buttermilk, gelatin, artificial sweetener and salt in blender; run blender for 30 seconds.

Add room temperature buttermilk; run on medium speed for 1 minute or until gelatin is dissolved.

Add ricotta and egg yolks; run on medium speed until mixture is smooth and creamy.

Pour mixture into large bowl.

In another bowl beat egg whites until stiff; fold whites into cheese mixture.

Pour mixture into 3 ten ounce custard cups; refrigerate for several hours.

Remove from refrigerator and let stand at room temperature 5 minutes.

Unmold onto individual serving plates; arrange strawberries around bottom and on top of cheese cups.

Makes 3 servings.

---
SUGAR FREE CREAM CHEESE DESSERT RECIPE
Although I call this recipe has no crust and is not baked, more like a dessert, I have often made it with a sugar free pound cake to line the dish. This is why I call it an unbaked diabetic cheesecake recipe. It is very delicious and members of my family have really enjoyed it over the years.
3 Egg whites

Artificial sweetener to equal ½ cup sugar

8 Ounces softened cream cheese

1 Tablespoon orange flavored liqueur or 1 teaspoon orange extract

½ Cup whipping cream whipped

Fresh berries, sliced peaches or other fruit

Beat egg whites until soft peaks form.

In large bowl beat cream cheese, artificial sweetener and liqueur until well blended.

Gently fold whipped egg whites and whipped cream into creamed mixture.

Spoon into dessert dishes and refrigerate until cold and set.

Before serving top with fresh fruit.

---
SUGAR FREE CHOCOLATE MOUSSE RECIPE
This diabetic cheesecake recipe is made easy with a sugar free cake mix and sugar free frosting.
1 Package Sugar Free Pillsbury Devil's Food Cake Mix

1/3 Cup hot water

¼ Cup oil

1 Egg

1 Can Sugar Free Pillsbury Vanilla Frosting

8 Ounces softened cream cheese

2 Cups whipping cream

½ Cup unsweetened chocolate chips chopped in small pieces

Preheat oven to 350F degrees.

Grease bottom only of 9 inch spring form pan.

Combine cake mix, hot water oil and egg; blend by hand with a spoon.

Spread mixture into prepared pan; bake 20 to 30 minutes until set.

DO NOT OVERBAKE; set on rack to cool completely.

Run knife around edge of pan to loosen cake from sides; DO NOT REMOVE SIDES.

In large bowl beat cream cheese until smooth; blend frosting in until smooth.

Reserve 2 tablespoons chocolate chip pieces for garnish; stir remaining chips into frosting mixture.

In small bowl beat whipping cream until stiff peaks form; reserve 2 cups whipped cream.

Fold remaining whipped cream into frosting mixture; spread over cooled base.

Cover with plastic wrap and refrigerate at least 3 hours.

Remove sides of pan; garnish top with remaining whipped cream and chocolate chips.

Store in refrigerator.

---
SUGAR FREE APPLE CHEESECAKE RECIPE
This cheesecake is delicious with or without the optional rum sauce which is at the bottom of the recipe.
Crust:
2 2/3 Cups flour
1 Teaspoon salt
1 Cup solid shortening
7-8 Tablespoons ice water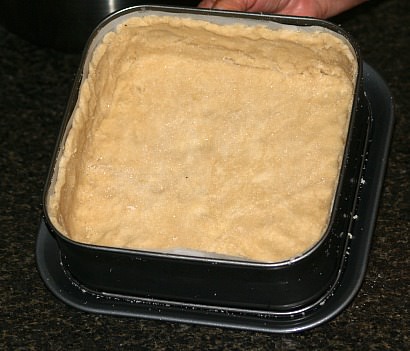 Cheesecake Crust
Cheesecake filling: 

2 Packages (8 ounces each) softened cream cheese
Sugar substitute to equal 2/3 cup of sugar
2 Beaten eggs (room temperature)
2 Tablespoons unsweetened apple juice
1 Teaspoon vanilla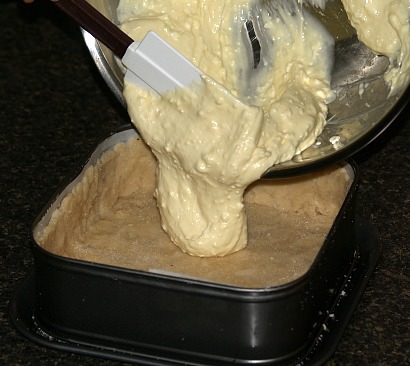 Cheese Filling
Apple Filling:

Sugar substitute to equal ¾ cup of sugar
3 Tablespoons cornstarch
1 Teaspoon cinnamon
¼ Teaspoon salt
6-8 Apples (peel, core, cut in quarters)
¼ Cup unsweetened apple juice
2 Tablespoons butter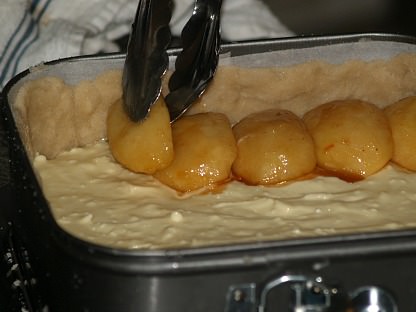 Apple Filling
OPTIONAL SAUCE:

Butter Rum Sauce:
1/3 Cup water
Sugar substitute to equal 1/3 cup sugar (Brown sugar substitute is great)
¼ Cup butter
3 Tablespoons dark rum
¼ Cup chopped pecans
Pecan halves for garnish
FOR CRUST combine flour and salt; cut in shortening until crumbly.

Sprinkle with ice water 1 tablespoon at a time tossing with a fork until dough ball forms.
Roll to fit or press into a greased 9 inch spring form pan; press up the sides of the pan.
PREHEAT OVEN TO 425F degrees: DO NOT BAKE YET.
FOR CHEESECAKE FILLING beat cream cheese, eggs, sweetener, apple juice and vanilla until smooth.
Spread evenly into UNBAKED crust; set aside.
FOR APPLE FILLING combine and blend sweetener, cornstarch, cinnamon and salt in a large saucepan.
Add apple juice, butter and quartered apples; cook and stir over medium heat until mixture comes to a boil.
Reduce heat and simmer about 10 minutes; arrange apples on top of cheese mixture in pan.
Spoon syrup over top of apples; bake about 40 to 45 minutes.
Set cheesecake on rack to cool to room temperature; refrigerate until cold.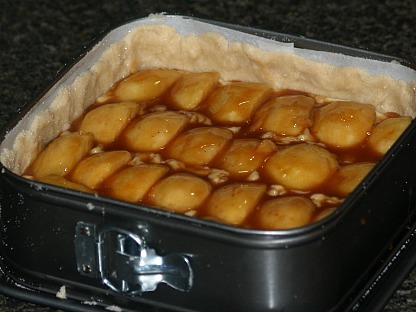 Sugar Free Apple Cheesecake Ready for the Oven
FOR OPTIONAL RUM SAUCE combine water, sweetener and butter in saucepan; bring to a boil.
Add rum, reduce heat and simmer about 5 minutes.
Stir in pecans and set off to cool; spoon over cheesecake when serving.