Holiday Gift Recipes 
My sister learned how to make holiday gift recipes when she was young; they came from her heart. Today would have been Ardice's birthday. Although we lost her over a year ago, her memories will forever stay with us. She was born in 1930 and was only eleven months older than Sister Shirley. They were very close and so were their children. Ardice's children were Jack, David, Keith and Gloria Joyce.
(Ardice's three son's with sister shirley's son upper right pictured below)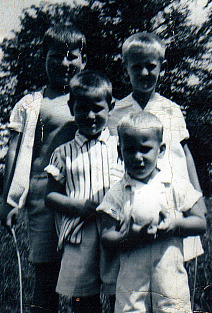 Like the rest of the family, Ardice was born with the cooking basics. Ardice learned how to cook holiday gift recipes from simple ones on a budget to the most elaborate meal.  As in most of our kitchens, much was cooked in the old cast iron skillets. As you may have read on my website, she is the one who helped me get started cooking. When I was very young, she helped me make her best cake recipe and icing recipe decorated for my teacher's birthday. After that I knew I could do anything.
The last meal I had at Ardice's home was for Thanksgiving. She was excited about preparing and told everyone how to make her holiday gift recipes as a gift to all of us. Cooking for a crowd was never a problem for her. All her cooking was large quantity recipes. She loved cooking with spices and everything was so flavorful. When we arrived, she was in her kitchen cooking a turkey and preparing all her Thanksgiving recipes. Her delicious mashed potatoes recipe and favorite vegetable recipes came with every one of her meals. When all the other family came and added their dishes to her large spread, needless to say, it was fit for any king.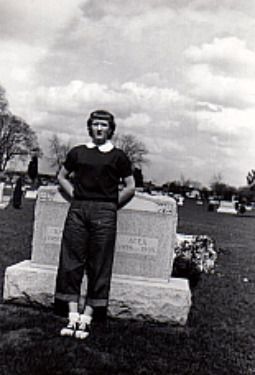 Learn How to Make Holiday Gift Recipes like My Sister Ardice
I was able to spend time in the hospital with my sister before she passed. As very often, nothing tasted good to her so she would not eat. I made her some stew with beef, vegetables and quinoa dumplings, which are high in protein. Ardice loved this stew and told all the nurses how delicious and healthy it was. This was like one of my holiday gift recipes to her.
QUINOA RECIPE
Cook small pieces beef with onion, celery and garlic until very tender. Add small pieces of carrots, potatoes and asparagus and cook until tender. Add a little beef stock to make a good beef flavor. Process in blender until fairly smooth and set aside to keep warm. Add eggs to "quinoa flour" until dough is consistency to drop from spoon. Drop by small spoons into boiling water. When dough has cooked remove to warm beef mixture. Season with salt and pepper to taste.
---
HOW TO MAKE HOLIDAY GIFT RECIPES
POPCORN BALL RECIPE
Like most of us, we have our favorite holiday recipes for each holiday. In the fall Ardice always made the best popcorn ball recipe. These are holiday gift recipes for Halloween and sometimes Thanksgiving and Christmas.
5 Quarts popped corn
2 Cups sugar
1 ½ Cups water
½ Teaspoon salt
½ Cup light corn syrup
1 Teaspoon white vinegar
1 Teaspoon vanilla
1 Cup salted peanuts (OPTIONAL)
Place popped corn and peanuts if desired in a large roaster pan.
Butter sides of a heavy sauce pan.
In it combine sugar, water, salt, syrup and vinegar.
Cook to a hard ball stage 250F degrees on a candy thermometer.
Stir in the vanilla.
Slowly pour over the popcorn, stirring to mix well.
Butter hands and (could be hot) carefully shape into balls. Wrap in wax paper and tie with ribbons. (Orange for Halloween or tie with red & green and hang from Christmas tree)
---
FONDANT EASTER EGGS RECIPE
Ardice was very talented in making Easter candy recipes. Of her holiday gift recipes for Easter were homemade Easter eggs. She would cook fondant, shape it like Easter eggs, coat them with chocolate and then decorate them. They were beautiful and tasted so delicious.
1 Cup whipping cream
½ Cup milk
½ Cup light corn syrup
4 ½ Cups sugar
¼ Teaspoon salt
¾ Cup marshmallow cream
1 Tablespoon vanilla
½ Cup broken pecans, optional
½ Cup finely chopped dried fruit, optional
4 Ounces coconut, optional
Place whipping cream, milk and corn syrup in a large heavy saucepan. Add sugar and salt. Cook stirring consistently until mixture comes to a boil.
Cook, stirring constantly until candy thermometer register 235 to 236F degrees.
Remove from heat and pour into a large pan to cool. When the bottom of the pan feels cool then the syrup is ready to beat. Add the marshmallow cream, flavoring and optional item if desired. Beat until creamy and it loses its gloss. Shape and coat with chocolate.
---
CHOCOLATE FRUITCAKE RECIPE 
This recipe is one of the easy but delicious holiday gift recipes.
1 Package Pillsbury devil's food cake mix

8 Ounces sour cream

1/3 Cup whiskey or water

3 Eggs

2 Cups chopped pecans

1 Cup semi sweet chocolate chips

1 Cup drained maraschino cherries in halves

8 Ounces candied pineapple cut in ½ inch pieces

1 Cup golden raisins

Corn syrup

Preheat oven to 350F degrees; grease and flour Bundt cake pan.
In large bowl combine cake mix, sour cream, whiskey and eggs.
Beat mixture on low until moistened then on high speed for 2 minutes.
Stir in pecans, chocolate chips, maraschino cherries, pineapple and raisins.
Pour batter into prepared pan; bake 50 to 60 minutes until cake springs back slightly when touched.
Cool 20 minutes; remove from pan and cool completely.
Wrap tightly and refrigerate overnight.
Before serving brush with corn syrup and decorate with additional cherries.

---
TOMATO CHUTNEY RECIPE
Many of my sister's holiday gift recipes like this one were made in the summer months when the garden was in full production.
Canning jars with rings and new lids
2 Tablespoons canola oil
4 Cloves minced garlic
2 Jalapenos seeded and diced
2 Large minced shallots
6 Pounds Roma tomatoes, peeled seeded and diced
½ Cup sugar
½ Cup apple cider vinegar
2 Teaspoons ground ginger
1 Teaspoon curry powder
½ Teaspoon salt
Place jars in a large pot of boiling water to sterilize; turn heat off and let jars set in water.
Place rings and lids in a small pan and cover with water; bring to a boil and remove from heat until ready to use.
In medium saucepan heat oil over medium; and garlic, jalapenos and shallots and cook until tender about 3 minutes.
Add tomatoes, sugar, vinegar, ginger, curry and salt stirring to blend.
Reduce heat to medium low; cover and cook stirring often for about 20 minutes.
Spoon mixture into hot jars leaving ½ inch headspace; remove air bubbles by running a knife through mixture.
Wipe rim of jar clean; place lid and rim on jar and screw lids on firmly.
Carefully place jars in a boiling water bath making sure water completely covers jars.
Gently boil for 40 minutes for pints and 45 minutes for quarts. (Begin timing when water returns to boil)
Remove jars carefully and place on a thick towel until jars cool and sealing is complete; LET JARS SET 24 hours.
NOTE: To peel tomatoes, dip in boiling water for less than a minute; place immediately in ice cold water about 5 minutes. Remove skins with a small sharp knife.
---
NUT BUTTER RECIPES
Nut butters make great holiday gift recipes; most people love peanut butter and ones made with other nuts. This recipe can be used with a variety of nuts.
2 Cups skin on almonds, toasted and skinned hazelnuts or untoasted pecans
¼ Teaspoon fine sea salt
1 ½ to 4 Tablespoons canola or vegetable oil
1 Teaspoon honey
Put nuts in food process and pulse until roughly chopped.
Add salt and puree until nuts become fairly smooth; add only enough oil to help the nuts break down.
Add honey and pulse to blend.
Transfer nut butter to a clean sterilized jar; store in a cool dry place for up to 2 months or refrigerate 6 to 9 months.
---
HERB CHEESE WAFERS RECIPES
¾ Cup softened butter
½ Cup shredded cheddar cheese
1/3 Cup crumbled blue cheese
1 Tablespoon minced fresh tarragon
½ Teaspoon dried oregano
1 Small clove minced garlic
2 Cups flour
In mixing bowl beat butter, tarragon, cheeses, oregano and garlic until well blended.
Beat in flour (dough will be crumbly); shape into a 14 inch long roll.
Wrap roll in plastic wrap; refrigerate overnight.
NOTE: AT THIS POINT YOU CAN WRAP PRETTY FOR A GIFT WITH INSTRUCTIONS FOR BAKING AS FOLLOWS.
To Bake: Cut into ¼ inch slices and place on ungreased baking sheet.
Bake at 375F degrees for 10 to 12 minutes or until golden brown.
Cool completely on wire rack. Makes about 4 ½ dozen wafers.
---
CHRISTMAS ORNAMENTS (NON-edible)
Learn how to make holiday gift recipes to decorate your Christmas tree.
4 Cups flour
2 Cups salt
1 Teaspoon powdered alum
1 ½ Cups water
Preheat oven to 250F degrees.

Combine all ingredients in a large bowl; mix well with hands.
NOTE: If dough is too dry work in another tablespoon water.
Dough can be colored with drops of food coloring; divide dough into parts if wanting different colors.
Roll dough out to 1/8 inch thickness on lightly floured surface.
Dip cookie cutters in flour and cut out shapes.
Make a hold with a straw ¼ inch from edge for hanging.
NOTE: Use pieces from straw and other pieces of dough for decorating if desired.
OPTION: Use molds like flowers, animals, fruits etc. for shaping ornaments no more than ½ inch thickness
Place ornaments on ungreased baking sheets; bake 30 minutes.
If possible turn ornaments over; bake for 1 ½ hours longer until completely hard and dry.
Remove from baking sheet to rack; cool completely.
Sand lightly with fine sandpaper until smooth.
Paint with plastic based poster or acrylic paint; dry completely.
Cover paint with clear shellac; makes about 5 dozen 2 ½ inch size.
As I said earlier, Ardice will always be in our memories and so will be her holiday gift recipes.