Hot Pepper Cooking
I have heard so many people say they love hot pepper cooking. Just what does this mean?  Do these people understand all the different types of peppers available to us today? We can easily purchase peppers from all over the world to cook with. These peppers might be fresh, dried and even bottles of dried seeds.
When you say you love hot pepper cooking you must realize that aside from the sweet peppers, there are peppers ranging everywhere from a mild spicy flavor to extremely HOT "knock your socks off peppers".  Believe me, when cooking with hot peppers you need to know which ones you are dealing with. Some will actually take your breath away.
Hot Pepper Cooking
Before I learned a lot about peppers, I often said I loved hot pepper cooking. I always loved the spiciness of chili peppers from Mexico but I found it is not as simple as it might sound. There are so many types of these peppers and they do taste different. 
I learned so much about hot pepper cooking when I started making mole sauce  with my friend Lissy, I learned a lot about chili peppers and I still could learn much more.
I bought so many bags of dried hot peppers that I am still using them. When I couldn't find the name of one, I tried to replace it with another; then I would find that kind. Anyway, I ended up with a lot of peppers so I am thankful these dried ones last a long time.
In your hot pepper cooking you might come across some of these popular fresh peppers used in the Mexican cuisine; chilaca, habanero, jalapeno, poblano, verde del norte and Serrano.
Pasillas
Chilacas are dark to blackish green. They range from mild to hot with a slightly sweet taste. Dried they are called pasillas (pictured above). The pasilla chili (also called chili negro) is about 6 or 7 inches long and one and one half inches wide. They are ripened first and then dried to a shiny black wrinkled surface. The dried peppers have apparent vertical ridges and the flavor is sharp and rich.

The habanero pepper is known to be the hottest in hot pepper cooking in Mexico. These are small and squat in shape 1 ¾ inches long and 1 ¼ inches wide. They have a pale to medium green color ripening to yellow and then to orange.  
Jalapeno peppers are very popular to most cooks in hot pepper cooking. These peppers are about 2 ½ inches long and about 1 inch wide with a smooth blunt nose triangle. The skin is shiny green ripening to bright red.  When ripened and smoked dry they are called chipotles. These are smaller peppers about 2 ¼ inches long and ¾ inch wide. They have a leathery light brown tough skin. These are known to be extremely hot with a fruity smoked flavor. I love these to cook with but I have found some to be mild and some very hot. Here in the States it has a lot to do with our weather when growing.
Poblano peppers are large fleshy and triangular shaped. They have a shiny green to blackish green color ripening to a deep red. Average size is 4 ½ inches long and 2 ½ inches across the top. It has a mild to hot flavor. Dried the poblano pepper is called ancho. In hot pepper cooking the ancho is the most commonly used dried pepper throughout Mexico. This dried pepper has a flexible reddish brown wrinkled skin that still has some shine to them. This pepper is often mistaken for the mulato pepper. 
To identify the mulato pepper from the ancho, slit the pepper open and hold up to the light; the mulato will be a brownish color and the ancho is a reddish color. The mulato pepper is usually sold dry.  In hot pepper cooking throughout Mexico, this pepper is famous for making mole sauce. Many describe it as having a slight taste of licorice and chocolate with a minor taste of tobacco and cherry.  I cannot say I tasted any of these flavors but they are very good in mole sauce.
Serrano peppers are most commonly used to make salsa and other hot pepper cooking.  They are usually about 2 inches long and ½ inch wide with a slightly pointed tip. They are medium to dark green in color before ripening then turning to bright red, brown, orange or yellow. These peppers are never skinned nor are the seeds removed; the flavor is hot to very hot.
The Anaheim pepper is also known as the Verde del Norte. New Mexico pepper, California chile and Magdalena. Dried these are called chile seco del norte.  This pepper comes from Anaheim California. They are long, skinny and bright ripening to bright orange and then to red.  Because of the tough skin these peppers are always peeled and charred before using. The taste is from mild to hot and are lacking in a distinct flavor; ones grown in New Mexico are known to be hotter peppers.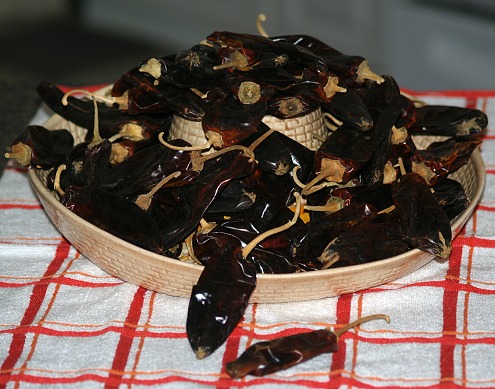 Chili Guajillo
The chili guajillo (pictured above) is widely used throughout Mexico. This chile has a smooth tough dark red to purpleish skin. They are about 5 inches long and the widest end is about 1 ½ inches tapering to a point. The spiciness can be fairly hot to hot with a pleasant sharp flavor. Described as having a tea flavor with berry undertones, these peppers are often added to salsas for sweet spicy dishes.
Cayenne is another commonly used pepper. Because it is used as a ground spice I have included it in my spice section. This is a wonderful and easy addition to soups, stews and many other recipes.
The Tabasco pepper combines a variety of chili pepper species.  This pepper is the only chili pepper which is not dry on the inside but juicy. This is why they make such a good juicy sauce as we find in Tabasco sauce. We are mostly familiar in hot pepper cooking with Tabasco sauce; this is so good dripped over eggs, meat and all kinds of foods.
In hot pepper cooking of Southeast Asia, you will find the Thai chili pepper (also known as the bird's chili or bird's eye chili. This small pepper fruit comes from a perennial plant. The heat of this pepper is many times hotter than the jalapeno pepper; more like the habanero chili.
For hot pepper cooking, the ghost chili pepper, cultivated in Bangladesh, is the hottest in the world. It is rated 99.5 times hotter than the Tabasco. I think this is a little out of my range!
CRAB STUFFED BANANA PEPPERS
3 Ounces cream cheese
½ Cup grated cheese (I use whatever I have small amounts like Cheddar, Mozzarella, Parmesan mixed)
2 Tablespoons finely chopped onion
4 Ounces crab meat (Chop fine)
1 Teaspoon dried parsley
½ Cup dried bread crumbs (Divided)
1 Egg
6 Cloves minced garlic (Divided)
Olive oil
6 to 8 Hot banana peppers
Preheat oven to 350F degrees.

Combine cheeses, crab meat, onion, parsley, 4 TABLESPOONS bread crumbs, egg and 1 CLOVE garlic.
Blend mixture well; (I use my hands).
Wash peppers and dry with paper towels leaving stems on.
With a sharp pointed knife make a slit down the length of the pepper.
NOTE: I leave seeds in for the heat but remove if you do not want the peppers real hot.
With a kitchen butter knife stuff the pepper with cheese crab mixture. 
Coat baking dish with olive oil; brush stuffed peppers with olive oil and place in dish.
Sprinkle remaining minced garlic over the peppers; sprinkle remaining crumbs on top.
Bake about 25 minutes
---
MOLE NEGRO OAXAQUENO

delicious hot pepper cooking
This Mexican chicken recipe is a famous recipe for all types of festivals and celebrations. It is deliciously flavored with a variety of peppers and seasonings.
2 Chickens cut into serving pieces
12 Guajillo chilies
4 Ancho chilies
4 Pasilla chilies
1 Medium chopped onion
3 Cloves minced garlic
2 Medium tomatoes (peel and chop)
¼ Cup dried apricots (Soak in water, drain and chop)
¼ Cup ground almonds
¼ Cup ground peanuts
2 Tablespoons sesame seeds (Divided)
2 Slices French bread (Fry in oil and break in pieces
¼ Teaspoon ground cloves
4 Peppercorns
1 Teaspoon ground thyme
1 Teaspoon dried oregano
1/8 Teaspoon ground cinnamon
8 Tablespoons lard (or oil)
2 Squares (1 ounce each) unsweetened chocolate
Salt
Place chickens in a large Dutch oven and cover with water.
Bring the chickens to a boil; reduce heat and simmer over low heat for about 30 minutes and set aside.
NOTE: It is best to use plastic gloves when handling hot peppers.
Slit peppers and shake the seeds out; rinse and cut them into pieces.
Place pepper pieces in a bowl and cover with warm water; let stand for 1 hour turning occasionally.
Combine the chilies, onion, garlic, tomatoes, apricots, almonds and peanuts.
Add 1 tablespoon of sesame seeds, bread, cloves, peppercorns, thyme, oregano and cinnamon.
Using a food processor, process to a thick puree; heat lard in a large skillet and add the puree.
Cook and stir constantly over medium heat for 5 minutes. CAUTION: The mixture will splatter.
Remove chicken pieces from the Dutch oven and set aside.
Measure 3 cups of the chicken stock from cooking the chickens; SAVE EXTRA IF NEEDED.
Clean out Dutch oven; pour into it the chili mixture, the 3 cups of chicken stock and the chocolate.
Season mixture with salt and stir over low heat until chocolate is melted.
Sauce should be thickness of heavy cream; if too thick add a little more reserved chicken stock.
Add chicken pieces into the sauce; cover and cook on low until chicken is very tender 30 to 40 minutes.
To serve place chicken pieces and sauce in a large casserole dish.
Toast remaining sesame seeds in a skillet over moderate heat for a minute or two.
Sprinkle seeds over chicken dish and serve with white rice.