How to Cook Zucchini 
It did not take me long to learn how to cook zucchini. Once I began tasting many of the recipes made with this delicious squash, I had to experiment and find more ways of cooking it. It quickly became my favorite squash. I love the flavor and extra moisture which it adds to my recipes.
When looking for ways on how to cook zucchini, you will find it a very versatile ingredient in recipes such as appetizers, casseroles, breads and cakes. Zucchini grows so abundantly in many gardens that people are happy to give them away giving you more reason to learn how to cook zucchini. This makes many of the recipes very cheap to prepare.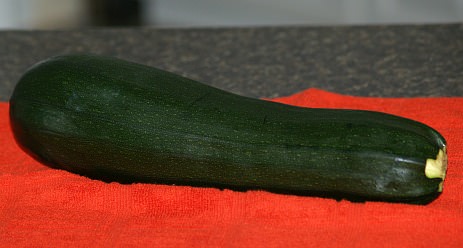 How to Cook Zucchini
The zucchini squash is a summer squash and is usually picked when young and tender. If left growing on the vine they can get as big as three feet long. Like the tomato, it is considered a fruit but I treat both as a vegetable. The zucchini also blends very well with tomatoes; it is very good added to a recipe for tomato soup, a tomato salsa or even added to a cucumber tomato salad.

If you grow your own zucchini or someone gives you a lot of them you must learn how to cook zucchini. It can be a great meal extender and will really save you a lot of money especially if you have a family to feed. It can be added to almost any vegetable dish not only to extend the recipe but I am sure you will find it to also enhance the flavor. Another vegetable to try it with is in eggplant. I have added some many rimes to eggplant Parmesan and it is so delicious. Do not hesitate in adding it to any soup recipes, salads or casseroles.


If you are just starting a garden be sure to plant at least a few for wonderful sweet breads, cakes, cookies and casseroles!

ZUCCHINI APPETIZERS
3 Cups grated fresh zucchini
1 Cup biscuit mix
½ Cup finely chopped onion
½ Cup grated parmesan cheese
2 Teaspoons chopped parsley
½ Teaspoon salt
1/8 Teaspoon black pepper
1 Clove minced garlic
½ Cup vegetable oil
4 Beaten eggs
Preheat oven to 350F degrees.
Grease a 9x13 inch baking pan.
Mix all ingredients thoroughly together. Spread in the pan. Bake about 25 minutes or until golden brown. Cut into pieces, 2x1 inch.

On the sweet side, zucchini makes delicious breads and cakes.
---
ZUCCHINI BREAD

when you learn how to cook zucchini this will be a favorite recipe
2 Cups grated zucchini
3 Eggs
1 Cup vegetable oil
3 Teaspoons vanilla
2 Cups sugar
2 ½ Cups flour
½ Teaspoon baking powder
3 Teaspoons cinnamon
2 Teaspoons baking soda
½ Teaspoon salt
¾ Cup chopped nuts
Preheat oven to 350F degrees
Lightly grease and flour 2 loaf pans.
Blend the zucchini, eggs, oil, vanilla and sugar. Sift the flour, baking powder, baking soda, cinnamon, soda and salt; add the dry ingredients to the zucchini mixture and blend well.
Divide batter evenly in the two pans. Bake for 1 hour or until tester comes out clean.
---
ZUCCHINI PATTIES RECIPE
3 Cups shredded zucchini
1 Cup biscuit mix
2 Beaten eggs
2 Cloves minced garlic
1 Teaspoon oregano
½ Teaspoon salt
¼ Teaspoon black pepper
Vegetable oil for frying
Combine and blend first 7 ingredients.

Heat a little oil on griddle or in a large skillet.
Shape zucchini mixture into patties or spoon onto hot griddle and flatten slightly.
Cook a few minutes to brown and firm up a little; turn over and brown on other side.
Serve as an appetizer or as a side dish. Makes about 10 patties
---
FRIED 

ZUCCHINI RECIPE
Learn how to cook zucchini by trying this simple recipe.

4 Pounds zucchini

½ Teaspoon salt

¼ Teaspoon black pepper

1 Cup dry bread crumbs

1 Beaten egg

Wash, pare and cut zucchini into ¼ inch slices.
Sprinkle with salt and pepper; cover with crumbs.
Dip into egg and again into crumbs.
Fry in hot (375F degrees) until brown.
Drain on paper towels.


NOTE: Summer and winter squash refers to the storage life of these vegetables. Summer squash have a shorter storage life where as winter squash will store longer.

---
SOUR CREAM SOUP RECIPE with zucchini
When learning how to cook zucchini, remember that this squash goes well in sour cream recipes; this is a delicious soup. I prefer it served hot but many like it cold.
2 Large sliced zucchini

1 Green bell pepper cut in wedges

½ Large diced onion

3 Cups chicken broth

1 ½ Cups sour cream

1 Tablespoon fresh parsley

¼ Teaspoon dried dill

Salt/pepper to taste

Simmer zucchini, green pepper and onion in the chicken stock for 25 minutes.
Pour ¼ at a time of this mixture into blender and blend until smooth.
Repeat this process adding sour cream, parsley and dill to the last ¼ of the mixture.
Blend together adding salt and pepper to season to taste.
Serve warm or cold garnished with additional sour cream and dill.

---
STUFFED ZUCCHINI RECIPE
3 Slices bacon crisply cooked and crumbled

6 Medium zucchini cut in half lengthwise

1 Slightly beaten egg

¼ Cup heavy cream

1 Cup shredded Swiss cheese

1/8 Teaspoon nutmeg

Salt/pepper to taste

2 Tablespoons dried bread crumbs

Preheat oven to 350F degrees.
Save bacon fat in skillet after cooking.
Hollow out zucchini with teaspoon making boats; reserve pulp.
Blanch zucchini boats in boiling water for 2 minutes; drain and set aside.
Chop reserved zucchini pulp and sauté in hot bacon fat until tender crisp.
Add crumbled bacon, heavy cream, beaten egg, Swiss cheese, nutmeg, salt and pepper; mix.
Sprinkle 1 teaspoon bread crumbs into each zucchini boat; fill each with zucchini mixture.
Place boats in shallow baking dish and pour 1 inch of hot water into dish.
Bake for 30 minutes or until knife inserted in mixture comes out clean.