How to Make Meatballs with Completely Different Flavors
When I first learned how to make meatballs it was because I had tasted Italian spaghetti and meatballs.
I thought at that time that meatballs were strictly an Italian food dish. In our home when I was growing up we never had this Italian dish; we always had potatoes, rice or macaroni as a starch. Needless to say, spaghetti and meatballs made a lasting impression on me. The flavor was so delicious that I had to make it at home. At a young age, you can imagine that I started with a very basic recipe and tried to arrive at the same flavor. Mom always stocked basic ingredients so that is what I had to work with. Here is my first way I learned how to make meatballs.
What I also did not realize when I first learned how to make meatballs for spaghetti is that meatballs are commonly used as appetizers as well as entrees. Any of the following recipes work well as appetizer recipes. You might want to prepare several different recipes like a shrimp appetizer or chicken wings depending how many guests you will be serving. Make several different kinds of meatball recipes and make a pretty arrangement of the meat balls on a tray and stick each with a convenient decorative toothpick. These certainly will be appeaser to the appetite leaving your guest looking forward to your other food presentations.
SPAGHETTI AND MEATBALLS
Sauce
1 Small finely chopped onion
1 Tablespoon fat (back then we used lard from our pigs)
2 Cans tomato sauce
1 Teaspoon garlic powder
1 Heaping teaspoon oregano
Salt/ pepper to season
Brown onion in fat in a saucepan.
Add tomato sauce, garlic, oregano, salt and pepper.
Bring mixture to a boil, reduce heat and simmer for 20 minutes.
Prepared Meatballs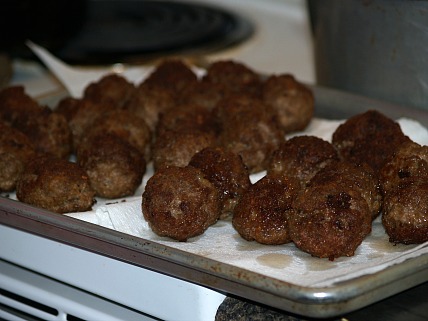 Browned Meatballs
How to Make Meatballs
1 Pound ground beef
1 Egg
½ Cup bread crumbs or crushed cracker crumbs
1 Tablespoon grated onion
1 Teaspoon salt
¼ Teaspoon black pepper
½ Teaspoon garlic powder
Milk
2 Tablespoons fat
Soak breadcrumbs with milk until crumbs are absorbed; add egg.
Add beef, grated onion, salt, pepper and garlic.
Blend mixture well with hands; shape mixture into 1 inch balls.
Melt fat in a skillet and cook meatballs until lightly brown on all sides.
Drop browned meatballs in sauce mixture and simmer for 30 minutes.
Serve meatballs and sauce over cooked spaghetti.
---
PORCUPINE MEATBALLS
Since those early days of my life and discovering spaghetti meatballs, I learned how to make meatballs in many other ways. When my children were little a favorite around our house were porcupine meatballs. Not only are these easy to make and good to eat, but the kids like the idea of eating "porcupine" meatballs.
1 Pound ground beef
½ Cup uncooked rice
1 Small finely chopped onion
½ Teaspoon cream of tartar
½ Cup milk
1 Teaspoon salt
1/2 Teaspoon Garlic Powder
1/2 Teaspoon dried oregano
1/4 Teaspoon black pepper
1 Can tomato soup with 1 can water
Preheat oven to 350F degrees.
Combine and mix ground beef and all ingredients EXCEPT tomato soup with water.
Shape mixture into golf ball size meatballs and place in a greased casserole dish.
Blend the soup and water together and pour over the meatballs.
Bake uncovered for about 1 hour. (Make sure they do not dry out).
---
SWEET SOUR MEATBALLS
I started to see the advantage of making different flavored meat balls for many different occasions. When learning how to make meatballs remember that appetizer meatball recipes are great to have in your collection of recipes. Not only are meatballs delicious and economical to serve but they can be made way in advance. It is easy to prepare them ahead and store in your freezer. Some can be as simple as throwing in the microwave to heat up and serve. Here are two of my favorites.
1 ½ Pounds hamburger
2 Beaten eggs
1 Cup bread crumbs
1 Medium chopped onion
1 Bottle chili sauce
¾ Cup brown sugar
¼ Cup vinegar
¼ Cup water
Preheat oven to 325F degrees.
Combine and mix hamburger, eggs, bread crumbs and onion in a bowl.
Shape mixture into 1 to 1 ½ inch balls and place in a greased casserole dish or 9 X 13 inch baking pan.
Combine and blend the chili sauce, brown sugar, vinegar and water; pour over uncooked meatballs.
Bake uncovered for 60 minutes or until done.
---
CURRY MEATBALLS
1 ½ Pounds ground round
1 Small package Herb stuffing mix
2/3 Cup evaporated milk
2 Teaspoons curry powder
These balls can be micro waved or browned in a little fat in a skillet.
Mix ingredients together; Shape into 65 small balls.
Place balls on microwave plate and cover with wax paper; microwave on high for 5 minutes.
NOTE: To make barbeque meatballs, you can leave the curry out of this recipe, cut the microwave to 3 minutes and simmer the meatballs in barbeque sauce for 15 minutes. These are delicious!
When you learn how to make meatballs, you will find them very good served as an entrée or as appetizer recipes.