Thanksgiving Mincemeat Recipes
How to Make Mincemeat Recipes
People learned how to make mincemeat recipes many centuries ago. They just might be some of the oldest recipes that we still enjoy today. I think they are losing their popularity even since I was young and certainly they have changed much over the years. Many foods that we eat today can be traced to our military serving in other countries and bringing these recipes home with them.

I am sure this may be how these recipes became so popular which is traced back to the thirteenth century in Britain. The Middle Eastern cooks are known to have mixed meat with fruits and spices in many of their dishes such as mincemeat. The crusaders are attributed to bringing this dish back and developing a sweet pie made from the mincemeat.


Whatever the origination, cooks learned how to make mincemeat recipes and they have been around a long time. My dad told of having the traditional homemade mincemeat as a child. He was not happy with what we bought from the grocery store without the meat. He said "If you ever learn how to make mincemeat, you will never eat the commercial kind again"; he was so right. The first of the following mincemeat recipes is for the old traditional one with meat; the second one is a newer version without meat. If you make either recipe and put it in pretty jars, it makes great holiday gift recipes.

HOW TO MAKE MINCEMEAT old fashioned way with meat
1 ½ Pounds lean beef cubed, rump, neck, chuck
½ Pound suet, finely chopped
4 Pounds tart apples, peeled cored, chopped
1 Packages (15 ounces) dark raisins
1 Package (10 ounces) currants
2/3 Cup diced citron
2/3 Cup diced candied fruit
2 Cups sugar
½ Cup molasses
4 Teaspoons ground cinnamon
1 ½ Teaspoons ground nutmeg
1 ½ Teaspoons ground mace
2 Teaspoons salt
¼ Teaspoon black pepper
3 Cups apple cider
2 Cups sherry
1 Cup brandy
Place beef in a medium saucepan and cover with water. Bring to a boil and cook for 1 ½ hours or until tender. Remove meat from liquid and cool. Put meat in blender or processor and chop until fine. Place meat in a large kettle and add the suet, apples, dried and candied fruits, sugar, molasses, cinnamon, nutmeg, mace, salt, pepper and cider. Bring to a boil stirring occasionally. Add the sherry and brandy; simmer and stir for 30 minutes.
To preserve:
Pack into hot clean pint jars leaving ½ inch at the top. Adjust lids. Process in a pressure cooker at 10 pounds pressure for 20 minutes.
Can be frozen in 1 or 2 cups freezer size containers.
HOW TO MAKE MINCEMEAT meatless mincemeat recipe
1 ½ Pounds firm pears, peel core, chop
½ Pound tart apples, peel, cored and chopped
1 ½ Cups raisins
¾ Cups dried figs, chopped
¾ Cup dried apricots, chopped
1 Tablespoon chopped candied ginger
½ Cup toasted slivered almonds
¾ Cup brown sugar
½ Teaspoon ground cinnamon
¼ Teaspoon ground mace
¼ Teaspoon ground nutmeg
1 Tablespoon ground lemon peel
1/3 Cup lemon juice
¼ Cup brandy
Mix all ingredients together and heat to boiling, stirring constantly for 10 minutes.
Pack into hot sterile ½ pint jars leaving ½ inch on top. Process in boiling water bath 10 minutes. Begin timing when water returns to boiling.
---
CHOCOLATE MINCEMEAT SQUARES RECIPE
2 Squares (2 ounces) unsweetened chocolate

½ Cup softened butter

1 ½ Cups flour

1 ¼ Cups sugar

2 Eggs

1 ½ Cups mincemeat

½ Cup chopped walnuts

Powdered sugar

Preheat oven to 350F degrees; grease 9 X 13 inch baking pan.
Melt chocolate in heavy saucepan over low heat; cool.
Beat butter in mixing bowl; add half of flour.
Add sugar, eggs and melted chocolate; blend thoroughly.
Blend in remaining flour; stir in mincemeat and nuts.
Spread mixture in prepared pan; bake 25 minutes or until pick comes out clean.
Cool on rack; dust with powdered sugar and cut in bars.

---
MINCEMEAT PECAN COOKIE RECIPE

a delicious mincemeat recipe
½ Cup solid shortening

½ Cup softened butter

2 ¼ Cups flour

¾ Cup sugar

¾ Cup packed brown sugar

2 Eggs

1 Teaspoon baking soda

1 Teaspoon vanilla

1 Cup mincemeat

1 Cup chopped pecans

Pecan halves

Preheat oven at 475F degrees.

Beat shortening and butter in mixing bowl on high speed about 30 seconds to blend.
Add half of flour; add both sugars, eggs, soda, vanilla and mincemeat and blend well.
Stir in remaining flour; stir in chopped pecans.
Refrigerate 1 hour before baking
Drop dough by rounded teaspoon two inches apart on ungreased cookie sheet.
Top each cookie with a pecan half; bake 8 to 10 minutes until edges are golden.
Cool 1 minute on cookie sheet; move cookies to wire rack and cool completely.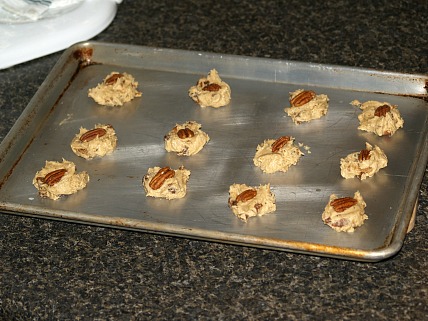 Mincemeat Pecan Cookie Recipe
---
MINCEMEAT PEAR CRUMBLE RECIPE
6 Medium pears, cored and cut up

1 ½ Cups mincemeat

½ Cup coarse chopped nuts

2 Tablespoons flour

1 Teaspoon grated lemon peel

2 Tablespoons fresh lemon juice

½ Cup flour

¼ Cup packed brown sugar

¼ Cup butter

1 Cup shredded Gjetost cheese

¼ Cup chopped nuts

½ Teaspoon grated lemon peel

NOTE: Gjetost Cheese is a Norwegian cheese with a sweet caramel taste.
Preheat oven to 375F degrees.
Combine pears, mincemeat, ½ cup nuts, 2 tablespoons flour, 1 teaspoon lemon peel and lemon juice in 1 ½ quart shallow baking dish.
In a bowl combine remaining ½ cup flour, brown sugar and butter; cut in butter until crumbly meal.
Blend in cheese, remaining nuts and lemon peel; sprinkle over top of pear mixture.
Bake 30 minutes or until golden brown; top with ice cream to serve.