Mt Dora Florida Food 
Everyone loves Mt Dora Florida Food! Especially Florida people! This small town is the favorite of my hometown friend, Marie who now lives in South Florida. This one is for you Marie! This is a great town to head to for a week end get-away or even a day trip for many Floridians. This quaint little town has streets lined with unique art galleries, antique shops, fashion boutiques, tea houses, great restaurants and my favorite little dog bakery.
Mt Dora Florida is the home of the famous Ice House Theatre where many come from all over the country to watch plays throughout the year. At Christmas time, the town is turned into a holiday winter wonderland. Thousands of beautiful lights illuminate the entire downtown. Spring is the time for the well known Mount Dora Art Festival and in the fall, one can enjoy the Fall Craft Festival. It is also a place to catch boat shows and the Sailing Regatta. Even if it is not a holiday or time for a special event, there is still plenty of enjoyment and great Mt. Dora, Florida food. 
On my recent, the one thing on my mind was to get some good Mt. Dora, Florida food.  (Carol, this is one you need to try! Carol is also from South Florida and very much into food. She is the author of a wonderful vegan cookbook) I have eaten several times at the Goblin Market Restaurant and it has always been great, so that is where I headed. This eating establishment has been in business for many years and has always maintained high quality standards. This says a lot for the owners, Vince and Janis who direct the operation.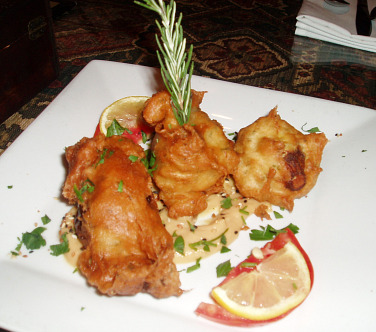 Goblin Markets fried artichoke appetizer
When we arrived, a sweet young lady approached our table and introduced herself as Nikki, our waitress. She efficiently reviewed our menu and explained to us the specials of the day. When she left to get our drinks, my eyes went immediately to the tempura fried artichokes hearts. As I have aged I have grown so fond of artichokes and I just cannot resist fried artichokes. I am giving you one of my artichoke recipes, but if you get the chance, you must try the ones served at the Goblin Market Restaurant in Mt Dora Florida.
FRIED ARTICHOKES from Mt Dora Florida
11 Ounce can artichoke hearts
4 -5 Ounces soft cream cheese
Garlic powder/ white pepper to taste
Mix cream cheese with the seasonings to taste. Spoon the mixture into the centers of the artichoke heart and freeze for an hour. Dip into the tempura batter recipe and drop into hot oil. Fry at 375F degrees until golden brown. These are good served with many different sauces so try your favorites.
---
TEMPURA BATTER RECIPE
2 Cups ice water
1 2/3 Cups flour
1 Egg yolk
1/8 Teaspoon baking soda
Combine in a mixing bowl and beat until smooth. Cover and refrigerate until ready to use.
Combine in a mixing bowl and beat until smooth. Cover and refrigerate until ready to use.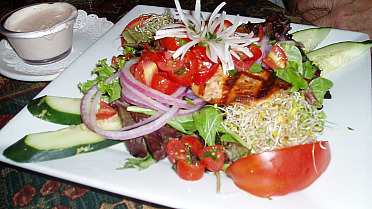 Grilled Salmon
I ordered one of the lunch specials that Nikki told us about. It was a salad of mixed greens with cucumbers, tomatoes and red onions then garnished chopped cherry tomatoes and chopped herbs. On top of all this was a delicious fillet of grilled salmon top with a green onion, creatively sliced to add to this beautiful presentation. Kelly couldn't resist ordering the beer battered fillet of sole sandwich. When this plate arrived at our table, one glance and you knew it had to be delicious. The fish sandwich was topped with sprouts, onions and served with a delicious caper tartar sauce recipe. Our other guest ordered the California burger from the menu and again there was beauty in the delivery. It was topped with vegetables and sprouts and served with a delicious peppercorn ranch dressing. The sandwiches are made on a fresh Kaiser roll and come with The Goblin Market's battered French fries. We all agreed that our food couldn't have tasted any better. When you can have delicious food with a striking presentation, good service and friendly people around, this makes for a very good meal.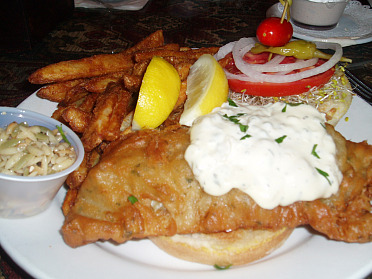 Beer Batter Fillet of Sole Fish Sandwich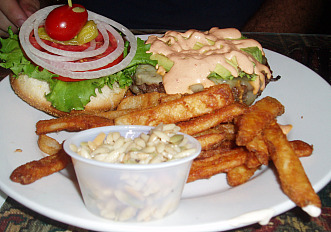 Goblin Market's California burger
Although our lunch was quite filling at the Goblin Market Restaurant in Mt Dora Florida, I couldn't stop there. I was the only one to go for dessert. I spotted on the menu this chocolate bread pudding recipe. Since chocolate dessert recipes are a favorite of many of you, I ATE THIS FOR YOU! I knew you all would want me to tell you how good it was! Actually, this was not a typical chocolate dessert. It was not very sweet but had a wonderful deep chocolate flavor. Even the aroma was wonderful when it arrived at the table. I was told this dessert was created with the banana foster dessert in mind. No wonder I love its taste! This chocolate bread pudding recipe had banana in it and also some rum. What a great combination with the rich chocolate. I would definitely recommend this for every chocoholic.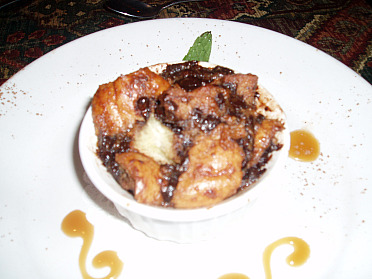 Goblin Market's Chocolate Bread Pudding
We truly did have a great time at the Goblin Market Restaurant in Mt Dora Florida and do appreciate the kind hospitality, good service and very delicious food. All this wonderful food that we were served were creations of Ben and Aaron, the two day time chefs. In the evening, you can enjoy the talents of Andrew and Adam with their presentations. Whether you are at this establishment day and evening, I can assure you of the best quality in dining. Before we left, we were privilege to meet one of the managers at the Goblin Market Restaurant, Diane. Once again, it was so nice to meet you, Diane, Vince, Nikki and all. Thank you so much for your warm hospitality!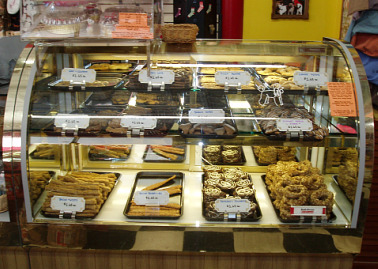 After visiting Mt Dora Florida for a while, I knew I would never be forgiven if I did not stop in the Piglet's Pantry. Most of you have been introduced before to our two mastiffs, Enoch and Malachi. This Doggie bakery is their favorite shop in Mt Dora Fl. It is quite famous for their delicious dog cookie recipes (so that is what the mastiffs tell me). Anyway they have the most delicious large peanut butter flavored cookie bones for Enoch and Malachi. When they run out I am afraid they won't be too happy guarding the farm! They were so happy with that large bag of cookies!
Try my dog and horse treat recipes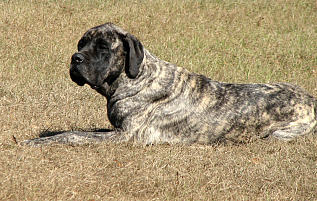 My dog Malachi after he enjoyed his treat from Piglet's Pantry Mt Dora Florida

---
CHOCOLATE CUSTARD RECIPE
2 Eggs

¾ Cup egg yolks

¾ Cup milk

1 ½ Cups cream

7 Ounces dark chocolate grated or cut in small pieces

¾ Cup sugar

In medium mixing bowl whip whole eggs, yolks and sugar together; set aside.
Scald milk and cream together in medium saucepan; add chocolate to hot milk and stir until melted.
Slowly add egg mixture to hot chocolate milk stirring constantly.
Pour into 6 or 8 custard cups; set cups in larger pan.
Add hot water to larger pan and bake for 25 to 30 minutes at 350F degrees.

---
CHOCOLATE SPONGE PUDDING RECIPE
6 Eggs separated

2 Packages unflavored gelatin

½ Cup cold water

½ Cup boiling water

2 Teaspoons vanilla

2/3 Cup sugar

2 Squares semi sweet baking chocolate (chop in small pieces)

Beat egg whites until stiff; beat yolks separately until light yellow.
Add sugar to yolks and beat until thickened; add vanilla.
Soak gelatin in cold water, then dissolve in boiling water.
Add chocolate to hot gelatin mixture; add chocolate gelatin mixture to egg yolk mixture mixing well.
Fold beaten egg whites into mixture until very smooth.
Pour mixture into loaf pan and refrigerate until set.
Unmold onto platter and cut in slices to serve; garnish with whipped cream.