Raglan Road Irish Pub
For a nice relaxing lunch we always head to the Raglan Road Irish Pub a Restaurant at Downtown Disney. Disney World Restaurant are diverse in their cuisine and there are many great restaurants to choose from.
I love making Irish appetizers, stew or Irish cookies at home but for some reason the atmosphere at Raglan Road Irish Pub is very comfortable and instantly takes you to the Emerald Isles. This seems to make the Irish food more authentic. Although the service is very efficient, the customer is never pushed in any way. We have eaten at this restaurant so many times that I have lost count and each time it has been a good experience.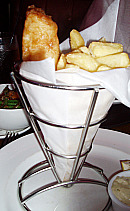 Disney's Raglan Road Irish Pub
We have always had good friendly waiters at the Raglan Road Irish Pub. At our most recent visit, our waiter's name was Vinnie. As usual, he was like the other waiters that I have had. Soon we were like good friends. I explained to Vinnie about my website and newsletter. I asked if they would share some recipes with you.
Vinnie relayed the message to Chef Lenning. Before long the chef approached our table. What a very nice young man! And talented! I am sure you all feel the same way as I do and that it is so much more enjoyable to deal with nice people. Chef Lenning is just super nice. If you get to the Raglan Road Irish Pub, make sure you go in and say "hello" to the chef.
This restaurant is open for lunch and dinner and remains open for late night meals. The dinner menu lists main courses from $12.50 to $21.00, all centered around the authentic Irish cuisine. The staff is ready and willing to help with those special celebrations or special dietary needs. Also, they offer a nice selection of alcoholic beverages for guests over twenty one years of age.
When Kelly and I dine at this establishment, we just can't get past the "fish and chips" and the "shepherds pie". This day was no exception! These were our two selections again and as usual, we were very please with them.
We are grateful to the Raglan Road Irish Pub and Restaurant for sharing the following recipes for authentic Irish cuisine with us.
SMOKEY HADDOCK RECIPE
2 Plum tomatoes, seeded and diced
1 Pound smoked haddock fillet, skinned and cubed
4 Ounces grated cheddar cheese
1 1/3 Cups cream
Fresh ground black pepper
Preheat oven to 350 degrees.
Scatter half of the tomatoes evenly among 4 individual ovenproof dishes.
Divide the cubed haddock evenly and arrange on top of the tomatoes.
Sprinkle half of the cheese evenly over each dish.
Scatter the remaining half of tomatoes over top of each.Season with pepper.
Divide and pour cream over each.
Arrange dishes on a baking tray.
Bake for 15 to 20 minutes, until haddock is completely tender and top bubbling and golden brown.
Serve with breadsticks or rolls and butter.
---
MINI SHEPHERDS PIE RECIPE
1 Shallot
1 Teaspoon caster sugar
1 Pound potatoes, well scrubbed
1 ¼ Tablespoons olive oil
1 Small onion finely chopped
1 Small leek, finely chopped
1 Small carrot finely chopped
1 Garlic clove, crushed
8 Ounces lean minced lamb
1 ¼ Tablespoons tomato puree
3 ¾ Tablespoons warm milk
2 Tablespoons butter
2 Teaspoons herb oil
Salt/ fresh ground pepper
Fresh thyme leaves to garnish
Preheat oven to 350 degrees.
Cut shallots in half, then cut into thin slices lengthwise, leaving the root in tact; arrange slices on a non stick baking sheet; sprinkle with caster sugar; bake for 5 minutes until golden and caramelized; remove from heat and cool.
Cover the potatoes with cold water; bring to a boil and cook 15 to 20 minutes or until tender; drain and peel.
Heat oil; add onion, leek, carrot, garlic and sauté for 3-4 minutes.
Stir in the lamb and cook until browned.
Stir in the tomato puree and cook another 10 minutes; season and keep warm.
Push potatoes through ricer; beat butter into the warm potatoes, adding enough hot milk to make a smooth but firm puree; season to taste.
Spoon the meat mixture into four ring molds; remove the molds.
Carefully arrange the potatoes on each serving.
Top with caramelized shallot slices and drizzle around the herb oil; garnish with thyme leaves.
---
IRISH MIST BREAD PUDDING RECIPE

a must when visiting the Raglan Road Irish Pub



The following is a delicious recipe for bread pudding. The Irish mist can be omitted or replaced with any other appropriate liqueur.
2 Ounces raisins
2 ½ Tablespoons Irish Mist
6 Tablespoons soft butter
12 Slices white bread
1 1/3 Cups cream
1 1/3 Cups milk
4 Egg yolks
1/3 Cup caster sugar
2 Eggs
Preheat oven to 350 degrees.
Generously butter a 5 cup ovenproof dish.
Place the raisins in a small bowl with Irish Mist; soak overnight until raisins absorb the liquid; drain off excess.
Remove crusts from the bread, butter both sides of bread with remaining butter; cut each slice into quarters.
Arrange 1/3 of bread in the bottom of buttered dish, slightly overlapping; scatter over half of raisins.
Place another layer of bread (1/3) over top of raisins; sprinkle remaining raisins over top of bread.
Press down gently with a spatula.
Heat cream and milk in saucepan, just to boiling point; remove from heat.
Whisk together in a large heat proof bowl the egg yolks and sugar.
Set over a pan of simmering water, whisking until thickened and until whisk leaves a trail in the mixture.
Remove from heat and beat in the cream mixture until well combined.
Pour 2/3 of the custard mixture over the bread slices and let stand 30 minutes for bread to soak up custard.
Pour remaining custard over soaked bread and butter triangles; add remaining bread triangles on top.
Press down firmly with spatula so the custard comes half way up the bread.
Bake 30 to 35 minutes until custard is set and top is golden brown.
Try these delicious recipes! If you are in the area of the Disney World restaurants, stop in and let the staff at Raglan Road know how you liked the recipes. While you are there, you can sample some of their other great dishes.
Many thanks to the Chef Lenning, Vinnie and all the staff at the Raglan Road Irish Pub and Restaurant for another great lunch.