How to Make Vegan Recipes
Do you know how to make vegan recipes? Many of us will fix these or vegetarian recipes from time to time without even knowing it. We might desire a simple lunch of vegetables or something light. We prepare it without thinking of it as one of these two groups, however for many people this is a way of life. Whether it is a vegan diet or a vegetarian diet, they would not consider eating anything which is not on their list of foods.
I have never taken the time to learn either one of these diets because I have always loved to cook everything. AND EAT IT! While I study a little about these topics, I am passing the information on to you. I do have many people in my life who follow one of these diets very closely. They know how to make vegan recipes and vegetarian dishes to get all the nutrition needed. I will be looking to my friend Carol and my great niece for advice and sharing recipes.
The following recipe is from my beautiful great niece, Donna and Ray. Thanks for sharing!
HOW TO MAKE VEGAN RECIPES like LENTIL BURGERS 
1 Can lentils
1 Sliced onion
2 Cloves garlic, sliced
½ Cup bread crumbs
Safflower oil for frying
½ Teaspoon sea salt
½ Teaspoon black pepper
½ Teaspoon cumin
¼ Cayenne
Toppings: Lettuce, tomatoes, onions, pickles
Sauté onion and garlic in 1 teaspoon oil. Combine in a bowl the lentils, bread crumbs, salt, pepper, cumin and cayenne. Mix well and shape into patties. Place in a pan with a little oil and brown. Serve with toppings.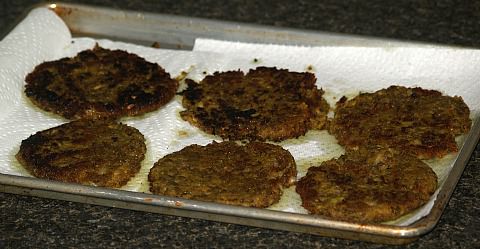 Lentil Burgers Browned in Oil
---
 Vegetarianism is a plant based diet including fruits, grains, nuts and seeds, with or without dairy products and does not include meat, game, poultry or fish. Some will eat eggs but not dairy products. Others include dairy and eggs. Some will even include dairy, fish, poultry and eggs but no meat. I have tried this diet before and found it too hard to get all the protein and nutrients.
To me the vegan diet is even harder to follow and still get all your nutritional needs. This diet is also plant based including the grains, fruits, nuts and seeds. What it does not include are any animal products including dairy products, eggs and it usually omits honey. I just cannot think of omitting all these products from my cooking, but I am told that there are many great substitutes in the health food stores to replace them.
Most Americans learn how to make vegan recipes and vegetarian recipes for the health benefits. With both these diets, careful thought, planning and dietary knowledge is required. However, I am told that I put too much emphasis on getting enough protein. Studies show that Americans get way more protein than they need by the large amount of animal fats that they consume. We need to be concerned with getting enough calories, whole grains, vegetables and fruits. According to the FDA, there is strong data that with these foods there is less risk for obesity, heart problems, cancer and other diseases.
Whether you are learning how to make vegan recipes, vegetarian recipes or just cooking in general, it is a good idea to give whole grains, lentils and beans careful consideration. By combining many of these grains you can prepare great high protein recipes in meatless meals. These ingredients provide good fiber and nutrients.
The following whole grains are some that should be worked into your diet even if you are not learning how to make vegan recipes.
OATS must be processed some before they can be eaten but they are best eaten with as little processing as possible. The more they are processed the less chewy they become. More processing produces the quick cooking oats which I try to stay away from.
BARLEY comes in many forms. Hulled barley has little processing. Then the barley grits have been further processed. The most common form is pearl barley but again I stay away from the quick cooking form which has been further processed.
BULGUR consists of wheat kernels that have been steamed, dried and crushed. It has a tender chewy texture and comes in a coarse, medium or find grinds.
RICE is a staple for much of the world and is available in many different forms. Brown rice is the least processed and is very good for learning how to make vegan recipes. It has a natural tan color and a nutty flavor. White rice has received more processing therefore I avoid using this except for special recipes.
QUINOA is one of my favorite grains as I have often told you. It is an important part of the Ecuadorian cuisine as well as all of South America. It was a staple of the Incas and known as the food of the Gods. It is rich in protein and other nutrients. Quinoa is so versatile as it can be used in rice dishes or grinding as flour and substituting for other flours.
QUINOA WITH STEW
2 Cups washed quinoa
4 ½ Cups vegetable broth
2 Tablespoons olive oil
2 Medium chopped onions
4 Cloves garlic, minced
¼ Cup chopped fresh basil
8 Ounces fresh Portobello mushrooms
1 Pound fresh asparagus
1 Chopped red bell pepper
¾ Cup sherry
1 Teaspoon cornstarch with a little water
2 Cups water
Salt/pepper to taste
In a fine mesh strainer, rinse the quinoa thoroughly and drain. In a medium saucepan bring the stock to a boil. Stir in the quinoa and return to a boil. Lower the heat and simmer for 20 to 25 minutes or until all the liquid has been absorbed.
In a large skillet, heat the olive oil. Add the onions and garlic; stirring cook for 2 -3 minutes. Add the basil, mushrooms, asparagus, bell pepper and water; simmer until vegetables are tender. Combine cornstarch with very little water and stir until smooth. Add cornstarch mixture and sherry to the vegetables. Season with salt and pepper. Serve with cooked quinoa.