Candy Recipes and Important Candy Making Equipment plus More
Whether you make candy recipes just for fun or to keep your children from eating the less wholesome commercial candy you will want to make good candy. Many people have turned their love for making candy into a profit making business. Can you believe that until the nineteenth century, the art of making this kind of sweets was practiced chiefly by physicians and apothecaries to conceal the taste of medicines. In earlier civilizations sweets were supplies by natural sources such as honey and saps from the trees. The convenience of processed sugar has caused homemade candy making to explode.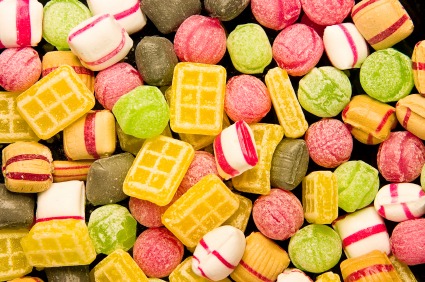 Having the proper equipment for your candy recipes adds to the pleasure of candy making and to the success. As you know, I am not a fanatic when it comes to equipment. I know many people cannot afford to run out and buy all kinds of equipment. I am not a professional candy maker but my idea is to get people started and try to use what is available if possible. In candy making, the one exception for me is a candy thermometer. They are very cheap to purchase and very important for successful candy. The temperature for which syrup is cooked decides the type of candy so the temperature needs to be exact.
Other equipment needed includes heavy saucepans which most can use what is on hand. Wooden spoons or wooden paddles are nice for stirring, but honestly I have used large metal spoons and never had a problem. You will also need some type of candy pans or something in which to cool the candy. Before I had many pans I cooled fudge on dinner plates. Many people would not be without a large marble slab, but I still do not have one; I use large platters. Of course if you really get into making candy recipes, there is so much more equipment you might like to purchase.
In addition to the previously mentioned items you might want to add to your candy making equipment some inexpensive items. A broad kitchen spatula is for working with fondant. A medicine dropper is convenient for adding acid and flavoring oils. If you do not already have pastry brushes, they are great for oiling pans, slabs and distributing water evenly. Kitchen scissors are helpful in cutting candies like taffies and wax paper is needed to wrap taffy, caramels and others in. Also you might want a wooden cutting board kept just for cutting your candy on.
If you decide to do candy making on a large scale, you will need some additional equipment to make your job easier. A large marble slab is the best working surface for beating fondants and fudges, pouring caramels, brittles, butter toffee and hard candies, as well as dipping chocolates. Have several dipping forks for coating bonbons and nougats. Candy irons regulate the thickness and size of a batch of candy poured out.
Rubber molds are necessary to make those professionally shaped mints and wafers. Special shapes for special occasions like a wedding, Valentines Day, Christmas and others is what sets your candy apart. A pouring funnel and gauge is for regulating the flow of drop fondant preventing waste and making pieces more uniform. A heavy base with a candy hook is a necessity if making a lot of pulled candy. (I say this is a NECESSITY because I make taffy and it is not easy by yourself but I love it.)
I want to share with you my favorite candy recipes that I have made for Christmas for many years. The first one is a hard tack candy recipe. This is special to me because we always had hard tack candy for Christmas when I was a child. We never had much candy throughout the year like children do today. On Christmas morning there were bowls of candy and fruit under our tree. Hard tack candy was always there. There is nothing that smells any better cooking in your kitchen than this candy flavored with peppermint, licorice or many other delicious oils. When I started making this candy many years ago, the oil could only be purchased from the drug store. Now it is available in all craft stores or the craft section of department stores.
HARD TACK CANDY RECIPE

2 Cups sugar
½ Cup light corn syrup
½ Cup water
1/8 Teaspoon salt
Drops of flavored oil (the number of drops depends on how strong you like the flavor)
Drops of food coloring (the color is to distinguish between the flavors if you make several kinds)
Mix together the sugar, corn syrup, salt and water. Cover and bring to a boil. Remove cover and cook over medium heat until candy thermometer reaches 290F degrees. Remove from heat and work quickly adding the oil flavoring and coloring. Pour into oiled pan but do not scrape from your cooking pan. Let cool until a heavy scum forms on the top. Cut slightly with a sharp knife but do not break the scum. When it gets solid and cools slightly (but still warm) turn out onto a board and tap lightly to break into pieces.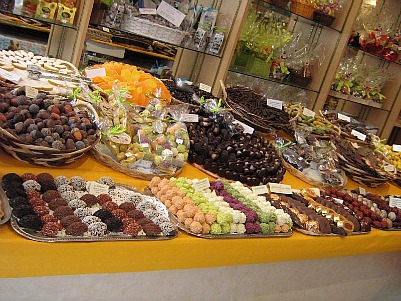 I have two coconut balls recipes which are special to me. The following recipe is the one I use to make for my dad because he loved coconut so much. The other recipe is from my sister Shirley. Both of these candies are delicious.
COCONUT BALLS RECIPE

1 Pound shredded coconut


1 Pound powdered sugar


1 Teaspoon almond flavoring


¾ Cup mashed potatoes


Dipping chocolate
Combine the coconut, sugar, almond and mashed potatoes. Refrigerate until a little firm Roll into 1 inch balls and dip into melted chocolate.
Learn How to Make More Candies
Go to Painless Cooking Home Page from Candy Recipes