Cooking for a Crowd Recipes
It is easier if you have cooking for a crowd recipes available for cooking meals for those large gatherings. If not, most recipes make about six servings so you will need to multiple the ingredients many times to get the amount you need.
For example, most family recipes call for 1 pound of hamburger in a casserole to feed 6 people. So if you need to feed 50 people, you will need to use around 8 ½ pounds. When you do appetizers for a crowd, decide how many should be provided for each guest, and then multiply by the number of guest you will be feeding.
Often when we are cooking for a large crowd, we must be conscious of our budget cooking. We can fill these large quantity recipes in many economical ways. By shopping for larger quantities, they often come at a lower price. Sometimes a produce market will make a deal on large quantities. Good breads and buns can be purchased from a day-old bakery for sandwiches and homemade sloppy joes.
Growing up in my family cooking for a crowd recipes were the only ones used. We had to learn to cook on a budget. This meant learning how to cook cheap recipes and being as efficient as possible.
Below is a picture of a typical Sunday lunch.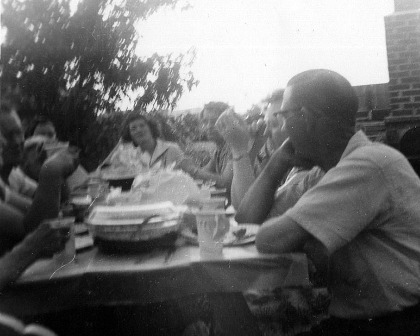 Cooking pasta for a crowd is a very easy and economical way of feeding many people. I used to feed my son's football team every Friday a pasta meal. I used my cooking for a crowd recipes including salad recipes for a crowd and dessert recipes for a crowd. I prepared it by myself, in my little kitchen and catered it at the school. The whole meal cost very little and with a little planning, it was simple.
You will need cooking for a crowd recipes or large quantity recipes if you are planning a church social or some sort of a fundraiser. But with these extra large groups, besides cooking for a large crowd you need to establish committees. Here are some suggested committees:
COOKING FOR A CROWD-Publicity: To advertise and publicize the date and time of event. Should work with a general chairperson.
BUDGET COOKING-Finance: To set a price per plate according to whether a profit is desired or if a breakeven is wanted. To sell tickets in advance or at the door and to collect the tickets. Advance sales will let you know how many to cook for. This committee will also pay all the bells.
COOKING FOR LARGE CROWD-Food procurement: To order, getting the best possible price and see that all food, drinks, and items needed get to the site on time for whichever cooking for a crowd recipes you choose.
COOKING FOR A CROWD-Equipment: To make sure all equipment is available at the site on time such as tables, chairs, grills, charcoal, etc. Make sure all tables and equipments are set up and ready to go.
CROWD SIZE-Parking: Make sure there is enough space for parking. When guests arrive, they are instructed where to park.
LARGE CROWD Barbequing: To do the actual barbequing. Set up relays so no one gets overly tired or over heated.
LARGE PARTY-Serving: To organize serving tables so that guest can be served in one or more lines as needed for efficiency.
CROWD SIZE-Cleanup: To dispose of any leftover food, whether garbage or give to people to take home. Clear up tables, pits, and leave everything in good order. Make sure any fire is put out if used.
SLOPPY JOES RECIPE

a great cooking for a crowd recipe



10 Pounds raw hamburger
2 Cups finely chopped onion
3 Cups catsup
8 Tablespoons Worcestershire sauce
1 Tablespoon salt
½ Teaspoon black pepper
1 Teaspoon garlic powder
3-4 Tablespoon flour
Cook hamburger and onion on medium heat until meat is done. Drain any excess fat off of mixture.
Add the catsup, Worcestershire sauce, salt, pepper, and garlic. Blend well over heat. Add flour and stir until mixture is thick enough to scoop onto buns.
---
BARBEQUE HAMBURGERS for 50
This one of the cooking for a crowd recipes that is very easy.

6 Pounds raw hamburger
4 Teaspoons salt
½ Teaspoon black pepper
½ Cup chopped onion
2/3 Cup evaporated milk
2 1/2 Cups catsup
6 Tablespoons Worcestershire sauce
1 ½ Teaspoon chili powder
1 ½ Teaspoons salt
½ Teaspoon hot pepper sauce
50 rolls
1 Cup butter
Mix together catsup, Worcestershire sauce, chili powder, salt, hot pepper sauce to make a sauce.
Split rolls and toast both sides under a broiler. Spread bottoms half of each roll with butter.
Combine the beef, salt, pepper and milk. Mix well. Spoon onto bottom half of buttered roll 3 Tablespoons of the meat mixture. Spread so that the roll is covered. Place on lower rack under the broiler for 5 minutes or until cooked. And brown.
Remove from oven and spoon 1 Tablespoon of sauce over the meat. Return to the oven for 2 minutes to heat the sauce. Serve with dill pickles and accompany with slaw or French fries.
---
COOKING FOR CROWD RECIPES-FISH CHOWDER RECIPE
8 Pounds haddock
5 Quarts water
4 Quarts diced potatoes
½ Pound salt pork
1 ½ Quarts chopped onion
1 Cup butter
5 Quarts whole milk
1 Teaspoon black pepper
3 Tablespoons salt (more or less to taste)
Gently simmer fish in 2 quarts of the water for about 1 hour. Remove fish and break into bite size pieces, saving water for chowder.
While the fish is cooking, cook the potatoes in the remaining 3 quarts of water.
Brown the salt until crisp in a pan. Remove the meat and add the onions to the pork fat. Cook on medium heat until the onions are lightly brown.
Combine the cooking liquids, fish, onions, pork fat and potatoes in a large kettle. Add remaining ingredients and bring only to boiling point. DO NOT BOIL. Turn burner off and let set for 20 minutes.
Serves 50 1 ½ Cup serving size
---
GREAT CHEESEBURGERS FOR A CROWD (for 32 to 35)
This is one of the very delicious cooking for a crowd recipes.

4 Pounds ground beef

2 Pounds ground pork

12 Slices bread

2 Cups milk

12 Beaten eggs

4 Cups grated Parmesan cheese

2 Cups finely chopped onions

1 Cup finely chopped green peppers

4 Cloves minced garlic

4 Tablespoons Worcestershire sauce

2 ½ Tablespoons seasoned salt

1 Tablespoon salt

2 Teaspoons black pepper

1 ½ Cups grated sharp Cheddar cheese


Combine and mix thoroughly all ingredients EXCEPT sharp cheese.
Shape mixture into 32 to 35 balls; make a hold halfway through the center of each.
Fill each hole in burger with grated Sharp cheese; reshape into a ball and flatten to make patty.
Fry or broil to desired doneness; serve on buns with fresh garnishes.

---
CHOCOLATE CHIP COOKIE BARS RECIPE 
2 Cups softened butter
1 ½ Cups sugar
1 ½ Cups packed brown sugar
4 Eggs
2 Teaspoons vanilla extract
1 Teaspoon water
4 ½ Cups flour
2 Teaspoons baking soda
1 ½ Teaspoons salt
3 Cups semi sweet chocolate chips
1 Cup chopped walnuts
In large bowl, cream butter and sugars; add eggs, vanilla and water and beat well.

Combine flour, soda and salt; gradually add to creamed mixture and mix well.
Fold in chocolate chips and nuts; press into three greased 10 X 15 inch baking pans.
Bake in preheated oven at 375F degrees for 15 to 18 minutes or until golden brown.
Yield: 8 dozen bars.
Painless Cooking

›
Crowd Size Cooking
› Crowd Size Recipes