Fruit Salad Recipe for Strawberries and Others
A fruit salad recipe can be served as a light dessert following a heavy meal or as a snack anytime of the day.  They can be fairly light also in calories but some of the recipes are calorie laden with the many added ingredients.  Ingredients (which I like to include) like whipped cream, cream cheese or grated cheese, marshmallows, nuts and others make these salads sooo delicious and certainly not for "calorie counters".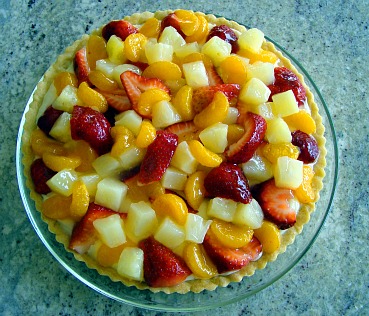 Fruit salad recipes might be as simple as chopping and blending two or three fresh fruits. Today we have an endless selection of fresh fruits in our markets but also unlimited selection of canned fruits. This makes it possible to create wonderful fruit salad recipes. These fruits can be blended with vinaigrettes, creamy dressings or served without. Another ingredient very popular to used are the gelatins, both flavored and unflavored. Gelatin makes some wonderful molded salads which make beautiful presentations to end a meal.

The very best fruit salad recipe was made by my dad. No matter how hard we try, we just cannot duplicate his mixed fruit salad. I think maybe it was the "heart" that he put into making it. My nephew, Mike and I along with all the other family members still talk about Dads fruit salad.
Dad wanted every fruit imaginable in his fruit salad. He started by gathering in all the fresh fruits that he could find. After that he went to the canned fruits until he had enough. I know all this fruit makes a huge bowl full but he always made it for our get-togethers so we didn't have to worry about having too much. There was never a recipe but the following is a list of what could have gone into it.
DAD'S FRUIT SALAD RECIPE
Oranges, peeled and sectioned


Peaches


Pears


Bananas


Strawberries, if fresh are not available, use frozen


Berries, any other available


Pineapple chunks


Chopped apples


Maraschino cherries


Seedless grapes, cut in half


Cantaloupe chunks
---
The following fruit salad is delicious served scooped on fresh lettuce leaves or served frozen.
FROZEN FRUIT SALAD
3 Ounce package soft cream cheese


1 Cup mayonnaise


1 Cup whipping cream


1 Cup peaches, fresh ripe or drained canned


1 Cup well drained crushed pineapple


½ Cup maraschino cherries, cut in half


1 Tablespoon lemon juice
Combine the peaches, pineapple, cherries and lemon juice; toss together to blend. Cream the cheese and mayonnaise together until smooth. Beat the whipping cream until stiff.
Combine the fruit mixture with the mayonnaise-cheese mixture and stir until well blended. Fold in the whipped cream. If serving this frozen, rinse out a flat pan, mold or loaf pan with fresh water. Pack the fruit salad into the pan and place in the freezer. When firm, cut or slice and ser on a leaf of lettuce. (if you have a problem removing from mold, set bottom in a little warm water for a few seconds)
---
24 HOUR SALAD RECIPE
1 Pound seedless white grapes in halves


1 Cup drained pineapple chunks


1 Pound chopped marshmallows


1 Cup chopped nuts


½ Pint whipping cream, whipped
Dressing
4 Egg yolks


½ Teaspoon dry mustard


1/8 Teaspoon salt


Juice from 1 lemon
Combine the dressing ingredients; cook and stir over medium heat until thick and smooth; cool completely. When cold fold in the whipped cream. Combine all the salad ingredients and fold in the cold cream mixture. Let set in refrigerator for 24 hours to blend flavor.
---
BLUEBERRY LAYER SALAD RECIPE

1 Package (3 ounces) lemon gelatin

4 ¼ Cups boiling water divided

1 Cup half and half

1 Teaspoon vanilla

3 Tablespoon powdered sugar

1 Package (8 ounces) softened cream cheese

2 Packages (3 ounces each) black raspberry gelatin

2 Cans blueberries drained


Dissolve lemon gelatin in 1 ¼ cups boiling water.
Combine gelatin, half and half, vanilla, powdered sugar and cream cheese in blender.
Process mixture in blender until smooth and well blended.
Pour mixture into oiled ring mold; chill until firm.
Dissolve black raspberry gelatin in 3 cups boiling water.
Stir drained blueberries into gelatin; pour mixture on top of molded lemon gelatin mixture.
Chill until firm; invert onto serving plate and remove mold.

---
STRAWBERRY NUT SALAD RECIPE

This fruit salad recipe is a unique combination of ingredients and seasonings; when combined it is very good. `

1 ½ Cups chopped strawberries

1 Mango peeled seeded and chopped (In the Midwest, some people call the green bell pepper a "mango"; this is the fruit.)

1 Small diced tomato

½ Cup chopped nuts

½ Cup chopped fresh parsley

½ Cup sliced green onion

2 Tablespoons fresh lime juice

1 Tablespoon chopped fresh cilantro

½ Teaspoon red pepper flakes

¼ Teaspoon ground cumin

Combine all ingredients and chill before serving.

More Delicious Recipes for Salads
Go to Painless Cooking Home Page from Fruit Salad Recipe