How to Cook Apples with Recipes
Learning how to cook apples is not as simple as coming across good apple recipes. A cook needs to know the different types of apples. For years eating apples had to be crisp, fresh and juicy and cooking apples and baking apples had to cook up like "mush". I agree with the eating apples but I do not like my cooked apples to be mush. Of course, this is a matter of personal preference.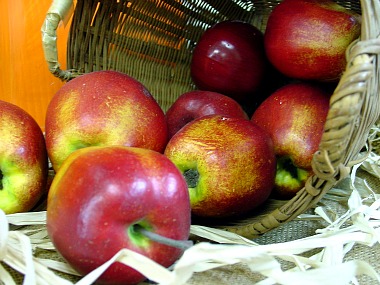 The best apple pie recipes that I have ever eaten were made with McIntosh apples which are recommended for eating not cooking. When these pies were served, the apples were tender but held their shape. The flavor was wonderful and I enjoyed knowing that the pies were made with apples and not applesauce.


Mentioning applesauce, I even like chunkier applesauce recipes. Like I said, this is personal preference, but again when I eat applesauce or cooked apples I do not want mush. The Granny Smith apples have long been recommended as a great cooking apple. Recently I baked some of these and they quickly cooked up to thinner than mush. When you know how to cook apples you will discover your own preferences and taste.

I have found the recommended cooking apples and baking apples to be very good and flavorful in apple butter recipes where you want them to cook down into a spread. These are also very flavorful and add moisture to cake recipes, cookie recipes and sweet breads. When you know how to cook apples you learn which ones you like for your recipes.


What I am saying is do not limit yourself when you learn how to cook apples. Try all the apples at hand in different ways; you might stumble onto something new and pleasing to your palate. It is only by trying a multitude of apple recipes that you learn how to cook apples.
Apple Recipes are some of the most popular traditional recipes here in the United States; I have many great memories of visiting the orchards in the fall to pick apples.

The Apple Cake Recipe is made with different forms of apples; fresh, canned and applesauce. Any of these add sweetness and moistness.

Apple Cookie Recipes have flavor and moistness from this delicious fruit; ingredients like raisins, nuts and oatmeal add extra taste and texture.

The Apple Crisp Recipe is a great apple dessert, especially when served warm topped with ice cream; nuts and oatmeal give it extra crunch.

The great American Apple Pie Recipe can't get any better; don't limit yourself to cooking apples, try different types of apples even the eating varieties.

True Apple Cobbler Recipes have a topping when baked resembles "cobblestones". This traditional recipe dates back to the New England colonies.

Apple Coffee Cake Recipes are a real sign of hospitality when offered with a fresh hot cup of coffee to arriving guests; fresh apple recipe is made easy with box of nut bread mix.

Apple Cheesecake Recipes are made with two traditional American ingredients; apples from the beginning of this country and cream cheese developed here over one hundred years ago. Great!

More than apple juice, Apple Cider Recipes contain a lot of flavor; in the making the cider is left with a lot of delicious pulp giving any recipe more taste.

Most Apple Bread Recipes are made as a quick bread; they are easy to make but have a great flavor and texture. Delicious with a hot cup of coffee or tea.

Like quick bread Apple Muffin Recipes are made without yeast making them very easy to make. They go well as an accompaniment to a meal or as a simple snack. Fast to bake too!

Apple Salad Recipes can be very healthy and refreshing depending on the added ingredients. No matter what you add they are very tasty.

Apple Strudel Recipes consist of delicious fillings surrounded by flaky pastry crust. There are quick ways and then there are more time consuming ways of making them but all are delicious.

Apple Dumpling Recipes have left me with many great memories. Many times in the fall during apple picking time we would have these sweet baked apples wrapped in pastry for dessert.

Apple Pancake Recipes must date back to the wagon train era or beyond. As the trains headed west these were cooked over the open fires made with the dried apples.

Pie Apples are not necessarily just cooking apples; some of the best apple pies that I have eaten were made with what are listed as eating apples so don't limit yourself.

Apple Squares can be a dessert topped with ice cream or it can be more of a bar cookie depending on the texture after baking. Whatever the recipe they will certainly be delicious made with apples.
Don't take this wonderful fruit for ranted and learn about the history of apples; a very rich history in the United States.
Like so many apple recipes the Apple Betty Recipe originated in our early colonies when they were learning how to cook apples. Made with bread crumbs the result is that like a pudding.

It is recommended that most Apple Desserts be made with what are classified as cooking apples. I often use what are classified as eating apples in many of my recipes and am very pleased with the results.

Apple Tart Recipes are very similar to pie recipes differing by a thicker crust and less filling; they are baked in tart pans but can also be made in pan pans.

My favorite Apple Snacks are candy apples; especially caramel apples. Other great recipes are deep fried rosettes and apple sorbet.
Apple Pandowdy Recipe is just like apple pie; after partially baking or fully baking, the crust is broken and stirred into the juices of the apples. The name originated for "dawdling".

Apple Turnovers are also a favorite of mine when learning how to cook apples because they are very easy to make. Try them made with a pastry dough, puff pastry or other dough recipes.

Apple Bar Recipe will make a great snack or a delicious accompaniment for coffee or tea. So many ingredients can be added besides apples to produce a wide variety of flavors.

Apple dessert recipes range from a plain applesauce, apple pudding or try a wonderful applesauce cake for a special occasion.
---
There are great recipes below to learn how to cook apples.
APPLE DESSERT RECIPE

1 Cup orange juice

1 Cup pineapple juice

1 Package (10.5 ounces) miniature marshmallows

2 Cups grated apples

1 ½ Cups whipped topping

3 Dozen vanilla wafers

¼ Cup crushed vanilla wafers


Combine juice and marshmallows in a saucepan; cook over low heat stirring until marshmallows melt.
Chill marshmallow mixture until thick; Stir in the grated apples.
Fold whipped topping into apple mixture.
Line a 9 inch square baking pan with the whole vanilla wafers.
Pour apple mixture over the whole vanilla wafers; spread evenly.
Sprinkle top with crushed vanilla wafers; chill until serving.
---
EASY APPLE DESSERT RECIPE

1 Package yellow cake mix

½ Cup coconut

½ cup softened butter

1 Can (21 ounces) apple pie filling

½ Cup sugar

1 Teaspoon cinnamon

1 Cup sour cream

1 Egg


Preheat oven to 350F degrees.
Combine cake mix, coconut and butter in a large bowl; blend on low speed until crumbly.
Press mixture on bottom and ½ inch up sides of ungreased 9 X 13 inch baking pan.
Spread pie filling over crust.
In small bowl combine sugar and cinnamon; sprinkle over filling.
Blend sour cream and egg; spread over filling.
Bake 25 to 35 minutes or until edges are light golden brown.
Serve warm or cold; store in refrigerator.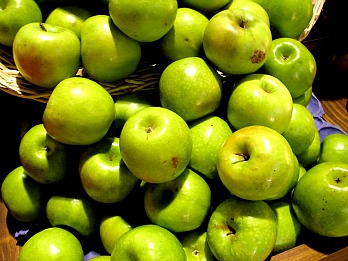 Have a Question about Apple Recipes or Just Share one?
Ask your apples recipes questions or share your favorite apple recipes here!
What Other Visitors Have Said
Click below to see contributions from other visitors to this page...

Dried Apple Cake Recipe

I have heard of a good old fashioned apple cake made with dried apples. Do you know what it is and can you give me a recipe?
Go to Painless Cooking Home Page from How to Cook Apples