How to Cook Fish with Recipes
What an experience of learning the ever expanding ways of how to cook fish. Today, as refrigeration carries the icy fresh catch to all of America, the fish recipes are endless. This modern refrigeration and the quick freezing process make many types available out of season and in localities remote from the source of supply. The process of salting, smoking and canning add additional supply and flavors.
To learn to cook fish it is important to know the cuts. A fillet is a side or section of the side which is cut lengthwise, with bones and usually skin removed. The thickness will depend on the size and variety of the fish. The most commonly filleted are cod, haddock, mackerel, perch, halibut, whiting and flounder, which is often called sole. The true sole is an English fish but in the United States certain kinds of flounder go by the name of sole.
A steak is cut crosswise from a whole large fish and is scaled or skinned. This cut is usually ¾ to 1 inch thick. Commonly used steaks are salmon, halibut, swordfish, bass and cod.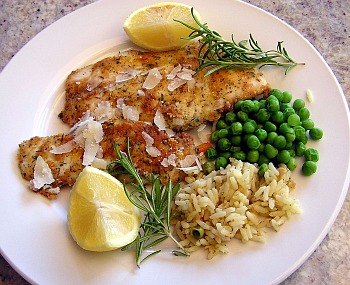 Allow about one half pound of whole fish or one third pound of fish filet or fish steak for each serving. Quick frozen packages of filets or steaks are ready to us with or without thawing as the package directs. If there are no directions as to how to cook fish, thaw first and then cook like you would fresh fish.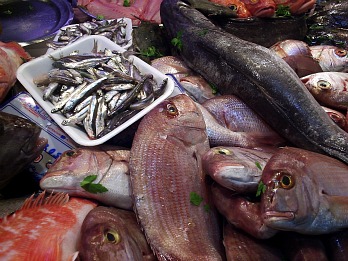 SWEET AND SOUR FISH RECIPE

1 Chopped onion

1 Green pepper cut in strips

1 Tablespoon olive oil

1 Teaspoon ginger

1 Tablespoon brown sugar

1 Tablespoon cornstarch

1 Tablespoon soy sauce

¼ Cup tarragon vinegar

1 Can (24 ounces) crushed pineapple with juice

1 ½ Pounds fish filets (sole, cod, whitefish)


Sauté onion and pepper in oil until tender; add next 6 ingredients.
Cook stirring until blended and thickened.
Spray baking pan with nonstick cooking spray; arrange filets in it.
Season with black pepper; cover with sauce.
Bake at 350F degrees for 30 minutes.

---
STUFFED FILETS OF SOLE (Makes 2 servings)

Learn how to cook fish with this spinach stuffed filet of sole; one of the best fish and seafood recipes.

4 Filets of sole (7 to8 ounces each)

Salt

Florentine stuffing (recipe below)

1/3 Cup dry white wine

¼ Teaspoon paprika

1/8 Teaspoon pepper


Wash fish and pat dry; place skin side up and salt lightly.
Place 1/3 Cup of the stuffing in the center of each filet.
Roll up securing with toothpicks; stand on end "crown style" in greased baking dish.
Pour wine over crowns, season and bake at 325F degrees for 25 to 30 minutes or until flaky.


---
Florentine Stuffing Recipe

1 ½ Cups washed drained and chopped spinach

½ Cup sour cream

½ Cup cracker crumbs

2 Ounces butter

½ Cup minced onion

4 Ounces sliced mushrooms

1 Ounce slivered almonds

Salt/pepper


Blend spinach with sour cream and crumbs.
Melt butter in skillet; add onions, mushrooms and almonds and stir until slightly cooked.
Season with salt and pepper; blend with spinach mixture and chill until ready to use.


More Best Fish and Seafood Recipes

Go to Painless Cooking Home Page from How to Cook Fish