How to Make Italian Recipes with History and Recipes
Before learning how to make Italian recipes, one needs to know something about the history of Italian food. The history of Italian food has had a large impact on the traditional Italian foods and the Italian recipes which have been handed down through the generations.
The way of cooking Italian food can be traced all the way back to ancient Rome.
The diet back then for the average people was very plain and simple in keeping with the strictness and severity of the early Christian customs. They upheld the moral values of frugality and simplicity. It was based on some type of bread and an abundance of legumes, beans, lentils, turnips, beets, cabbage, lettuce, figs, prunes and grapes. The people in the country might add eggs to their diet.These average people are what makes learning how to make Italian recipes so special.
The history of Italian food is helpful to know when learning how to make Italian recipes.
History of Italian food is traced back to ancient Rome when the diet was very simple and plain. It was based on bread and locally grown ingredients like beans, lentils, turnips, beets, cabbage, lettuce and fruits.
Traditional Italian foods are made by utilizing ingredients which were readily available; locally grown crops like tomatoes and the production of such things as olive oil. Many restaurants like Portobello, one of the Disney World restaurants in Orlando make it easy to stop by and enjoy some of these recipes especilly if you don't know how to make Italian recipes.
Easter in Italy is celebrated by the rich traditions of celebrating the resurrection of Jesus Christ. Rituals, parades and masses and lots of good food like Easter pie recipe, the rice cake and various special breakfast recipes are all part of this celebration.
Italian food menu is what is served at many restaurants here in the United States. It is one of the most popular cuisines in this country; maybe the most popular. Portobello, one of the Disney World restaurants in Orlando puts all effort into bringing the best ingredients to the United States from Italy to prepare original recipes.
Italian breakfast food may include various recipes for frittata recipes (or omelets), many different pastries and sweetbreads; all made with what is available locally. Breakfast is often eaten while standing so the food could be consistent with finger foods.
Italian finger food might also be called antipasto or here in the United States called appetizers. These small sturdy snacks must be able to be eaten with the hand and while standing. This could be for breakfast, as a snack, at cocktail parties or before a meal as an appetizer.
Everyday Italian recipes can be easily prepared by using a crock pot. These slow cooking recipes allow all the flavor from the spices to infuse these wonderful dishes.
When I think of Italian cuisine my first thought is the wonderful authentic Italian pasta recipes. When learning how to make Italian recipes these include my favorites like stuffed manicotti, fettuccini, lasagna and spaghetti.
Soups are always part of every countries cuisine and Italian soup recipes are no different. Inspired by the regions agriculture you will find when learning how to make Italian recipes that Italian soups are based on a meat broth but vary with ingredients such as bean, sausage, barley and much more.
When learning how to make Italian recipes, you will learn that the food from Italy is all about the freshest possible ingredients; whether it is the Italian spices and herbs, the delicious Italian cheeses, the best olive oil or the highest quality meats. All of the these ingredients is what makes a stromboli recipe so delicious!
Probably the two most important ingredients in the Italian kitchen are garlic and onions which makes an Italian pizza. No Italian cook that knows how to make Italian recipes will be without these; first because of the essential flavor necessary in the Italian recipes but also for the medicinal uses passed down through generations. Garlic is so important that it is baked and then spread on toast in place of butter.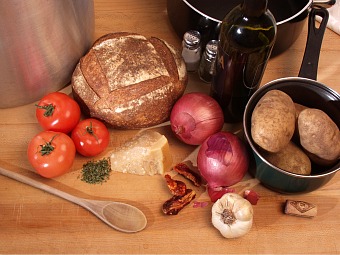 When learning how to make Italian recipes, pizza is the first thing that comes to mind.
The Stromboli recipe has the flavor much like Italian pizza but is folded or rolled more like a calzone. Having many of the same ingredients the difference is that a Stromboli does not have a sauce on it; instead a sauce is served alongside for dipping if the diner prefers.
Italian pizza is a favorite food for many of us and most of us have our favorite pizza parlors. Sammy's in Florida has great authentic pizza. Make your own pizza sauce and create a delicious pizza with a simple recipe the philosophy behind knowing how to make Italian recipes.
The puttanesca recipe is a fairly new addition to the Italian cuisine. The fragrance of cooking this spicy sauce was developed to entice the "men clients" in for the "ladies of the night".
Authentic Italian bread recipes vary from region to region. Italy is a country of twenty regions but when you are learning how to make Italian recipes it is easier to narrow it down to find an authentic Italian bread recipe, I am dividing it into three regions; Northern, Southern and Central Italy plus Sicily.
Sea salt and fresh ground black pepper are staples in the Italian cooking as well as fresh herb such as basil, bay leaf, oregano and parsley. Some other common flavors come from fennel, marjoram, rosemary, saffron, sage and thyme. Nutmeg and cinnamon are used in food from Italy, especially in the delicious Italian dessert recipes; as well as mint and vanilla.
When learning how to make Italian recipes, French, German or any ethnic foods, the desserts are always the most popular and the most demanded.
Italian dessert recipes are known around the world for their rich creamy taste and texture; much like the French desserts. These recipes like the cream puffs, tiramisu, cheesecakes and others are made possible by the local production of milks, creams and cheeses.
Panatone (or Panettone recipe ) is for an Italian sweet bread made traditionally at Christmas. What was once a dome or bowl shaped bread is now generally baked in a tower. Many variations have it being made with fruits and nuts; usually it is served with a cheese spread.
Tiramisu recipe is one of the favorite Italian dessert recipes. Creamy cheeses are added to original custard recipes to make a most delicious creamy dessert. Strong coffee sets it apart from other Italian desserts.
Panna cotta is another classic Italian dessert made with the abundance of fresh rich creams. Most cooks know how to prepare these desserts in their home kitchens which are served for special occasions. This one can be served alone or topped with chocolate, fruits or other toppings.
Italian cheesecake is a favorite around the world. They are made with a variety of local cheese plus other rich creams from the area. Often these recipes will include fruit or be served with fruit.
Cannoli recipes are found in almost every Italian restaurant in the United States; very much of favorite of diners. Thinly rolled dough is wrapped around metal tubes to form and baked; then they are stuffed with a thick ricotta sweet filling. So delicious!
Italian cream puffs are similar to puffs from other countries and the profiteroles of France. The dough is made with an egg pastry and when baked it shapes a rather hollow puff. These are stuffed with many fillings but the best are the rich creamy sweet fillings; sometimes topped with a fruit sauce.
Chocolate gelato is a favorite flavor of these light creamy frozen ice cream desserts. As described by visitors returning from Italy, this is the most light and flavorful ice cream they have ever eaten.
Italian Christmas cookie recipes, like in many countries are traditional ones that have been passed down through the generations. These are made with locally produced ingredients especially the eggs, butter, creams, cheeses and often fruits.
Italian fig cookies along with other fig desserts are a favorite in Italy which produces a lot of figs. These can be added to the cookie dough or made in a filling to enclose with a cookie dough; whichever way you choose to make them, the figs add a delicious moist flavor.
Italian cookie recipes traditionally used easily accessible local ingredients. Now like here in the United States and other countries we have more access to more ingredients to bake with. This has opened the door to newer and a wider variety of cookie recipes.
Chocolate biscotti recipe has made itself a reputation around the world for the best coffee dunking cookie. Although this cookie can be made with only one baking, it is traditionally a cookie which is baked twice.
The national unification of Italy continued to move on and truly influenced the Italian cooking especially the Italian cake recipes.
When you know how to make Italian recipes, you will certainly want to incorporate the wonderful Italian cheeses in your recipes as well as the perfect wine. Italians have been making cheese for thousands of years. Depending on the location in Italy where the cheese comes from will vary the flavor greatly, although all very delicious. Most of us are familiar with the Provolone, Ricotta, Parmesan and Mozzarella cheeses, but there are many more. The Asiago and Bel Paese are semi soft and great for cooking. Caciocavallo, Gorgonzola, Fontina and Pecorino are primarily table cheeses.
Olive oil is a "must" for Italian cooking. Virgin olive oil and extra virgin olive oil are suited for Italian recipes which require no cooking. Pure olive oil, which is a blend of virgin olive oil and refined oil, is for cooking.
Now that we know how to make Italian recipes, let us break the recipes down into some well known and loved categories. All Italian food lovers know about the antipasti recipe. It means before the meal which is a starter before the main meal (or appetizer recipe).
Most popular are the Italian pasta recipes served with a variety of sauce recipes. Pastas come in all sizes and shapes; thick and thin. There is pasta stuffed with different cheese or made with cheeses and mashed potatoes. This is an area where the imagination runs wild when you know how to make Italian recipes. To go with all these pastas also are many sauce recipes; from oil and garlic, heavy cream and cheese sauces to traditional tomato base sauces like Puttanesca recipe.
The next category of food from Italy is the soups ranging from light broth base soups to the heartier full of meats, poultry and fish with vegetables and pastas. Most of us are familiar with the bean and pasta soup called Pasta Fagioli and the Italian Wedding Soup.
Main courses or entrée recipes when you know how to make Italian recipes can be just the previously mentioned pasta and cheese recipes, or dishes made from locally harvested seafood. Many recipes include beef, pork and chicken. Lamb is also served but is synonymous with Easter in Italy.
We must not forget the wonderful Italian breads which are served with every meal. Panatone is among the favorites. Also very popular is the braided Italian Easter bread served for Easter in Italy along with other Italian breakfast food. As in most countries the favorite part of the food is the dessert recipes. Unlike here in the United States, desserts are not always served with a meal but usually homemade for special occasions.
CHOCOLATE AMARETTO CHEESECAKE RECIPE
When you learn how to make Italian recipes, you will see that cheesecake recipes are one of the favorite desserts.


6 Finely crushed chocolate cookies


12 Ounces softened cream cheese


1 Cup sugar


1 Cup cottage cheese


¼ Cup plus 2 tablespoons unsweetened cocoa powder


¼ Cup flour


¼ Cup amaretto


1 Teaspoon vanilla extract


¼ Teaspoon salt


1 Egg


2 Tablespoons semi sweet mini chocolate chips
Sprinkle cookie crumbs in bottom of 7 inch spring form pan; set aside.
Beat or process in blender cream cheese, sugar, cottage cheese until smooth.
Add cocoa, flour, amaretto, vanilla, salt and egg; beat until well blended.
Fold in chocolate chips; slowly pour mixture over cookie crumbs.
Bake at 300F degrees for 65 to 70 minutes or until cheesecake is set.
Cool and chill for 8 hours before removing sides and serving.
---
COCONUT CHEESECAKE RECIPE
1 Cup flaked toasted coconut


½ cup ground pecans


2 Tablespoons melted butter


3 Packages (8 ounces each) softened cream cheese


½ Cup sugar


½ Teaspoon vanilla


¼ Teaspoon almond extract


3 Eggs


1 Egg white


½ Teaspoon vanilla


1/3 Cup sugar


2/3 Cup flaked toasted coconut
Combine 1 cup toasted coconut, ground pecans and melted butter.
Press into bottom 9 inch spring form pan.
Beat cream cheese gradually adding the ½ cup sugar, ½ teaspoon vanilla and almond extract; beat until fluffy.
Add the eggs and beat until well blended; pour into crust and bake at 350F degrees for 35 minutes.
Beat egg white in small bowl until soft peaks adding the 1/3 cup sugar and vanilla.
Fold in the 2/3 cup toasted coconut and spread over cheesecake; bake 20 minutes longer.
Remove from oven and cool; refrigerate at least 4 hours before serving.
---
GOAT CHEESE APPETIZER
Learn how to make Italian recipes using the plentiful goat cheese.
2 Tablespoons cracked black pepper


11 Ounces goat cheese log


2 Tablespoons extra virgin olive oil


Fresh rosemary sprigs as garnish
Sprinkle black pepper on wax paper; roll goat cheese over pepper to coat.
Drizzle with olive oil and garnish; serve with toasted baguette slices.
Go to Painless Cooking Home Page from How to Make Italian Recipes