How to Make Easter Recipes like Brownie Dessert and More
When learning how to make Easter recipes, it is important to touch upon some of the foods specifically prepared for the holiday and the origination of the Easter recipes.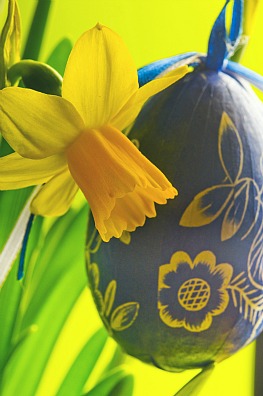 In most countries celebrating the Resurrection of Christ, hard boiled eggs colored with Easter egg dye are a must to be on the menu. Some consider the egg to be pagan celebrating the rebirth of the earth. To us Christians, the egg is a symbol of rebirth through Jesus Christ. In some countries the eggs are painted only red, symbolizing blood of Christ that was shed on the cross.
If you are learning how to make Easter recipes, you will want to make candy. Easter is one of the most popular days of the year for candy. Children usually receive an Easter basket full of candy on Easter morning. Easter candy recipes are usually made with a fondant or marshmallow candy and shaped in the form of crosses, bunnies, chicks and a lot of different size Easter eggs. Quite often these shapes are then dipped in delicious melted chocolate. You can also use a hard candy recipe and shape Easter figures or shape lollipops for the occasion.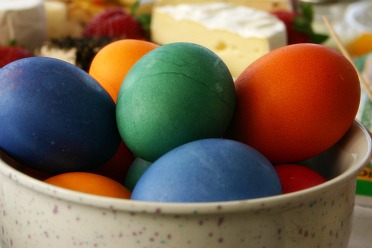 When learning about how to make Easter recipes, you will find many different flavors of Easter cakes recipes are baked; also different sizes, shapes and forms. First there are cakes which symbolize what is the resurrection from a Christian's view like the cross cake which Christ died on. Next we have shaped cakes which come from old folklore (some consider pagan) like Easter bunny cakes; these can be large Easter bunnies or small Easter bunnies. Many people choose to serve small Easter cupcakes and decorate them in many different ways for this special occasion. Any of your favorite cake recipes can be made into cakes for Easter.
---
BROWNIE DESSERT RECIPE
an easy dessert when you are learning how to make Easter recipes
No matter what the occasion, every special event must have chocolate; Easter is no different. If you know how to make Easter recipes, decorate the top with chocolate covered eggs or bunnies.
Brownie:
1 Package Pillsbury fudge brownie mix
½ Cup water
½ Cup oil
1 Egg
Filling:
1 Package (10 ounces) frozen raspberries in syrup thawed
1 Tablespoon sugar
1 Tablespoon cornstarch
1 Cup fresh raspberries
Topping:
8 Ounces softened cream cheese
1/3 Cup powdered sugar
1 Cup melted vanilla milk chips
1 Cup whipping cream, whipped
Preheat oven to 350F degrees.
Grease bottom and sides of 10 inch spring form pan.
Combine all brownie ingredients in large bowl; beat by hand and spread batter in greased pan.
Bake until center is set, about 38 to 45 minutes; cool 30 minutes.
Run knife around sides to loosen; remove sides from pan and cool completely.
Place thawed raspberries in syrup in blender, cover and process until pureed' strain to remove seeds.
In small saucepan combine sugar and cornstarch; gradually add raspberry puree and mix well.
Bring mixture to a boil and cook until clear stirring constantly; cool 5 minutes.
Spread mixture over brownie leaving ½ inch around edges not covered.
Arrange the fresh raspberries on top of cooked puree mixture; refrigerate.
In a medium bowl combine cream cheese and powdered sugar; beat until smooth.
Add melted vanilla chips and beat until smooth; fold in whipped cream and refrigerate for 45 minutes.
Remove topping from refrigerate and stir; spread 1 ½ cups over the raspberries.
Pipe on remaining topping and add Easter eggs to decorate; refrigerate 1 hour or until firm.
---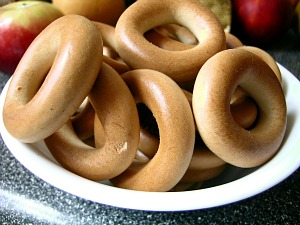 If you have learned how to make bagels, you will find them a very popular bread at Easter. They are usually served with cream cheese and smoked salmon. Many countries have their own Easter bread recipes. Russian kulich which is based on a baba dough or egg bread are baked to celebrate the holiday in the country. These breads symbolize the bread that Christ shared with His disciples. The hot cross buns recipe is probably the most famous of baked recipes served in every Christian country at Easter time. These are sweet yeast rolls made with raisins, currants and sometimes candied fruit. The buns are marked with a cross on each, either indented or marked with an icing recipe. Hot cross buns is the recipe most bakers who know how to make Easter recipes bake but there are many Easter bun recipes.

If you have learned how to make Easter recipes like the hot cross buns, you will find many stories surround the origination of the hot cross buns recipe dating as far back as the 12th century. Most of these stories have these rolls beginning in England where the custom is to do the baking every year on Good Friday. Unlike ordinary bread, the hot cross buns were not supposed to grow moldy when kept a long time. The history of stale buns are to be retained for all kinds of uses; for making into medicine, for protection against shipwrecks, as a means of keeping rats out of the corn and as an all round good luck charm.
---
LEMON SCONES RECIPE
Lemon scones recipes will make it seem like you have always known how to make Easter recipes.
1/3 Cup butter
1 ¼ Cups flour
½ Cup quick cooking oats
3 Tablespoons sugar
2 ½ Teaspoons baking powder
2 Teaspoons grated lemon peel
¼ Teaspoon salt
1 Beaten egg
½ Cup slivered almonds toasted
4 to 6 Tablespoons cream
1 Beaten egg
Additional sugar
Preheat oven to 400F degrees.
Combine flour, oats, sugar baking powder, lemon peel and salt; cut in butter with pastry cutter.
Stir in 1 egg, almonds and enough cream so dough leaves sides of bowl.
Turn dough onto lightly floured surface and knead lightly 10 times; roll or pat ½ inch thick.
Cut with floured 2 ½ inch cookie cutter; place on ungreased cookie sheet.
Brush dough with 1 beaten egg; sprinkle with additional sugar.
Bake 10 to 12 minutes or until golden brown; immediately remove from cookie sheet and cool.
Makes about 15.
---
A baked ham recipe has always been the center of my Easter dinner, as with most people in the United States and in many countries. This custom started because many like my family relied on the hogs which we raised for meat. The meat was cured so it would last from butchering time in the fall through spring when Easter rolled around. It was natural to eat what was available. Today many traditional pork recipes have been updated and altered; now they include more modern versions like the crown pork roast recipe.
Not all countries celebrate with the same foods when you know how to make Easter recipes. There are countries where lamb is the primary form of meat raised. A traditional Easter dinner may consist of leg of lamb recipe or other traditional lamb dishes. Many of these people know how to cook lamb shanks and they can make a very delicious Easter dinner. Again, many of these countries raise the lamb as their source of food. Easter lamb relates the death of Jesus to the lamb that was sacrificed on the first Passover.
When learning how to make Easter recipes keep in mind that an Easter brunch ideas menu is most popular at this time. When I was younger and I lived up North, after church service on Easter I would invite our church people to my house to eat. I loved this time of the year and the early church service. I would prepare most of the Easter brunch menu in advance like a quiche Lorraine or a wonderful salad but my stuffed French toast recipe would have to be made right before serving. The women from the church helped me to heat everything. With planning and Easter brunch menu can easily be prepared. These are good memories and we all had such a good time.
All of these previously mentioned foods can be worked into an Easter brunch menu but if you are just learning how to make Easter recipes, do not forget Easter pie recipes. These are very popular in many countries. They can be made with cream cheese, custard recipes, fruits or a combination. Polish Easter recipes includes a stuffed egg recipe, a crusted kielbasa and a delicious Polish Easter cake to celebrate the holiday. These recipes are a great way to end a wonderful Easter brunch menu. Easter in Hungary is celebrated with lamb in sour cream sauce and kolacs.There are many wonderful Easter dessert recipes.

---
OATMEAL RAISIN BREAD RECIPE
When you know how to make Easter recipes from scratch you still may want to keep this one for a quick recipe. This oatmeal raisin bread recipe is made easy with a package Pillsbury nut bread mix yet it taste as homemade as making from scratch.
1 Cup boiling water
¾ Cup quick cooking oats
1 Package Pillsbury nut bread mix
½ Cup raisins
¼ Cup water
1 Egg
Preheat oven to 350F degrees.
Grease and flour only the bottom of a 8 X 4 inch loaf pan.
In small bowl pour boiling water over oats and set aside.
In a large bowl combine bread mix, raisins, ¼ Cup water and eggs; add oat mixture and stir by hand.
When all dry particles are moistened spoon into prepared pan.
Bake 45 to 55 minutes or until pick comes out clean.
Cool 15 minutes in pan; remove from pan and cool completely.
Decorate top for Easter with a little powdered sugar glaze in pastel colors and a few jelly beans.
Painless Cooking

›
Holiday Recipes
› How to Make Easter Recipes